On June 14, Reggie Johnson '16 received a phone call that would change his life. Like many young men, he dreamed of playing baseball professionally, but according to the NCAA only .679% of high school baseball players make it to the professional leagues. With this call, Johnson became a part of the one percent by accepting an offer to sign with the Houston Astros.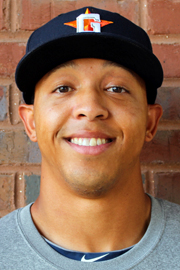 Head Coach Jeff Kinne and Pitching Coach Robbie Bailey '10 were with Johnson when he got the call. They were thrilled at the news, which they heard about an hour after leaving a workout for three MLB teams. When asked what made Johnson stand out, Kinne said "he didn't miss a workout. He was driven and did it 110% from day one." Part of his determination was motivated by his family. From his start in t-ball at four years old, Johnson's family has encouraged him. Then his freshman year at H-SC, he made a promise to his grandmother shortly before she passed. He told her he would play professionally, a promise he worked hard to keep.
During his time with Hampden-Sydney he pitched in 36 games. He posted a career record of 9-8 with an impressive 2.60 ERA and five complete games. In 173.1 innings, he struck out 133 — which is seventh all-time in program history — while walking 48. His 66 strikeouts this past season are the fifth best single season mark for the Tigers. At the plate, Johnson recorded 57 hits in 190 at bats with a .300 career batting average. He had 11 extra base hits with seven doubles, two triples, and two homeruns. Additionally, he batted in 30 runs and scored 29 of his own. On the base paths, he stole 13 bases, including a career high six in 2016.
Johnson started with the Gulf Coast League Astros but was transferred to the Greeneville Astros June 30, where he was greeted by a friendly face. Jack Elliott '16, Johnson's former apartment mate, is an Operations Assistant with the Houston Astros and is also located in Greeneville. While both are busy with their respective jobs, they get to cross paths most days. Now that Johnson has been in Greeneville for a few weeks, he said the experience is how he expected it to be. "[There are] long days at the field but I love every second of it...[Kinne and Bailey] made it very clear that you can't just like it, you have to love it because it'll be tough and there is always someone else trying to take your spot."
This accomplishment is not only a reflection of Johnson, but of H-SC baseball and the coaching staff. Potential students are recognizing that you don't have to go to a Division I school to get noticed, and professional teams are realizing that Division III students have the talent and drive to make it. Johnson is representative of Hampden-Sydney's capabilities. We have the talent, the tools, and the coaches to succeed. As for the future of H-SC Baseball, Bailey mentioned that the seniors who left this year will be tough to replace, but we have a good young group that's ready to step up. Tiger fans will continue to watch the baseball team develop, and potentially produce more professional baseball players.