From The Record, July 2015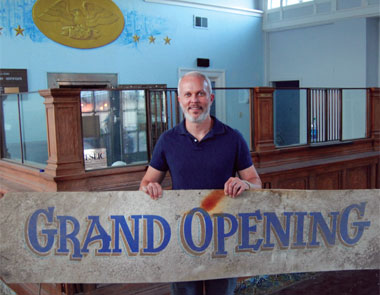 Although Robert "Bob" Pullum '87 majored in economics at Hampden- Sydney, he cultivated his creative streak by working on the Kaleidoscope yearbook, the Tiger newspaper, and the Garnet literary magazine as a photographer. As a teenager, he took pictures for his hometown newspaper in Camden, South Carolina, and today he works as a freelance creative director.
It seems his drive to create picturesque showpieces has fused with his economics background in the form of The Guerneville Bank Club, a bank building from the 1920s that Pullum bought, restored, and converted into a multi-business establishment and art gallery in Guerneville, California. It had been vacant for 30 years, the business having collapsed after $165 million went missing in a suspected mob-orchestrated fraud scheme.
Pullum's background is in design and creative direction for marketing and advertising. For nearly 20 years he worked for AKQA, a company that creates digital services and products for companies such as Visa, Audi of America, and many other well-known brand names. He now serves as the vice president of the Northern California chapter of Docomomo US, a chapter of the international organization dedicated to the documentation and conservation of iconic modern architecture built in the United States between 1910 and 1974.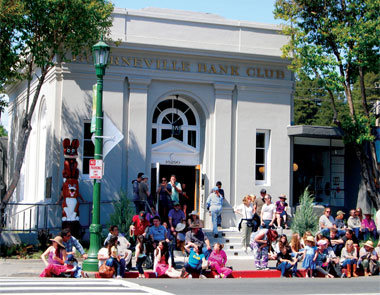 He had his first taste of restoration and preservation as a child while growing up with his grandparents, who were actively involved in the preservation of historically significant sites and buildings in Camden. His grandmother was a founding member of the Camden Archives and Museum, first sponsored by Andrew Carnegie and today a hub of genealogical and historical records for South Carolina. Pullum soon followed suit.
"At Hampden-Sydney some friends and I would go around to the small towns and try to find old stores and buildings to walk around in. There were a lot. I've always been fascinated with things from the past-whether old photographs or still-intact buildings. My house looks like a period-piece from 1968," he said.
Pullum moved to San Francisco in 1990, and when he first laid eyes on Guerneville, he was struck by the town's "idyllic scenery, the Russian River. I think it's one of the most beautiful places in the world. I remember seeing the [Guerneville Bank] for the first time and noticing the Beaux-Arts style. The post office in my hometown has a very similar look."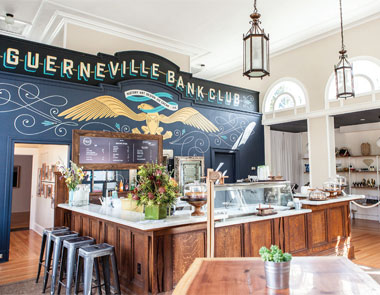 He bought the bank in April 2014 and started renovations in September with the intent to "keep the building as original as possible-especially in the time it was built." The bank was remodeled in 1976, and much of Pullum's time has been spent looking through old photographs and records to match the recent restoration with how the building looked in 1921. That work included significant overhaul of the bank, both inside and out.
The 50-year-old sidewalk and steps were uprooted and replaced with the original design. The 12-ft. exterior windows were removed and then repaired or replicated; plumbing had to be mended, paneling and flooring restored, and wiring fixed. While peeling up the crumbling carpet padding near the original safe, Pullum revealed a hidden doorway in the floor leading into a long-forgotten basement. Fresh light bulbs soon illuminated the main lobby for the first time since 1985.
Now fully restored, the Guerneville Bank Club is home to Nimble & Finn's ice cream, Chile Pie Baking Company, Commerce Fine Goods (which sells jewelry, clothing, and other designer goods), an art gallery, and a historical exhibit by the Russian River Historical Society, of which Pullum is a member. The multi-faceted establishment had its grand opening on May 2, 2015, just in time for the local Stumptown Daze Parade. Children and their parents enjoyed ice cream and pie as they watched horses, floats, and marching bands from the steps of the bank.
Although it has been 28 years since his graduation, it seems Pullum hasn't forgotten at least one of Hampden- Sydney's 240-year-old goals: to form good citizens. He hopes to attract a variety of people to the town and "make it universally appealing to many different types of folks."
"It's the most rewarding project I've ever done in my life," he said. "We transformed an abandoned building that had homeless people out front into this place of pride for the town. So many people have thanked me for this. I feel like I've reached a goal in life. This project has really helped bring Hampden-Sydney's mission to life."