Anyone who has visited Hampden-Sydney in recent years has likely seen incoming Student Body President Sam Murphy '18 ride past on his skateboard. The Virginia Beach native flies through life as fast as he skates down the hilly campus paths, full of energy and enthusiasm. It's hard to imagine that just three years ago Sam lay in a hospital bed in Germany making the decision to have his left hand amputated after seven unsuccessful surgeries.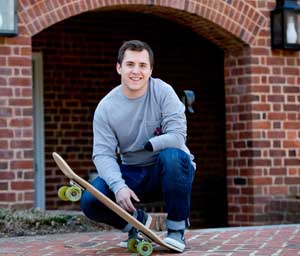 Sam's affinity for foreign languages emerged in middle school, when a German family moved into his neighborhood. By tenth grade he was fluent, and by eleventh grade he was ready to spend the summer in Germany translating for a mission organization. Invited to return as the group's youth director, he made the decision to postpone his freshman year at Hampden-Sydney. "I was blessed to have the opportunity to go to Germany and really find myself at a young age," says Sam. He spent his "gap year" on a subsistence farm in former East Germany, renovating the facility, working as a farm hand, and leading week-long field trips for school and church groups.
Just three weeks before his scheduled flight home, Sam was picking cherries on a foggy day near a Soviet-era electric transformer. The supposedly disconnected amplifier sent a 20,000-volt arc through the moisture in the air, which entered Sam's body though his left hand and grounded him to the unit. "480 volts can kill you if you touch it," says Sam. "Imagine 20,000 volts of electricity-enough to power the entire Hampden-Sydney campus-coursing through your body. It went up my arm and exploded out of my shoulder. I'm missing everything but the bones back there, and I have a hole in my side." He remembers the experience vividly, including the hour it took for the paramedics to arrive. "I was prepared to die. I thought, Well, God, I'm ready if this is my time.
"Thankfully it wasn't his time, and Sam entered Hampden-Sydney a semester later than expected after three months in a German hospital and another three months recovering at home. Letters and packages kept him positive, including a care package from H-SC. "They sent me a Hampden-Sydney hat that I wore every day in rehab," he recalls.
Although losing his hand means Sam can no longer play guitar, he returned to his previously active life as soon as possible-surfing, skateboarding, snowboarding, kayaking, and playing piano are just a few of his passions. He also relishes the challenge of activities, like basketball, that he wasn't good at before the accident. "I just do it. It's worth the try to see what I can accomplish with one hand." How he has time for any hobbies with his heavy academic schedule and extracurricular commitments is a mystery. The economics major is a Wilson Center fellow, member of Garnet and Gray, resident advisor, Wellness Center peer counselor, as well as the vice-president of Baptist Collegiate Ministries.
And those are just his Hampden-Sydney activities. For three years, he has also served on the board of directors of Character.org. The national non-profit promotes the teaching of ethical values in schools, a topic Sam is passionate about: "Aristotle said that educating the mind without educating the heart is no education at all, and I think that's completely true." His time on the board has given him experience fundraising, budgeting, and strategic planning-skills he will put to good use as the College's student body president.
One might be tempted to understand Sam's exuberance for life as a response to his near-death experience, but he claims, "I'm not sure I've changed much since the accident. I just live life to the fullest, going one hundred miles an hour like I always have. I'm still Sam Murphy, still myself." Perhaps the fact that he was electrocuted and it didn't change him-such resilience in the face of adversity-is what sets this Hampden-Sydney man apart.