From The Record, March 2013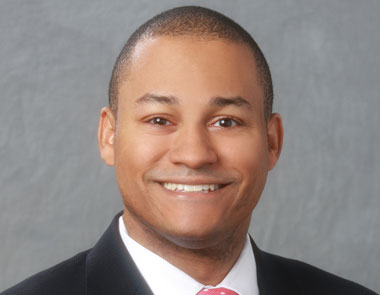 In his Annals of Imperial Rome, Tacitus tells of how the emperor injected a large amount of money into banks and dropped interest rates to zero for three years, so when Sekou Kaalund '97 heard of the federal government's proposal to bail out banks, he had heard it all before. Kaalund, a managing director for the Institutional Asset Servicing business within JP Morgan's Corporate and Investment Bank, was a classics major at Hampden-Sydney and puts his liberal arts education to use more often than you might think.
Kaalund says, "Rome had its own TARP plan around 66 AD in which the government intervened to protect banks exposed to a real estate bubble similar to ours. That happened 2,000 years ago. Classics taught me to think, to be cultured, and to draw on these lessons from history that become relevant in modern times. In finance, we may have developed very complex instruments; however, the core concepts have been around for a long time. For example, people talk about derivatives; well, Thales of Miletus, the ancient Greek philosopher, created derivatives."
Of course, you cannot rise through the ranks of a major financial company-or even a small one-without some understanding of the business. However, Kaalund says you need to know more than just the business.
The reality is 'yes;' you do need practical accounting, economics, and finance, because you do need to understand concepts. But I have a unique advantage because of my Hampden-Sydney education. I can bring a different perspective to the table; in this case, I offered that 'we may be in a crisis right now, but this is not the first time this has happened.' "
In addition to classics, Kaalund also majored in Spanish at Hampden-Sydney. He then followed with a master's degree in public policy from Duke University. His career started with a position at the Federal Reserve Bank before moving on to Citigroup and now JP Morgan.
In his work at JP Morgan, Kaalund works with corporations as well as public pensions and educational institutions. "My public policy background serves me well when I'm dealing with these kinds of organizations. I have a good understanding of the goals they want to achieve and their institutional structures."
Another benefit to a liberal arts education, a Hampden-Sydney College education in particular, is understanding the value of a well-rounded life. When Kaalund is not spending time with his family or working at JP Morgan, he is active with a number of civic organizations and foundations.
"I realized that I could still make a difference in the public debate in areas important to me by having access through institutional boards and by having the personal resources to make a difference, as well."
He stays active in the community by serving on the board of the New York City Parks Foundation. "That is purely public policy, making sure the New York City residents are getting what they need from the parks. There is so much I can do with my passion for making a difference in the lives of others as a result of having achieved some success in the corporate arena."
But managing a life in high finance, a family, and public service is a complex balancing act. While Kaalund says he does not have the perfect solution, he admits that he did his best to "front load" the sacrifices in his life.
"Early in my career, I did my best to advance as quickly as I could so that now-although I still work hard-I can depend on my team and I can often make it home early to be with my children. I have worked 100-plus hours a week. I have worked seven days a week. I was incredibly fortunate to have support from people along the way, especially my wife, so that I could capitalize on opportunities to reach career milestones early. My faith and spiritual life have also been a critical element of my success, especially given that the further up the ladder you move, the higher the stakes become. But despite the higher demands, you can achieve greater flexibility and balance, if you hire the right people and have the right strategy; I strongly encourage people to develop that balance.
At times, you may be more successful in some aspects than others, as there are certain days that the family aspect is great, but the work is difficult; or work is going well, but you're not focused on your physical health and it is not where it should be. Occasionally, you may be out of balance, but it is important to recognize that unintended consequences arise from being extremely out of balance."
Kaalund and his wife Jennifer love to travel. They agreed early in their relationship to make traveling a priority and together they have seen much of the world. Now they enjoy sharing their love of travel with their two young children.
"It's great that my kids are exposed to the rest of the world. When I am with my family, it's very important that I am emotionally present for them. The biggest thing is that when I am on vacation, I am focused on my family and that we are really enjoying our time together."
Not only does this allow Kaalund and his wife to enjoy new and exciting places, it also gives them a chance, as parents, to expose their children to diverse cultures and life experiences. As a young family in one of the most affluent parts of the country, Kaalund wants his children to remain grounded. When Hurricane Sandy ravaged communities just a short drive from their home, they all remembered just how fortunate they are and how important it is to help others in need.
Kaalund's personal commitment to Hampden-Sydney's institutional mission of creating good men and good citizens has proven beneficial to himself as well as to those around him, and people are noticing.
"Many organizations value well-rounded people. If your life is just about your job, then that is an empty life. People in quality organizations recognize that life is not narrowly focused about making money. They reward and encourage folks who use their talents to have a positive impact on their communities. Also, when people see me being a leader at work and making a difference in my community, it sets the right tone for our business. Strong organizations and the leaders at those organizations value people who contribute across the board, not just at work."
By valuing his community and his family, Kaalund has made himself an invaluable employee.
UPDATE Spring 2019: Sekou Kaaland, managing director, has been named Head of Advancing Black Pathways at JP Morgan Chase.