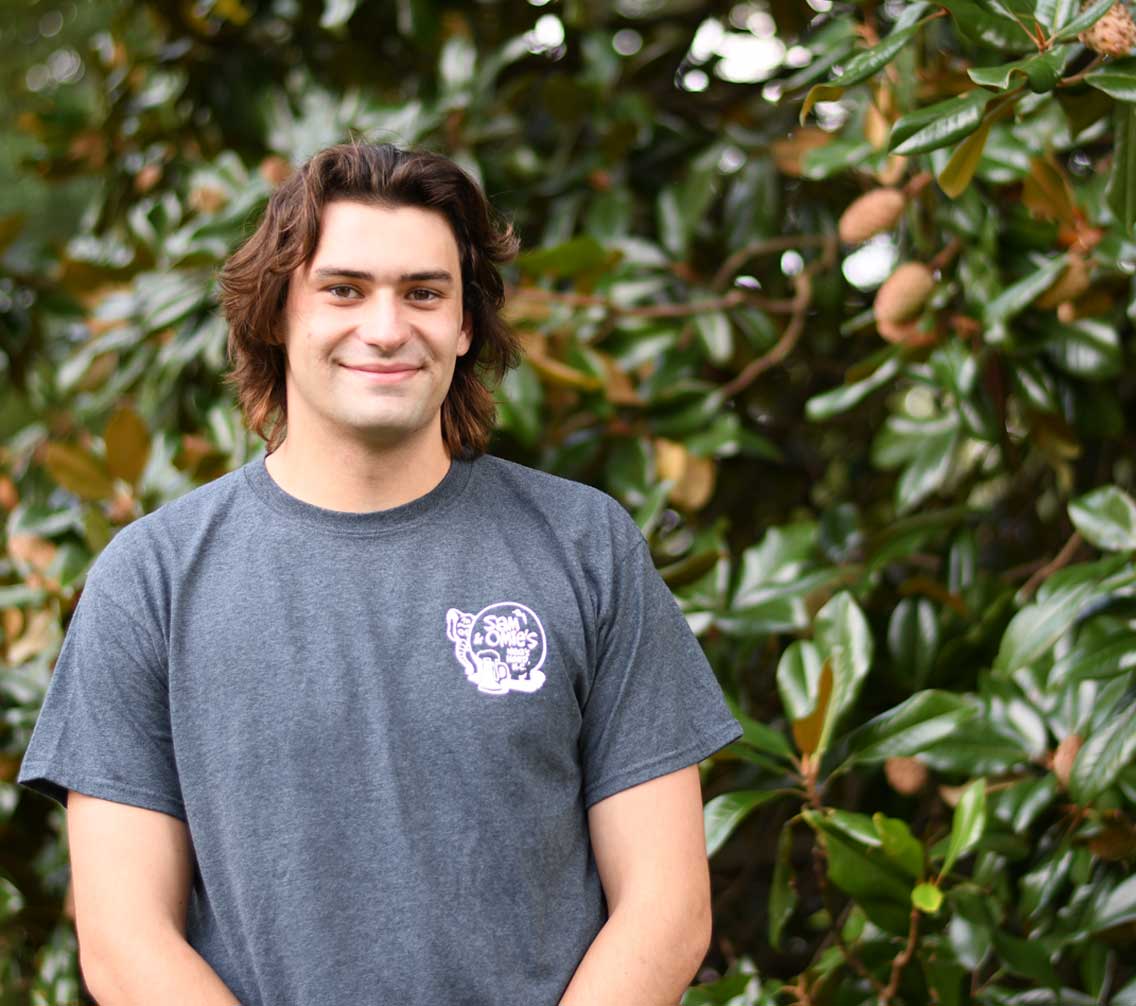 Hampden-Sydney senior Travis Stackow is making a habit of speaking before a national audience. He has been selected to present his summer research at the Central Slavic Conference, an honor granted to a limited number of undergraduate students who demonstrate a high level of scholarly research. It will be the second time Travis has shared his research on the national stage; last spring, he presented at the National Conference for Undergraduate Research at the University of Central Oklahoma.
Inspired by his passion for Russian literature—one of his favorite books is War and Peace by Leo Tolstoy—Stackow decided to enroll in Russian 101 so that he could one day read Russian literature in its original language. His Russian professor, Dr. Viktoria Basham, Visiting Instructor of Modern Languages, encouraged him to explore more Russian authors, so Travis met with her weekly to discuss works by Nikolay Karamzin, Alexander Pushkin, and Tolstoy. She notes that Travis did all of the readings in his free time, receiving neither credit nor a grade. Rather, his hard work was driven by his interest, passion, and desire to grow as a student, writer, and individual.
---
"The ability to develop independent and critical thinking skills that can be used to ask and research provocative scholarly questions is central to a Hampden-Sydney education."
~ Dr. Mike Wolyniak, Director of the Office of Undergraduate Research
---
This past summer, Stackow was awarded a prestigious H-SC Summer Research Fellowship to explore three of Fyodor Dostoevsky's most famous works—Crime and Punishment, The Brother Karamazov, and Notes from Underground. He was fascinated by the way Dostoevsky approaches the problem of 'heightened consciousness' through three of his characters—Raskolnikov, the Underground Man, and Ivan. He decided to submit an abstract based on his final fellowship paper to the Central Slavic Conference (CSC).
"Travis' work represents the kind of scholarship and independent research work we aim to provide for all Hampden-Sydney students," says Director of the Office of Undergraduate Research, Dr. Mike Wolyniak. "We are proud that he will once again represent H-SC on a national scholarly stage."
CSC, a conference for academics, professionals, graduate, and undergraduate students in the field of Slavic studies, holds the oldest affiliation with the Association for Slavic, East European, and Eurasian Studies (ASEEES). Travis will be traveling to St. Louis, Missouri in October for his CSC presentation.