How does a Hampden-Sydney biology and pre-med student end up applying to law school in the fall of his senior year? For Will Fussy '18, the answer involves Hampden- Sydney's famous alumni network, as well as the College's undergraduate research opportunities.
An alumni-sponsored internship in Will's hometown of Charlotte, North Carolina, confirmed to him that the law—particularly its intersection with science—was the direction he wanted to head. "After interning with Zachary Dussault '07 at Kushner and Kushner during the summer of my junior year, I knew I wanted to become an attorney," he says. "So when I needed to choose a topic for my honors capstone, I found one that combines my biology major with my desire to attend law school: the legal patenting of human genes."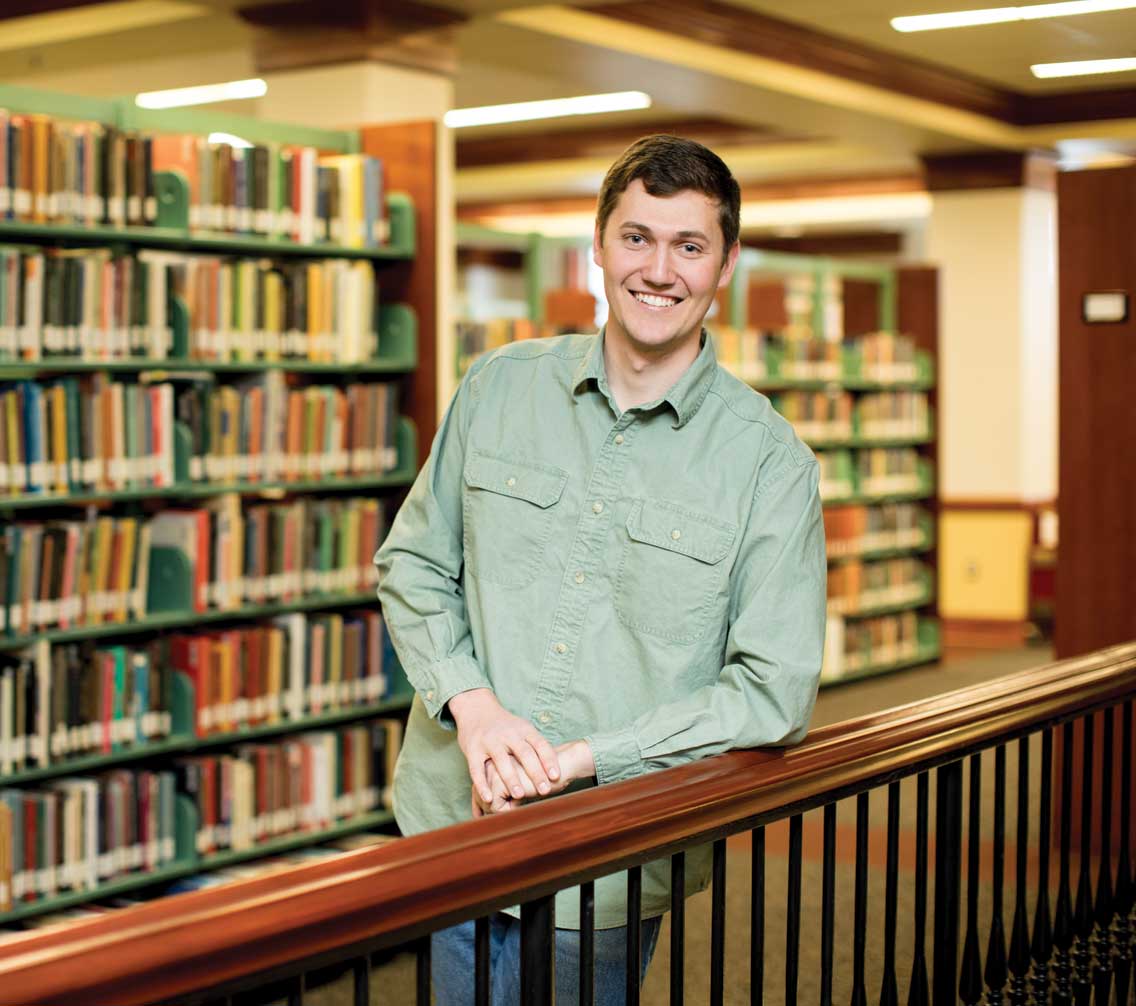 The interdisciplinary project has Will working with professors from multiple disciplines: government professor Guy Burnett, who advises Will's legal research; biology professor Michael Wolyniak, who advises his scientific research; and classics professor Janice Siegel, who advises his writing. Rhetoric professor Nicholas Nace has also coached Will on the oral presentations of his capstone project. Once finished, his 30-page thesis will examine the history of patent law, its application to the biotechnology industry, and the resulting impact on research and innovation.
"Dr. Burnett has me reading constitutional law textbooks, oral arguments, Supreme Court decisions—all of which were new to me at first," laughs the biology major. But the design of the honors capstone—which awards course credit for the successful completion of the project—has allowed him to devote the necessary time to a project of this scope. "Having that block of time set apart in my schedule means I can dive into this at a really deep level," he says. Also helpful is the "Communications and the Natural Sciences" course he's taking with Dr. Nicholas Deifel this semester. "It's all about how scientists can communicate their work effectively and how technology is changing that. In my capstone, I'm writing about the human genome, artificial proteins, RNA, and I have to be able to explain those concepts in a way that my readers can understand. Then they can form their own opinions on the legal issues raised."
At the crux of Will's thesis is the 2013 Supreme Court case AMP v. Myriad, which ruled that natural DNA discoveries, such as the isolated BRCA1 breast cancer gene and the test that identifies it, could not be patented. Will's paper examines the ruling's effect on research and innovation. "The lack of patentability has driven down the price of genetic tests, but it's a double-edged sword. Companies don't invest in new technology with such a low profit margin, so the tests haven't improved over the last decade," he claims. Furthermore, AMP v. Myriad allows the patenting of synthetic DNA only if it is distinguishable from natural DNA. "So much biomedical research revolves around RNA sequences that are indistinguishable from those found in the human body-like cancer research that uses a biological molecule to silence genes," he explains. "But if no one can patent their work, what's the incentive to innovate?"
---
"The process has pushed me to find resources on my own; I've read law reviews, science blogs, legal blogs, and Supreme Court decisions from the 1880s to the present day. I enjoy searching for the different pieces and determining how they fit together."
~Will Fussy '18
---
Will's honors capstone has involved hours upon hours of research, and although his advisors offered some starting points, most of it has been done independently. "The process has pushed me to find resources on my own; I've read law reviews, science blogs, legal blogs, and Supreme Court decisions from the 1880s to the present day," he says. "I enjoy searching for the different pieces and determining how they fit together." He says he also approaches current events with a new understanding: "I constantly find news articles that relate to my project in ways I hadn't thought of previously."
The capstone is the culmination of the Hampden-Sydney Honors Program, which requires 15 credits of honors coursework beyond a student's core curriculum and major requirements. "I'm thankful that I stuck with the honors program and had the opportunity to do an undergraduate research project of this scope," says Will. "There was a time when I questioned whether I wanted to take on the extra work, but Dr. Wolyniak really encouraged me, knowing it would be a rewarding experience." The capstone truly prepares H-SC students for graduate school, says Wolyniak, because "we've set graduate-school level expectations for the students' senior research."
At press time, Will had been admitted to the Washington & Lee University School of Law, his top choice, and offers from other schools were still rolling in. He notes that heading to Lexington would bring his Hampden-Sydney experience full-circle, in a way. When he first visited H-SC as a high school senior, his tour guide, biology major Spencer Wiles '15, was influential in Will's decision to become a Tiger. Wiles is now in his final year at W&L Law, so once again Will is following in Wiles' footsteps. Regardless of where he ends up, though, Will knows he enters graduate school well-prepared and well-supported by the H-SC brotherhood.
Read more about Will and his leadership of Hampden- Sydney's Prince Edward County Elementary School Mentor Program.