News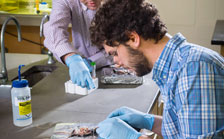 Hampden-Sydney senior and biology major, Stephen Woodall is conducting Honors Research in the laboratory of Elliott Assistant Professor of Biology, Dr. Kristian M. Hargadon '01. Stephen's project in tumor immunology involves the genetic engineering of a mouse melanoma cell line to express a model antigen that can be targeted by the immune system. Using flow cytometric analyses, Stephen is currently characterizing clones of this cell line and evaluating the ability of antigen-specific cytotoxic T cells to recognize these clones.
Full Story...
---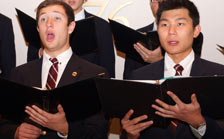 On Tuesday, January 27, ten members of Hampden-Sydney College's Men's Chorus have volunteered to sing with the Richmond Symphony Orchestra as part of a multi-college, choral event. The performance entitled "Voices of Survival" will commemorate the 70th anniversary of the liberation of the Nazi concentration camp, Auschwitz.
Full Story...
---
Continuing its 1775 Founding Mission "to form good men and good citizens," Hampden-Sydney College reflects on 10 facts at the close of 2014.
Full Story...
---
The Lambda Circle at Hampden-Sydney College inducted 16 new members into Omicron Delta Kappa, the national leadership honor society for college men and women. The Lambda Circle of ODK was established at Hampden-Sydney in 1924, and membership is a mark of highest distinction and honor.
Full Story...
---
Earlier this semester, 12 Hampden-Sydney men were inducted into the honor society Phi Beta Kappa. Membership recognizes the highest academic achievement, moral character, responsible citizenship, and broad intellectual curiosity.
Full Story...
---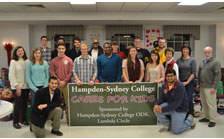 On Saturday, December 13, there was a gift wrapping party at College Church, on Hampden-Sydney's campus, to mark the conclusion of the H-SC Cares for Kids campaign. This year, the project was sponsored by the student organizations: Omicron Delta Kappa, the national honorary leadership society; Sigma Tau Delta, the international honorary society in English; and the Student Government Association.
Full Story...
---
Dr. Dennis Stevens, Provost & Dean of the Faculty, has announced that the Southern Association of Colleges and Schools Commission on Colleges (SACSCOC) determined that Hampden-Sydney College is now in compliance with all accreditation standards, and the warning imposed a year ago has been lifted. The accreditation of Hampden-Sydney College was unaffected by the SACSCOC warning.
Full Story...
---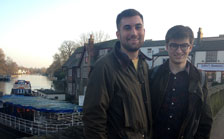 Will Brantley '15
With the days getting ever shorter, Oxford seems to consciously fight off the gloom of the darkness of winter by a turning inwards to the people and activities that complement academic life. Although Oxford is structured on individual and personal learning, there is a tremendous emphasis on common conviviality and sports to provide an escape from the drudgery of studying and paper writing. Most students strike a healthy balance between school and social life that seems conspicuously absent at many American colleges.
Full Story...
---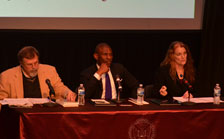 An engaged audience of two hundred, primarily parents and educators, attended a What Works panel discussion on November 17 at the Gorelick Family Theater at Charlotte Country Day in Charlotte, NC. The audience response was both positive and appreciative.The What Works initiative began with the publication last spring of a collection of essays on raising boys, engaging guys, and educating men. As a college for men, Hampden-Sydney has an important role to play in facilitating and participating in this important national discussion.The Charlotte program and another on March 31, 2015, at Boys' Latin School on Baltimore are offshoots of a successful conference held on campus in July.
Full Story...
---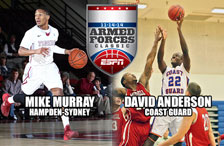 The Hampden-Sydney Tigers will be one of two teams in all of Division III to open up its 2014-15 campaign on national television to a potential viewing audience of 75 million households, as the Tigers will take on the United States Coast Guard Academy in the Armed Forces Classic in Puerto Rico. The game, which takes place on Friday, November 14 at 1:00 pm, will be broadcast live on ESPN U and WatchESPN.com. The two will be competing in the first of two games in the 2014 Armed Forces Classic, hosted by the Coast Guard on the U.S. Air Station Borinquen. The second game will be between #8 Louisville and Minnesota.
Full Story...