News Featured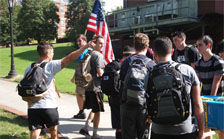 GORUCK Challenge Comes to H-SC
Drew Dickerson '17
On October 1, nineteen people participated in the GORUCK Light Challenge - an event that emphasizes teamwork, communication, and leadership.
---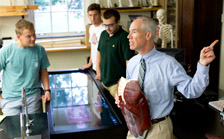 Tradition Meets Technology
Hampden-Sydney's historic classrooms combine close contact, individualized education with modern, cutting-edge technology. The newest edition being a life-size, interactive digital anatomy table.
---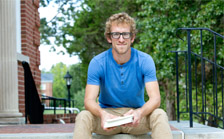 2016 Poetry Review Focuses on a Classic Form
The Hampden-Sydney Poetry Review enters its fifth decade with a radical twist: a sonnets-only issue.
---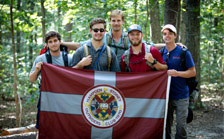 Outsiders Club Expands Membership
The Outsiders Club, for the Hampden-Sydney community who maintains an active interest in the outdoors, is seeing a major resurgence among the student body.
---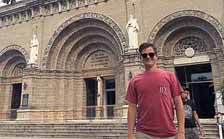 Traveling Abroad with Biosecurity Internship
For the second consecutive summer, Patrick Woolwine '17, a foreign affairs major from Fairfax, Virginia, has worked as a global security researcher for the defense contracting firm Cubic Global Defense.
---
Finding Confidence in Prague
Tyler Langhorn '17 spent his summer working as an intern at the Fulbright Commission in Prague, Czech Republic. When he was not working, he immersed himself in the community and tried to live like the locals.