News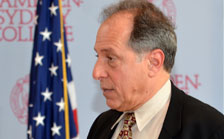 Eighty-eight people representing over 20 schools and six colleges attended the What Works? Conference, held on Friday, July 25. The impetus for the conference was the recently published collection of essays, "What Works," by distinguished educators, authors, and thought leaders. At the conference, two of these contributors spoke offering insight and practical advice to all who are raising boys, engaging guys, and educating men.
Full Story...
---
This year's May Term included the "Special Topics in Regional Studies in the United States" course. Dr. Claire Deal, Elliott Professor of Rhetoric, led students to the coastal regions of South Carolina, Georgia, and extreme northeast Florida, known to many as the "Lowcountry and Sea Islands".The course examines the authenticity of a particular geographic region in the United States: a place defined by both its people and its natural environs. Its history, physical environment, language, cultural expressions, religious traditions, and economics are studied in order to develop a sense of the area's unique attributes and contributions.
Full Story...
---
One driver suffered minor injuries after a tractor trailer overturned on I-95 north near Parham Rd. (mile marker 83) Monday morning.The accident happened just before 7 a.m. Virginia State Police said a truck flipped after colliding with another tractor trailer. Worth Osgood saw the accident happen in front of his very eyes.
Full Story...
---
Hampden-Sydney College student, William Banning'15 is working as a summer intern at the UVA Health System in Charlottesville, Virginia. Will works in a transplant research laboratory with two doctors that focus on kidney and liver transplant research. The majority of his work is based on determining a bio marker that can help recognize early signs of liver disease or Hepatitis C. He works closely with specimens that are taken from patients who have recently received a liver transplant, and he is responsible for isolating the DNA in these samples for analysis.
Full Story...
---
Joshua Dimmick '15 and Grayland Godfrey '15 represented Hampden-Sydney's 2013-14 bacteriophage research class at the annual meeting of the Howard Hughes Medical Institute (HHMI) Science Education Alliance-Phage Hunters Advancing Genomics and Evolutionary Science (SEA-PHAGES) symposium. Josh and Grayland received an Honorable Mention award at the end of the symposium, placing their poster presentation in the top 10 of over 70 student posted presented and placing them in the same tier as students from Johns Hopkins, Brown, and Carnegie-Mellon Universities.
Full Story...
---
Dr. Kristian M. Hargadon '01, Elliott Assistant Professor of Biology at Hampden-Sydney College, was unanimously selected by the Commonwealth Health Research Board to receive a two-year grant of $125, 000.The grant is titled "The Role of Melanoma-derived Factors in Suppressing the Maturation, Activation, and T-Cell Stimulatory Capacity of Dendritic Cells", and it will support research on immune suppression by melanoma. This work builds on previous research conducted by Dr. Hargadon and collaborating students at Hampden-Sydney College that had been funded by a Jeffress Memorial Fellowship from the Virginia Academy of Science.
Full Story...
---
On May 11, Scott Cooper, actor, screenwriter, director, producer and 1992 graduate of Hampden-Sydney College, delivered teh Commencement address at cermonies markign the end of the College's 238th academic year. Cooper's first project as a writer and director is his Oscar-winning film "Crazy Heart." The film received three Academy Award nominations and won two Oscars, for Best Actor and Best Original Song. He also wrote and directed the acclaimed "Out of the Furnace."An edited version of his commencement address follows."I sincerely cherished my time on The Hill and that continual march toward becoming "a good man and good citizen."In wondering what I might say, I've landed on three pieces of advice that I've received and still live by: live your life on your terms, don't be afraid to fail, and always listen to your inner voice"
Full Story...
---
Dr. Michael Wolyniak, Assistant Professor of Biology at Hampden-Sydney College, has received a three-year National Science Foundation (NSF) grant in support of his collaborative research with the Undergraduates Phenotyping Arabidopsis Knockouts (unpack) network.This grant will supply Hampden-Sydney with $118,000 which will provide stipends and materials for the college's student research projects.
Full Story...
---
The Hampden-Sydney Board of Trustees met on May 10 to handle matters both ceremonial and substantive.The Board, under the chairmanship of Thomas N. Allen '60, is comprised of 37 men and women of whom 34 are alumni of the College. The Board is organized into 13 committees* and meets three times each academic year.
Full Story...
---
Dr. Christopher Howard's opinion piece appeared in the "Richmond Times-Dispatch" on Sunday, May 18."The author Malcolm Gladwell writes that it takes 10,000 hours of focused, intentional effort to get good at anything.I've recently come across another reference to 10,000 hours. A computer game-maker speaking at a TED conference noted that the average young person racks up 10,000 hours playing computer games by the age of 21.As the president of an all-male college, I find myself thinking about numbers like these and what they might mean for the young men I see every day on our campus."
Full Story...