News
The Virginia Department of Health has determined that the outbreak of campus illness is norovirus.
Full Story...
---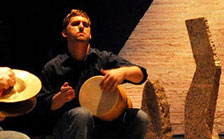 On Monday, February 9, the Hampden-Sydney Music Series will host percussionist Daniel Heagney. Heagney is an avid performer of contemporary solo and chamber music for percussion. He received his Bachelor of Music from George Mason University and went on to graduate from Louisiana State University with a Masters of Music and a Doctorate of Musical Arts in Percussion Performance and a minor in Experimental Music and Digital Media. He has studied with Brett Dietz, Jim Atwood, Troy Davis, John Kilkenny, and Ken Harbison.
Full Story...
---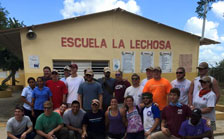 Holden K. McLemore '16
For three years, Hampden-Sydney College's Beyond the Hill program, with the support of Rivers of the World (ROW), has traveled to the Dominican Republic. Our group of 23 departed from the U.S. on the morning of January 5th and arrived 12 hours later in Casa de Campo, located just outside of La Romana. We did most of our work in the same village where Beyond the Hill had worked on a church in 2013, laid the foundation of a school in 2014, and would continue work on the school as part of this year's trip. This year's trip was different because we took nearly double the number of volunteers, and we were returning to a group of people who truly respected and befriended us because of our previous work.
Full Story...
---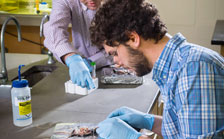 Hampden-Sydney senior and biology major, Stephen Woodall is conducting Honors Research in the laboratory of Elliott Assistant Professor of Biology, Dr. Kristian M. Hargadon '01. Stephen's project in tumor immunology involves the genetic engineering of a mouse melanoma cell line to express a model antigen that can be targeted by the immune system. Using flow cytometric analyses, Stephen is currently characterizing clones of this cell line and evaluating the ability of antigen-specific cytotoxic T cells to recognize these clones.
Full Story...
---
Continuing its 1775 Founding Mission "to form good men and good citizens," Hampden-Sydney College reflects on 10 facts at the close of 2014.
Full Story...
---
The Lambda Circle at Hampden-Sydney College inducted 16 new members into Omicron Delta Kappa, the national leadership honor society for college men and women. The Lambda Circle of ODK was established at Hampden-Sydney in 1924, and membership is a mark of highest distinction and honor.
Full Story...
---
Earlier this semester, 12 Hampden-Sydney men were inducted into the honor society Phi Beta Kappa. Membership recognizes the highest academic achievement, moral character, responsible citizenship, and broad intellectual curiosity.
Full Story...