News Featured
10 Inducted into Sigma Xi
In March, ten Hampden-Sydney College students were inducted into Sigma Xi, the international honorary scientific research society. Founded in 1886 to honor excellence in scientific investigation and to encourage collaboration among researchers in all fields of science and engineering, the Society now consists of over 500 chapters at academic, industrial, and government research institutions and has nearly 60,000 members in more than 100 countries around the world.
---
12 Inducted into Phi Beta Kappa
On Thursday, April 14, 2016, the Hampden-Sydney chapter of the honor society Phi Beta Kappa gained 12 new members. The highest academic achievement, moral character, responsible citizenship, and broad intellectual curiosity are requirements of membership.
---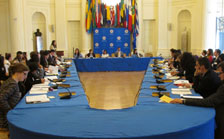 Students Attend Model OAS
Alexander V. Abbott '17
From March 21-25, nine Hampden-Sydney students participated in the Model Organization of American States in Washington, D.C. The Model, held annually, is an introduction to the politics of the Western Hemisphere and allows students a chance to interact with groups from across the U.S. as well as half a dozen other countries.
---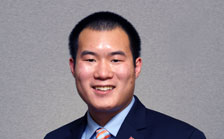 James Lau '17 Named Goldwater Scholar
This year, 252 students were honored with a Goldwater Scholarship. Among this list of scholars from across the nation was a familiar name, James H. Lau '17. He joined Dr. Kristian Hargadon '01 and Lee Ayscue '15 as Hampden-Sydney College students who have received this prestigious award. The scholarship program honoring Senator Barry Goldwater was designed to foster and encourage outstanding students to pursue careers in the fields of mathematics, the natural sciences, and engineering. The Goldwater Scholarship is the premier undergraduate award of its type in these fields.
---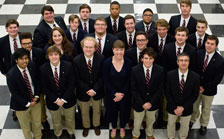 Men's Chorus in New Orleans
Craig B. Cantley '19
The Hampden-Sydney Men's Chorus began their thousand-mile trek to New Orleans for spring break on Wednesday, March 9th, arriving in the Big Easy around 7 PM. Upon arriving we dropped our bags at the hotel and went to Cochon Butcher, a fantastic brasserie located right around the corner from the hotel. The next morning it was back to business, and we practiced in a hotel conference room before our big concert that night. Following the practice, to get our mind off of the imminent concert, we visited the World War II museum.
---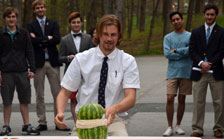 Geek Week
JD Chaudhry '16
On Friday, April 1st, the annual Geek Week Science Demonstrations event took place in basement of Gilmer Hall. The event was hosted by the Society of Physics Students, the Beta Chi Chapter of Alpha Chi Sigma, the Chemistry Club, and the Pre-Health Society. This event has been a tradition for the Society of Physics Students for about 15 years now, however, this was the first year we were able to involve almost all STEM related, student run organizations on campus. The event was a huge success and attracted over 80 people, from the Hampden-Sydney community, Prince Edward County and the Fuqua School community.
---
Ten Inducted into ODK
On Sunday, March 20, Omicron Delta Kappa (ODK) initiated seven students, two staff members, and one member of the Farmville community. ODK is a national leadership honor society for college men and women. The Lambda Circle of ODK was established at Hampden-Sydney in 1924, and membership is a mark of highest distinction and honor. Selection of members is based on their influence as campus leaders to better campus life and to encourage high standards in all activities.
---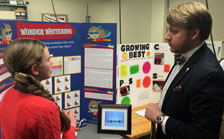 Fuqua 8th Grade Science Fair at H-SC
JD Chaudhry '16
On Wednesday, March 16, the Fuqua School 8th Grade Science Fair took place on the physics floor of Gilmer Hall. The event was a collaboration between the Beta Chi Chapter of Alpha Chi Sigma at Hampden-Sydney, the Society of Physics Students, the Pre-Health Society, the Chemistry Club and Fuqua School. JD Chaudhry, class of 2016, along with Sean Walden, class of 2018, approached the science staff at Fuqua over winter break to plan a scienceoutreach activity. We found out that Fuqua generally hosts a science fair in March, so we were able to convince them to have the event at Hampden-Sydney College.
---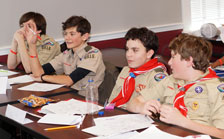 5th Annual Scout Merit Badge Day
Early on a sunny Saturday morning, the Hampden-Sydney campus was buzzing with 320 Boy Scouts ready for a day full of learning and fellowship. On February 27, Hampden-Sydney hosted the 5th Annual Merit Badge Day for 38 troops coming from as far away as Virginia Beach and Northern Virginia. This event offers the Scouts an opportunity to earn two badges of their choosing from classes taught by students, faculty, staff and alumni. The event was organized by Randy Reed '82, Director of Planned Giving.
---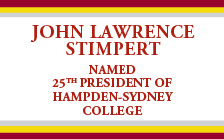 John Lawrence Stimpert Appointed 25th President
Hampden-Sydney College has appointed John Lawrence "Larry" Stimpert as its twenty-fifth president. His unanimous selection by the Board of Trustees follows a six month national search.
Dr. Stimpert succeeds Dr. Christopher B. Howard who served as president for seven years before being selected as the President of Robert Morris University.
President-elect Stimpert most recently served as Vice President for Academic Affairs and Professor of Economics and Management at DePauw University, responsible for all aspects of DePauw's academic program. He supported the work of 250 full- and part-time faculty in nearly 30 academic departments and interdisciplinary programs, as well as the Honor Scholar Program, the Environmental, Management, Media and Science Research Fellows, the McDermond Center for Management and Entrepreneurship, the Pulliam Center for Contemporary Media and the Janet Prindle Institute for Ethics.