News
On Thursday, April 24, Hampden-Sydney College hosts Edward Lopez as he presents a lecture on his book Madmen, Intellectuals, and Academic Scribblers: The Economic Engine of Political Change.In this lecture, Lopez will discuss the ways in which he applies the history of Western political ideas, both in theory and in practice, to his work. He will further explain the economic ideas, rules, and incentives mentioned in his book and how this knowledge can guide business leaders in the ever-changing field of economics.
Full Story...
---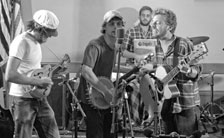 On Tuesday, April 29, Hampden-Sydney College will host "An Evening of Americana Music" featuring the band "Poor Old Shine". The Opening Act of this performance will be Dr. Victor Cabas, Adjunct Associate Professor of Rhetoric.
Full Story...
---
Hampden-Sydney College student, Alex Abbott '17 was recently selected to be a recipient of the Fulbright UK Summer Institute grant. Selection requires that the recipients be young American student leaders with a high level of academic achievement. Alex will have the opportunity to study at the University of Bristol in a four-week program on "Slavery and the Atlantic Heritage".
Full Story...
---
The Hampden-Sydney College Journal of the Sciences has published its third annual volume. The Journal showcases Hampden-Sydney student research. For the first two year, the Journal was an on-line publication but this year, there is also a printed edition. According to advisor, Assistant Professor of Biology Michael Wolyniak, "Journals are moving from print to online, so we considered this carefully, and I admit that I was a little skeptical although we have always had in the back of our heads that it would be nice to have a printed copy. This year the desire and the means came together. The response has been exciting; the Journal has a much higher profile on and off campus."
Full Story...
---
J. D. Chaudhry '16
After several weeks of meetings with members of the Student Finance Board and the head of the Department of Physics and Astronomy, the Society of Physics Students and the Department of Physics and Astronomy purchased The MakerBot: Replicator 2, a desktop 3D printer. The MakerBot is a, microwave size, 3D printer with the capabilities to make professional-quality models using a low-cost consumable, the MakerBot PLA filament. The MakerBot can create models using the easy to use MakerBot MakerWare software along with many 3D design tools such as the Computer-Aided Design (CAD) programs. Essentially, a design is uploaded into a SD card. The SD card is then put into the MakerBot. The MakerBot then creates the model by melting the PLA filament in ascending layers.
Full Story...
---
Dr. Robert H. Blackman, Associate Professor of History at Hampden-Sydney College, has received a 2014 VFIC Mednick Fellowship for his proposal to research and write a new book, "Building a National Assembly".
Full Story...
---
Russell Lee Ayscue, a junior chemistry major and Patrick Henry Scholar, has been named a 2014 Barry Goldwater Scholar, one of only six Virginians to receive the award. The Goldwater Scholarship is awarded to students who have displayed outstanding potential and intend to pursue research careers in mathematics, the natural sciences, or engineering. This year the Goldwater Foundation has awarded 283 scholarships nationally, from a pool of more than 1200 applicants.
Full Story...
---
On Sunday, March 23, 18 Hampden-Sydney students, one faculty member, and one member of the administration were inducted into Omicron Delta Kappa, the collegiate national leadership honor society for men and women.
Full Story...
---
On March 24, eleven Hampden-Sydney students were inducted into Phi Beta Kappa, the national honor society recognizing outstanding academic achievement.
Full Story...
---
On March 18, five Hampden-Sydney students and two H-SC Biology professors were inducted into the Longwood University/Hampden-Sydney College Chapter of Sigma Xi, the international honorary Scientific Research Society. These new members were recognized for their excellence in scientific research and their ongoing commitment to foster collaboration and communication among the scientific community.
Full Story...