News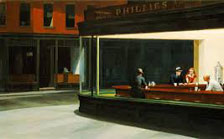 On Sunday, November 9, Hampden-Sydney College and Central Virginia Arts will co-sponsor, "An American Silence: Walker Evans & Edward Hopper", a lecture by art historian Jeffrey Allison.This talk will explore the works of photographer Walker Evans and painter Edward Hopper. Allison will expand on the ways in which these American artists tore themselves away from European ideals at the start of the 20th century.
Full Story...
---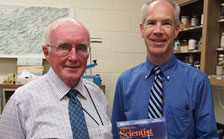 Hampden-Sydney College faculty members, Dr. Bill Shear, Trinkle Professor of Biology, and Dr. Alex Werth, Venable Professor of Biology, recently collaborated to write an article which was featured in American Scientist magazine. In their piece, "The Evolutionary Truth About Living Fossils", Shear and Werth relate the unseen evolution of living fossils and discuss the definition and usefulness of this term.
Full Story...
---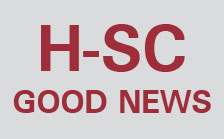 Following is some "good news" presented at a recent Richmond alumni meeting by members of the Hampden-Sydney College senior staff.
Full Story...
---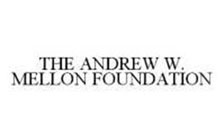 Hampden-Sydney College has received a $100,000 grant from The Andrew W. Mellon Foundation for Strengthening the Core of the Liberal Arts at H-SC, an initiative designed to assist faculty from multiple disciplines to develop the skills needed to teach in the College's Western Culture program.
Full Story...
---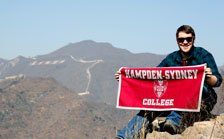 Tyler P. Parham '15
During the 2nd semester of the 2013-14 academic year, I participated in a study abroad program at Fudan University, located in Shanghai, China, through IES Abroad (Institute for the International Education of Students). While I was there, I studied Chinese, diplomacy, anthropology, and economics.Studying a language in another country is one of the best things that you can do. Being fully immersed in a particular culture and being able to just walk outside your apartment and to converse in a different language is an unbelievable experience and one that will truly change you.
Full Story...
---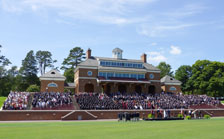 On August 22, Hampden-Sydney welcomed 322 members of the Class of 2018 and 21 transfer students. On August 25, returning students checked in. The third annual C Day was held on August 26 and classed began on the Wednesday, the 27th. The opening enrollment for 2014-15 is 1105, the fourth highest in the College's history.
Full Story...
---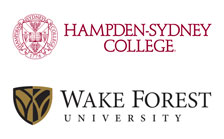 Hampden-Sydney College and the Wake Forest University School of Business have entered into a partnership whereby Hampden-Sydney students and alumni receive preferred application status to the Master of Arts in Management Program.
Full Story...
---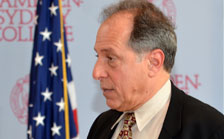 Eighty-eight people representing over 20 schools and six colleges attended the What Works? Conference, held on Friday, July 25. The impetus for the conference was the recently published collection of essays, "What Works," by distinguished educators, authors, and thought leaders. At the conference, two of these contributors spoke offering insight and practical advice to all who are raising boys, engaging guys, and educating men.
Full Story...
---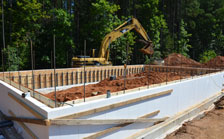 On Monday, August 11, Hampden-Sydney College broke ground on a free-standing energy research laboratory. Students and faculty in the Departments of Physics & Astronomy, and Mathematics & Computer Science will have an unusual opportunity to research energy monitoring, energy conservation, and sustainable housing in a grant-based project on campus.
Full Story...
---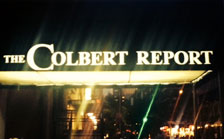 Rising sophomores Acery Nicholson and Patrick Luwis recently traveled to New York to join the audience at The Colbert Report. The show is hosted by Hampden-Sydney College alumnus and television icon, Stephen Colbert.
Full Story...