As one of more than 60 clubs and organizations at Hampden-Sydney College, the Anglers Club's primary focus is competitive bass fishing. Once very active, the club eventually withdrew from the competitive circuit for five years; in their second year reactivated, however, the club is gaining momentum on campus and in competition. And this year, the Anglers will pull up to competitions in style, sporting Hampden-Sydney logos wrapped on their boat.
Cullen Lamm-Hoover '21, current president and one of the leading members to reactivate the club, took initiative and approached the Office of Student Affairs about customizing the boat in garnet and grey. Associate Dean of Students Richard Pantele '13 immediately agreed to help. He notes, "This boat-wrap project serves as a great advertising tool for the club and for the College whenever the group travels to regional bodies of waters to fish on a more casual basis or participates in tournaments."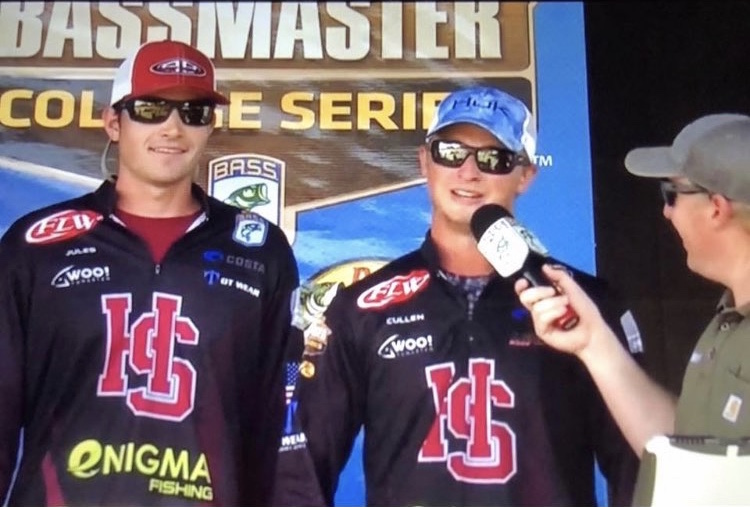 It was the collegiate tournament circuit that inspired Cullen to decorate his boat for the Tigers. "I noticed most of the competitive schools had branded boats, and since we had been placing well, I wanted to show off Hampden-Sydney," says Cullen. The College team has indeed done well reentering the competitive circuit. In their first tournament, Hampden-Sydney placed 30th out of 218 teams and in their first season back qualified for the BASS Bassmaster College Series National Championship in Oklahoma.
Competitive bass fishing is much different than leisurely hobby fishing. "There are more factors that go into fishing than people realize, from baiting techniques to the temperature of the water," Cullen explains. In competitions, each team's catch is presented alive—conservation is important to anglers—and evaluated. Weight, species type, and quantity of the fish all are considered in assessing team scores.
Since competition entries are limited to two people per boat, the club also hosts a few group events to bring together all twenty members. "The Anglers Club provides many of our students with opportunities to share their talents, to build friendships and character, and to build camaraderie through experiences with the outdoors," says Pantele. Now, whether fishing competitively or recreationally, Anglers Club members will show off their Tiger pride in their newly branded fishing boat.