The Beta Chi Chapter of Alpha Chi Sigma professional science fraternity at Hampden-Sydney College raised $600 for the science department at Prince Edward County High School. More than 40 people, including students, faculty, and community members from Farmville and Richmond put their poker skills to the test on January 30 in a three-and-a-half hour Texas Hold 'Em tournament. In the end, only two players remained: Jonathan Miller '17 and Gannon Griffin '17.

While the players had fun and Jonathan and Gannon won the night, the real winners were the science students at Prince Edward County High School, which will use the money raised to buy new equipment and instruments for the classroom.

AXΣ member JD Chaudry '16 says, "We chose to donate the money to a local public school because we believe that every organization on campus has a civic duty to support local establishments in and around Farmville in any way possible. We hope to continue hosting this event every semester to raise money and give back to those who need it."

This is the second time AXΣ has used a poker tournament to benefit a charity. Last semester, AXΣ hosted a Texas Hold 'Em tournament to raise money for Kids in Need Foundation, which provides school supplies for children and grants for elementary and secondary school teachers.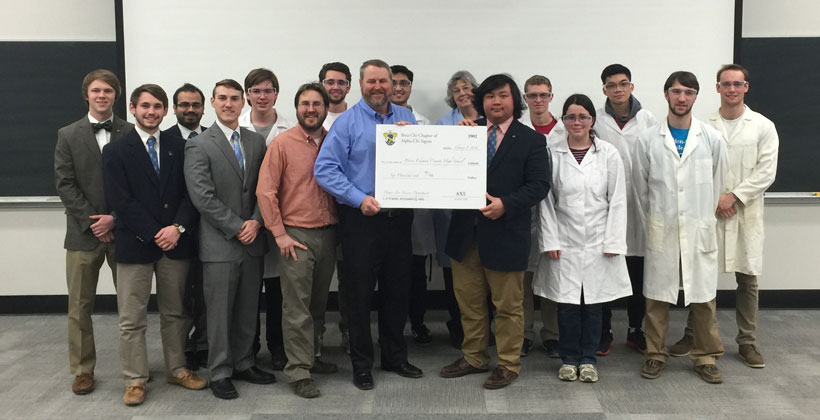 Members of Alpha Chi Sigma present a check for $600 to Dr. Gary Lutz, PECHS chemistry teacher.