Hampden-Sydney College is a part of a coalition that was recently awarded a $479,762 grant by the National Science Foundation (NSF). Of this, Hampden-Sydney will receive $120,604 for its part of the project. The coalition will develop a new virtual academic department that will focus on the analysis of big data, large sets of computational and observational data, which are becoming increasingly prevalent in Science, Technology, Engineering and Mathematics (STEM). In particular, the project will focus on developing courses in biology and earth science, areas that have been traditionally underrepresented in computer science curricula. The other partner institutions are Adams State University, Colorado; Embry-Riddle Aeronautical University, Florida; and Bethune-Cookman University, Florida.

The three-year project runs from January 15, 2017 to December 31, 2020, and is titled "Engaged Student Learning: Coalition for Undergraduate Computational Data-enabled Science & Engineering (CDSE) Education." A scale-up project built on the success of NSF-funded projects at the partner institutions, the program is sponsored by the NSF IUSE (Improving Undergraduate STEM Education) Program in Design and Development Phase I.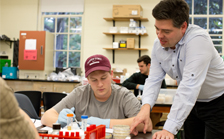 A team of professors from each of the partner institutions will lead the effort. Hampden-Sydney's Dr. Michael J. Wolyniak, Elliott Associate Professor of Biology, along with Dr. C. William Anderson, McGavacks Professor of Chemistry, will work with their collaborators at the other institutions to develop courses exploring the many ways that computational science can be applied to STEM disciplines. These courses will include students from all the partner institutions and will feature a problem-based approach in which students work through authentic research problems to develop an understanding of the material. The research project, if proven successful after three years, will further scale-up to involve more disciplinary domains and spread to more universities after 2020.
According to Dr. Wolyniak, "Science is becoming more and more dependent on analysis of 'big data' sets and on using applications of computational science. Exploring this sort of analysis through collaborations with students and faculty from other schools in the group presents Hampden-Sydney students with a unique and exciting opportunity."