Actors and crew alike deserve an extended round of applause after the successful run of the fall's mainstage production, Neil Simon's Biloxi Blues. A blend of talented acting and clever technical craftsmanship made for a seamless and absorbing depiction of a young soldier's experiences in boot camp. While the play's setting certainly differs from Hampden-Sydney, many may recognize parallels between the revelations and character transformations of young Eugene Jerome and the experiences of Hampden-Sydney students.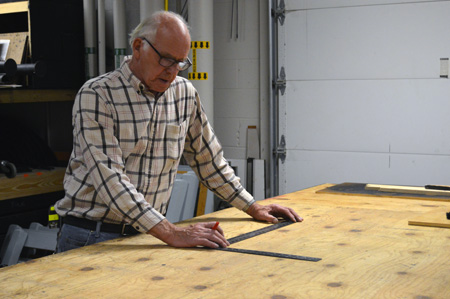 The cast's performances were impressive, but perhaps the star of the show was the technical team. While the action of Biloxi Blues shifts from train car and barracks to the mess hall and beyond, mimicking the bumpy journey of young Jerome's emotional development, the set's physical transition from scene to scene was seamless thanks to the technical crew's hard work under the guidance of Jerry O'Connor, the play's technical director. In order to portray different scenes that vary considerably in detail and can be changed quickly, O'Connor designed a "turntable stage" which is held together by a single central pin — a concept he brought from a longtime career in show business.
O'Connor, a fifth generation stage hand from New York City, started his career at the Metropolitan Opera, before moving on to Carnegie Hall and then eventually breaking out to tour around the US. O'Connor worked for or with a diverse set of entertainers, from the Royal Ballet to pop icon Michael Jackson, and in the 1970's he and friends opened up a theatrical shop and made scenery for networks like CBS and NBC, as well as sets for legendary acts such as Barry Manilow and John Lennon.
With almost 60 years of experience in the entertainment industry, O'Connor has plenty of wisdom to impart on the young men of Hampden-Sydney — a task he took on just over a year ago when he discovered retirement was not for him. As he wiggles his fingers he proclaims, "these have been around 74 years, I want to make sure [theirs] are too." Under his watchful eye, students learn how to employ machinery and tools used both in set design and everyday life. O'Connor has also made the theater program as a whole more efficient, repurposing pieces from old sets whenever possible and showing the students how to build and tear down a set that is capable of this manipulation.
The hands-on approach in the fine arts department is what makes Tre Briggs '17, who played Eugene Jerome, grateful he chose to attend Hampden-Sydney. Tre doubts he would have participated in theatre at another college and says that the small school lends itself to an individualized educational experience: "We get all the attention — it's easier to learn."
For Tre, performance night is his favorite. "There's nothing better than working with a cast with good chemistry," he says. That chemistry — which produced a flawless production of Biloxi Blues — will be showcased again during the department's next production, David Hinson's La Bete.