A Hampden-Sydney College flag hangs behind Robert "Bobby" George '17 as he prepares to begin a night shift on duty in a time zone eight hours ahead of Virginia's. Bobby sports a mustache and a military high-and-tight as he chats with Tiger News via Skype, a conversation that one year ago would have taken place in person. His presence here is proof that life does not always go to plan. A year ago, Bobby received a call informing him he would be deploying to Qatar just a few months later. With that, he packed his bags and prepared to depart-even though it meant taking a break from college during what would have been his senior year at Hampden-Sydney.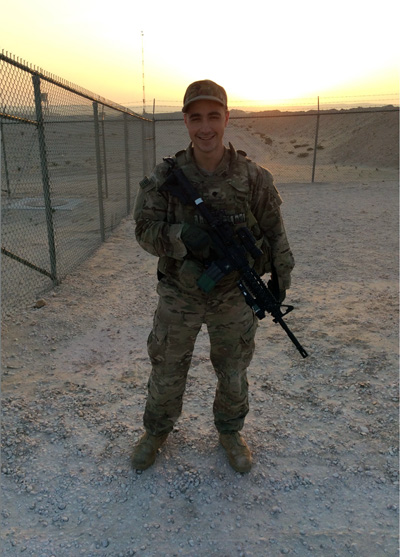 Tasked with guarding military assets, the National Guard 116th Infantry Regiment - also known as the Red Dragons - will spend approximately nine months total overseas. Bobby, a foreign affairs major, admits that he was initially upset with the timing, but he has since discovered the experience to be a positive one. The deployment has allowed the platoon to see an alternative side of the military, which Bobby explained is different from the glory portrayed in the movies, but he has found it to be very educational. Bobby, who is a Specialist with the Military Occupational Specialty (MOS) 11B Infantry, has taken a company intelligence support team class in addition to training for the opportunity to compete for the expert infantry badge since he left for training in May 2016.
The education he is receiving comes with a new environment. Bobby has relocated from an all-male school of his peers in rural Virginia to a base in the Middle East filled with people of all different backgrounds. There are individuals with college degrees and others who have never been interested in college, all of whom have bonded through their military dedication.