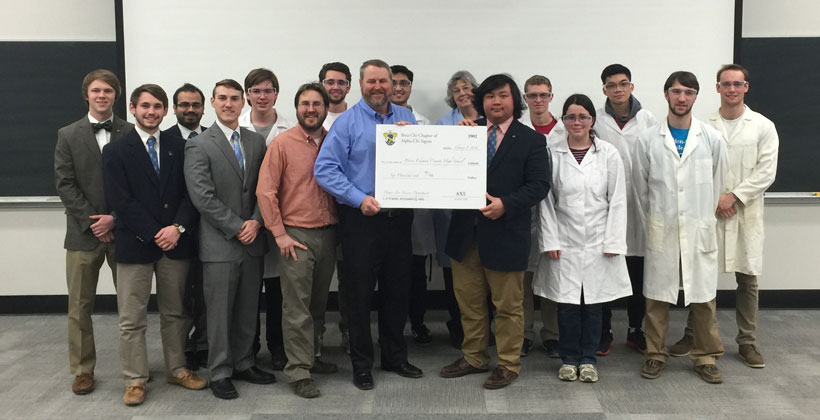 This semester marks the beginning of a unique partnership between Hampden-Sydney College and Prince Edward County High School. A Prince Edward AP Chemistry class is coming to Hampden-Sydney for a six-week program of one-on-one learning in a lab setting. Dr. Gary Lutz, PECHS chemistry teacher, was approached by Dr. Michael Wolyniak, associate professor of biology at Hampden-Sydney College, who was looking for outreach opportunities. Dr. Lutz's class attended one lab with Dr. Wolyniak, and it was then that they realized this could be something bigger.
At this point, Dr. Nicholas Deifel, assistant professor of chemistry with a background in Teach for America, got involved. He figured out a way to turn the freshman sequence that covers synthesis and characterization of metal ligand complexes into a shortened program for these high school students. After this, he recruited six H-SC students to be teaching assistants for the class, all except one of which are brothers or pledges of the AXE fraternity. Each Prince Edward student has his/her own compound and own TA.
The benefits for both Hampden-Sydney and Prince Edward are enormous. According to Dr. Lutz, the high school's scheduling doesn't allow for the kind of in depth lab time required for these long sequences, nor do they have as sophisticated equipment as Hampden-Sydney. The consensus among Prince Edward seniors Christian Kinzer, Connor Burke, and Ratib Stwodah is that the hands on experience in a college setting is both helpful and fun. Connor mentioned that "before the program, I only saw this stuff in a textbook, so it was nice to be able to do experiments." The program not only offers practical applications such as Ratib's new ability to perform a half turn on a titration, but it also gives the seniors a unique insight to college life from their mentors.
The one on one mentoring is the most unique part of this experience. This opportunity provides the TAs with a chance to hone their leadership and interpersonal skills according to Jason Halmo '17, one of the Hampden-Sydney students involved. Plus, the Hampden-Sydney students have a unique perspective as they experience all over again the labs they recently did. Persus Akowuah '18 said, "Looking back, I recognize mistakes I made and help keep [the high school students] from doing them." He also mentioned that the Prince Edward students were "very smart and fun to work with."
Dr. Deifel's best take-away is that he has been provided with a new perspective of his class through the Prince Edward students' eyes. "It's made me think of how I can change to make things clearer for our students, so pedagogically, it's very important to me." If you get a chance to witness a class, you can feel the energy buzzing off all those involved. This is reiterated by the praise Dr. Lutz has for Dr. Deifel's enthusiasm, which he regards as tremendous. With the dedication of the faculty, the Hampden-Sydney students, the Chemistry Club who provides the personal protection equipment, and Dr. Lutz and his students, this program has the potential to become a permanent partnership. So long as Dr. Lutz has a class, Dr. Deifel plans to continue this mutually beneficial program.