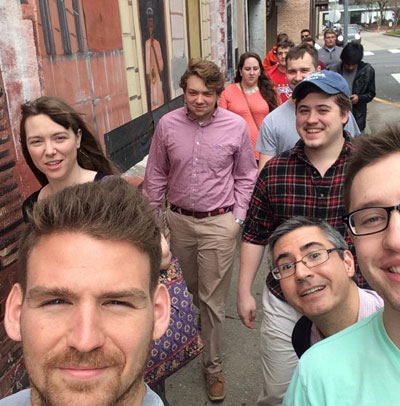 The Hampden-Sydney Men's Chorus began their thousand-mile trek to New Orleans for spring break on Wednesday, March 9th, arriving in the Big Easy around 7 PM. Upon arriving we dropped our bags at the hotel and went to Cochon Butcher, a fantastic brasserie located right around the corner from the hotel. The next morning it was back to business, and we practiced in a hotel conference room before our big concert that night. Following the practice, to get our mind off of the imminent concert, we visited the World War II museum.
After returning and changing at the Hotel, we boarded the historic St. Charles Avenue street car, a mode of transportation forgotten about in most modern cities. It really was a step back in time riding on a street car with everyone dressed in coat and tie, our concert attire. Walking into St. Charles Presbyterian, we were awestruck by the high ceilings and stain glass windows, a very pretty church. We had an audience consisting of church members, visitors, and even Hampden-Sydney Men's Chorus alumni. After the concert we received much praise from the audience and were given the night off.
The next morning was ours to spend as we wanted as well. The majority of the members went to the French Quarter and looked at the local shops and ate some of the best food in the country. I ate at Felix's Oyster House and got a dozen oysters on the half-shell. That night we were offered a very unique and enlightening experience, an event that we will remember for the rest of our lives. Alumni Robert Suggs '96 and his mother, Mrs. Carroll Suggs, hosted an event in their lovely home just outside of New Orleans. Many alumni and guests came and heard us sing and abbreviated version of our concert. It was really a night to be remembered.
The next day was our final full day in the Big Easy, and it was another full day of fun and learning. Some watched the Saint Patrick's Day parade while others went to Whitney Plantation, an old plantation home in Louisiana where part of the movie Django Unchained was filmed. The day was concluded with a farewell dinner at a nice restaurant called Angeline's, whose chef Alex Harrell graduated Hampden-Sydney in 1997. Needless to say, the food was excellent.
The Hampden-Sydney Men's Chorus' trip to New Orleans was definitely the adventure of a lifetime, filled with fabulous food, great people, a lot of music, and countless memories and learning experiences. We are all very thankful for being given this opportunity to experience different cultures while still remaining in the South. We definitely bonded and came back from Louisiana a much tighter knit and happier chorus.