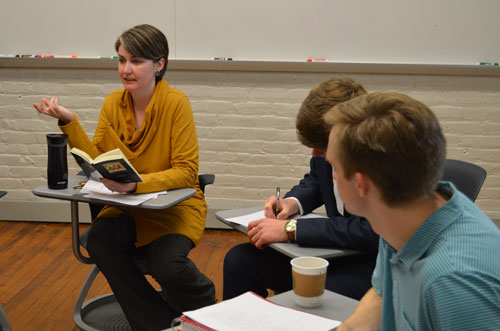 Dr. Erin Cowling, assistant professor of modern languages, has been elected to the Delegate Assembly of the Modern Language Association as one of three special-interest delegates for Women in the Profession. She will serve for three years. With more than 26,000 members in 100 countries, the Modern Language Association is one of the world's largest scholarly associations.
Dr. Cowling says, "The Association is best known for the 'MLA Style' for citing reference material in scholarly work, but it also does much more. The Association is dedicated to the study and teaching of languages and literatures. It publishes many well regarded journals and hosts an annual convention that brings together thousands of academics to present their research, participate in workshops, and network."
Additionally, Dr. Cowling has published an article on the portrayal of violence in Spanish plays about the conquest of the Americas in the literary journal IXQUIC. She also published an article in The Bulletin of the Comediantes about the portrayal of indigenous women in early modern Spanish theatre. This March she will present a paper at the Association for Hispanic Classical Theater in El Paso. Her paper, "Disorder in the Metatheatrical Works of Miguel de Cervantes and William Shakespeare," will discuss the ways in which metatheatricality evolved in the early modern period, and how its disorder provoked not only the outcomes of the plays themselves, but also the reshaping of the audience/spectator dynamic.
The 2015-16 academic year is Dr. Cowling's first year at Hampden-Sydney College. She earned her Ph.D. at Johns Hopkins University in 2012.