History buffs may be spending their Saturday night with Hampden-Sydney College's Dr. John Coombs. C-SPAN will be airing one of Coombs' lectures this weekend (2/25) at 8:00 pm. The associate professor of history recorded his lecture "The Maturation of the English Empire: 1651-1713" for C-SPAN's Lectures in History program.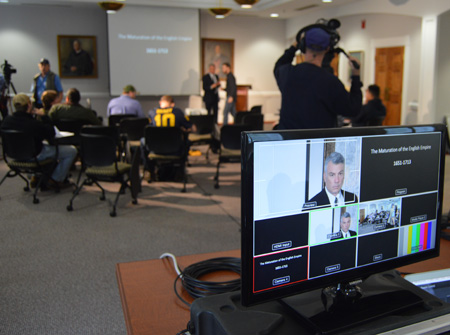 As the title suggests, Coombs' lecture covers the development of the English Empire, a period he says does not begin until after the English Parliament passed the Navigation Acts in the mid-17th century. He says, "Most students would think that the moment you have Jamestown you have an empire, but that's not really true."
An expert on colonial Virginia, Coombs earned his Ph.D. at the College of William & Mary. He is the co-editor of Early Modern Virginia: Reconsidering the Old Dominionand author of the forthcoming book The Rise of Virginia Slavery. He is also an editor for Early American Histories series at The University of Virginia Press.
Coombs was approached by the producers of Lectures in History after he was anonymously recommended, which he says was flattering news. "Sometimes it's colleagues. Sometimes it's students. I really have no idea who recommended me."
Because of production requirements, Coombs and his students gathered in a makeshift classroom in Settle Hall. "I was a little nervous when we started because I wasn't in a typical classroom and I was very aware that this was being taped. But my students were there and they asked great questions. Once I got started, I lost myself in the lecture. It was a lot of fun."
Coombs jokes that he does not expect to show up in the Nielsen ratings, but he was excited to learn that Lectures in History is C-SPAN's most downloaded show. His dynamic style may yet end up in a multitude of American history classes.
Learn more about C-SPAN's Lectures in History series on their website.