JD Chaudhry '16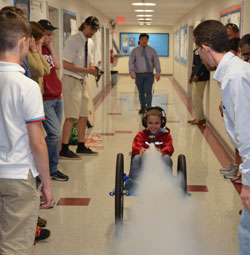 On Friday, April 1st, the annual Geek Week Science Demonstrations event took place in the basement of Gilmer Hall. The event was hosted by the Society of Physics Students, the Beta Chi Chapter of Alpha Chi Sigma, the Chemistry Club, and the Pre-Health Society. This event has been a tradition for the Society of Physics Students for about 15 years now, however, this was the first year we were able to involve almost all STEM related, student run organizations on campus. The event was a huge success and attracted over 80 people, from the Hampden-Sydney community, Prince Edward County and the Fuqua School community.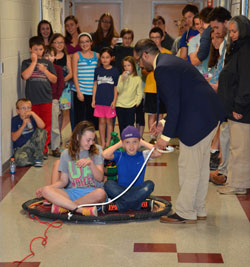 The event was broken into two parts with the first forty minutes of demonstrations taking place outside. We began the event with a bang thanks to Mr. Irvin Robertson, physics and astronomy technician, as we imploded a barrel demonstrating the abilities of a difference in pressure. Conrad Brown '17 and Dallas Roark '18 then demonstrated the explosive effects of wrapping 400 rubber bands around a watermelon. Dr. Kevin Dunn, Elliot Professor of Chemistry, demonstrated another type of explosion using propane. Dr. Stan Cheyne, professor of physics and astronomy, shot off bottle rockets and the potato gun. Ben Lam '17 and Joshua Chamberlin '17 then presented an experiment where they turned water into snow. Finally, Joshua Taylor '16 concluded the outside demonstrations by showing some effects of liquid nitrogen.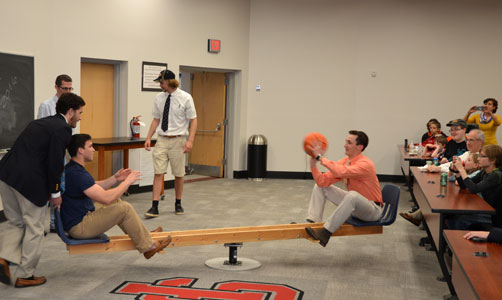 The audience was then guided back into the building where the presenters prepared the second part of the event, the inside demonstrations. These demonstrations included JD Chaudhry '16 showing the property of inertia, Robert Harriss '16 shooting a ping-pong cannon, James Dargan '16 displaying a Reuben's Tube, Branch Vincent '16 demonstrating the Coriolis Effect, Wes Kuegler '18 operating a hovercraft, and Shaquann Seadrow '16 riding a CO2 powered bike.
All of the demonstrations were a big success. Even though H-SC students performed and demonstrated the experiments, the real fun was when we had the audience participate. The fact that we were able to watch a child beam with excitement when shooting off a bottle rocket, smashing a flower dipped in liquid nitrogen, shooting five ping pong balls out of a cannon, or ride on top of a hovercraft made the whole experience incredible.
Geek Week is an annual event, and we hope to see everyone there again next year when we demonstrate even more experiments. A huge thanks goes to Mr. Irvin Robertson, without whom more than half of these demonstrations would not be possible.