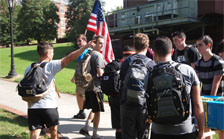 Hampden-Sydney College is widely known for building strong confident men. On October 1, 2016, the College brought the GORUCK Challenge to campus in support of that mission. Nineteen people participated in the GORUCK Light Challenge - an event that emphasizes teamwork, communication, and leadership. Inspired by the Green Berets and founded by Jason McCarthy after he left Special Forces, the event takes place over five hours. The seven to ten mile guided tour took place around campus, from the Tiger Inn to Kirby Fieldhouse, over to Tadpole Hole, and up to the Fire Department.

A GORUCK cadre leads the challenge. John Croft, a former Marine and the Senior Executive Director of GORUCK, was given this task. Croft's goal for the event was to put the team through a challenge that would strengthen everyone's mental and physical capabilities. "I want to put them in a stressful situation where they have to work together as team to succeed," he said. During the challenge, participants had to develop strategies and work as partners within their team.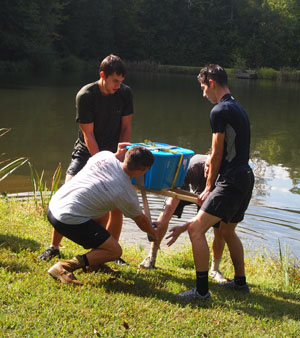 With 20 pounds of bricks in their backpacks, the teams had to complete various tasks under strict time constraints and no more than an arm's length apart. As the clock ticked closer to the deadlines, participants learned how to stay calm and work together. If teams were not all together when the clock reached zero, a penalty was issued to the entire team. According to Grant Osterlund '18, "Physically, GORUCK forced me to go past what I thought were my physical boundaries, because if I failed, then the whole team failed."
As fatigue set in, teammate encouragement was vital to continue the tasks. If one person was falling behind, teams could redistribute weight to help carry his burden. Each task required strategy, determination, and communication to complete. "GORUCK helped me understand the importance of team dynamics and working together, which is very important and relatable to real world situations," said Grant.
Hampden-Sydney will bring back GORUCK in the spring, only this time it will be longer and harder. The Tough Challenge will be 12 hours, cover 15 to 20 miles, and take place overnight, offering the perfect opportunity to challenge students' mental perseverance.