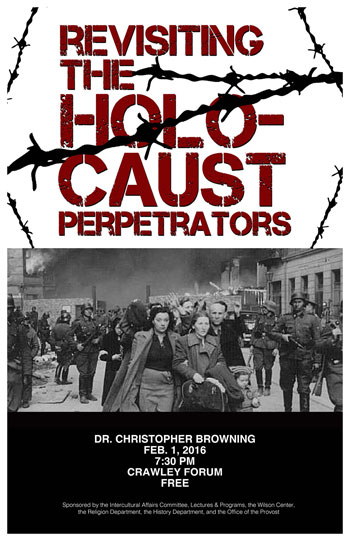 On Monday, February 1, Hampden-Sydney College will host Dr. Christopher Browning as he delivers a talk entitled "Revisiting the Holocaust Perpetrators." He is the Frank Porter Graham Professor Emeritus, UNC-Chapel Hill.
This talk will expand on the events leading up to the Holocaust and on Nazi Germany's implementation of the Final Solution. Much of Browning's research focuses on lower ranking Nazi personnel and the survivor testimony of those who were imprisoned and persecuted.
Browning holds a M.A. and Ph.D. from the University of Wisconsin-Madison. Some of his noteworthy texts include: Remembering Survival: Inside a Nazi Slave Labor Camp, and The Origins of the Final Solution: The Evolution of Nazi Jewish Policy, September 1939-March 1942.
The talk begins at 7:30 PM in Crawley Forum, and it is being collaboratively sponsored by the Wilson Center for Leadership in the Public Interest, the Lectures & Programs Committee, the Office of the Provost, and the history, as well as, religion departments. Admission is free and open to the public.