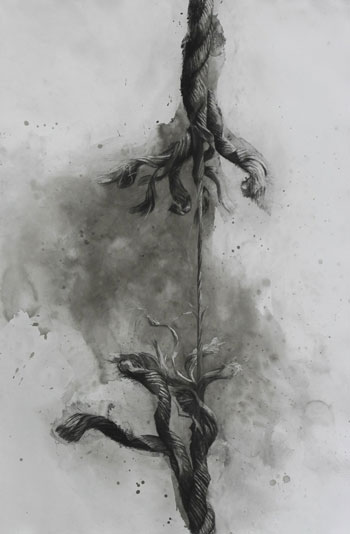 East Carolina University's Wellington B. Gray Gallery is the latest venue to host "The Quickening Image," a collection of wax-resist drawings by Fine Arts Professor David Dodge Lewis and Ephraim Rubenstein.
Lewis developed this drawing technique—complexly layered, large-scale, multi-media—that utilizes wax as a resist for subsequent ink and charcoal washes. He began creating large-scale works for exhibition in the 1980s. Rubenstein learned the technique at one of Lewis' many workshops in the early 1990s. In addition to the work itself, this exhibit celebrates more than 20 years of mutual admiration and friendship.
"The Quickening Image" has shown at the Washington County Museum of Fine Arts in Hagerstown, Maryland, and the Longwood Center for the Visual Arts in Farmville, Virginia.
Seen at right is Lewis' work "Rope #11." Discover more about the work of Lewis and Rubenstein at www.thequickenimage.com.