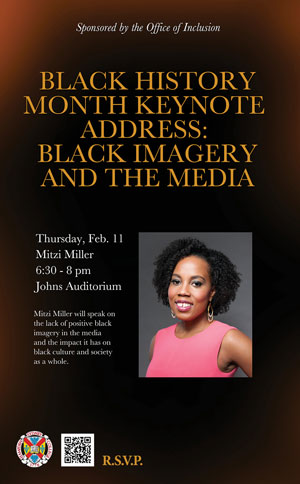 On Thursday, February 11, Mitzi Miller will give the keynote address for Black History Month. Miller will speak on "Black Imagery in the Media."
Before joining Rainforest Entertainment production company as the of Head of Development in March 2015, best-selling author and award-winning journalist Miller served as the editor-in-chief of EBONY magazine.. She is the youngest individual to ever helm the flagship publication.
Prior to that, Miller was editor-in-chief of JET magazine, a position she held since May 2011. Within less than three years at JET, her vision of revamping the iconic 62-year-old brand was realized with it's first and only successful cover-to-cover redesign, new website launch, improved social media presence, and consistent media coverage of buzz-worthy stories featured in its pages. In addition, the transition earned her the coveted position of being the third person and only female to hold both prestigious editorial positions.
After earning a Bachelor of Arts degree in English from Florida A&M University, Miller began her publishing career at Honey magazine. There she was quickly promoted from intern to featured columnist to the entertainment editor. She later became an associate relationship editor at JANE magazine and the editor-in-chief at SET magazine.
The Connecticut native has co-authored five popular books over the past decade: The Vow: A Novel; The Angry Black Woman's Guide to Life; and the three-title Hotlanta young adult series.
A frequent public speaker, Miller delivered the keynote address at the 2011 Florida A&M University Homecoming Convocation, the 2012 National Black MBA Association's annual conference, the 2013 Sears/Kmart Black History Month Event and most recently at the 2015 Clayton State University Annual Student Leadership Conference.
The lecture will be in Johns Auditorium at 6:30 PM. and is free and open to the public.
Full schedule for Black History Month