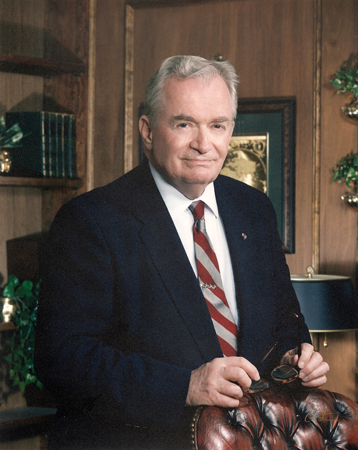 Excerpts:
New York Times: "General Wilson, who fought in the jungles of Burma during World War II and worked in intelligence in Germany and Russia at the height of the Cold War, combined the savvy of a spymaster with the grit of a hardened combat veteran."
Richmond Times-Dispatch Editorial Page: "He possessed a zeal for justice and the strength of forbearance. May all those blessed by him use their liberty in accordance with the selfless life he led. Sam Wilson's everlasting rest is assured."
Washington Post: "As one of Merrill's Marauders, he discovered and penetrated a weak point in Japanese lines, then rode 30 miles on horseback back to Brig. Gen. Frank Merrill to set the stage for what DIA described as 'the first engagement of U.S. ground combat force on the continent of Asia' in World War II."
Associated Press: "Wilson served as director of the Defense Intelligence Agency, and was known for coining the term 'counter-insurgency' as well as for helping to create Delta Force, the U.S. Army's special forces group."
Richmond Times-Dispatch: "Mr. Wilson developed such a reputation that his advice was sought from leaders including Presidents Nixon, Carter, Ford and George H.W. Bush."
Fayetteville (N.C.) Observer: "Throughout his career, Lt. Gen. Wilson was known as a warrior, diplomat and academic."
Commentary Magazine: "Few others could rival Wilson's achievements across so many fields-to include his work as president of Hampden-Sydney College in Virginia after his retirement. If there were any justice, General Sam would deserve to be far better known. But having operated most of his life in the shadows, he appeared content with his relative anonymity. He epitomized the Special Forces ideal of the 'quiet professional.'"
Coverage:
Editorial: Sam Wilson lived the highest forms of patriotism (Richmond Times-Dispatch)
Samuel V. Wilson, Army lieutenant general and spymaster, dies at 93 (Washington Post)
Samuel V. Wilson, Ex-Director of Defense Intelligence Agency, Dies at 93 (New York Times)
Retired US Army Lt. Gen. Sam Wilson dead at 93 (Associated Press)
Retired U.S. Army Lt. Gen. Sam Wilson, former Hampden-Sydney president, dies at age 93 (Richmond Times-Dispatch)
Warrior, diplomat and academic: Lt. Gen. Samuel V. Wilson dies at age 93 (Fayetteville Observer)
Former Hampden-Sydney president, US Army Lieutenant General dies at 93 (WRIC)
Thank You, 'General Sam' (Commentary)
General Sam: a servant leader (Farmville Herald)
OSS, Special Forces warrior, diplomat Samuel Wilson dies at 93 (SOFREP News)
Wilson, Samuel - Obituary (Richmond Times-Dispatch)
DIA announces death of former director, Lieutenant General Samuel V. Wilson, U.S. Army (Retired) (Defense Intelligence Agency)