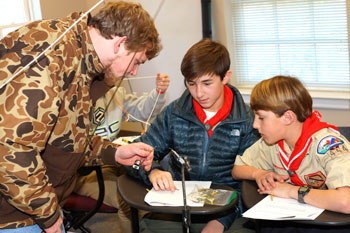 Various Hampden-Sydney students stepped up to teach and volunteer throughout the day, displaying the kind of leadership the College prides itself on. James Crandall '16, who taught scouting heritage was among those students. Once a Scout himself, he wanted to give back to the community and noted the parallels between the scouting mission and that of Hampden-Sydney, which both focus on making good men and leaders. "They are both about honor, integrity, and holding people to a high standard."
As the brothers of Chi Phi guided the troops through campus, the Scouts were provided with a close look at the College. The Scouts experienced a day during which they were taught in the same classrooms as the H-SC students, and ate in the same dining hall.
Economic professors Dr. Ken Townsend and Dr. Levkoff offered their expertise for the American business merit badge. This comparatively rare merit badge, which is taught in a four-hour session, covers the fundamentals of business organization, banking, marketing, management, production, and cost. Dr. Townsend mentioned how impressed he was with the tenacity of the Scouts and their eagerness for tackling problems. After the lengthy class, the Scouts asked an unusual question, if Dr. Townsend was planning to retire. When he inquired as to why they were asking, they boisterously said, "We want to attend Hampden-Sydney if you will be here when we graduate from high school."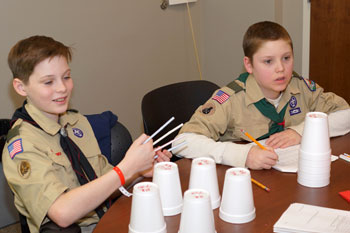 When the day came to a close, all participants in this valuable event went away with more than they started with. The students have another leadership role under their belts, the faculty and staff a fresh new group of excited students with whom to share their knowledge, the alumni a refreshing reminder of why they chose Hampden-Sydney, and the Scouts have skills they will take with them as they continue forward. Who knows, in a few years we might even see a few faces again as they become a part of the Hampden-Sydney Brotherhood.
Instructors for the day: Brothers of Alpha Chi Sigma, Brothers of Pi Kappa Alpha, Fly Fishing Living and Learning Community, Taylor Anctil '16, Blake Auchmoody '82, Larry Brandon '76, James Crandall '16, Sam Forbes '16, Kyle Hart '16, Dr. Lee King '94, Dr. Steve Levkoff, Noel Malave, Rucker Snead '81, Dr. Ken Townsend, and Dr. Rob Wade '91