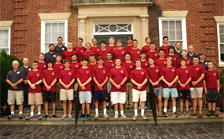 Thirty high school students from across the country participated in the Shelton Leadership Challenge sponsored by the Wilson Center for Leadership in the Public Interest and Hampden-Sydney College during the last week of June. Students learned basic leadership skills, styles of leadership, social responsibility, and goal setting. The students had the opportunities to employ these skill sets in a variety of settings to include problem-solving and team-building activities, as well as service projects.

In support of social responsibility goals, the students hosted and entertained children from the Southside Virginia Family YMCA in Farmville. They led the children through activities, including a mummy race, a marshmallow race, and other outside games. While the outreach efforts were positive for the community, they also provided an opportunity for campers to use the leadership skills and approaches they had been focusing on throughout the challenge.
This was the second year Hampden-Sydney hosted the Shelton Challenge. The challenge was founded by General H. Hugh Shelton and allows young men who aspire to make a difference for their family, community, and nation to explore the cornerstones of values-based leadership - honesty, integrity, compassion, diversity, and social responsibility.