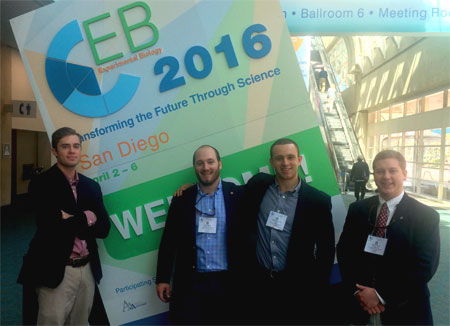 One of the benefits of getting involved in independent research at Hampden-Sydney College is the chance to present the finished product at a national scientific conference. In the course of a week in early April 2016, nine Hampden-Sydney College science students presented their research on both coasts of the United States.

First, four students made their way to San Diego, California, to attend the 2016 Experimental Biology Meeting. Travis Goodloe '16 and Jefferson Thompson '16 presented work done last summer under the guidance of Dr. Kristian Hargadon, while Charlie Kyle '16 and Jake Rockenbach '16 showed a poster based on their joint Departmental Honors project advised by chemist Dr. Bill Anderson and biologist Dr. Mike Wolyniak. Jefferson's work explored the use of CRISPR-Cas9, an exciting new molecular biology technology, to edit a cancer factor in a mouse cell line model. Charlie and Jake focused on work originally begun by Chris Ferrante '15 and Jay Brandt '15 (both of whom are currently in medical school) that attempted to develop novel antibiotics for use on a series of pathogenic bacteria. Travis' project looked at ways to use quantitative PCR to identify the presence of cancer progression in melanoma cells. The Experimental Biology conference brings together thousands of scientists ranging from students to established leaders in fields representing six different professional societies covering biochemistry and molecular biology, anatomy, physiology, pathology, nutrition, and pharmacology. The students, accompanied by Dr. Wolyniak, were also able to take in some of the sites of San Diego, including attending part of the San Diego Padres season-opening series against the Los Angeles Dodgers.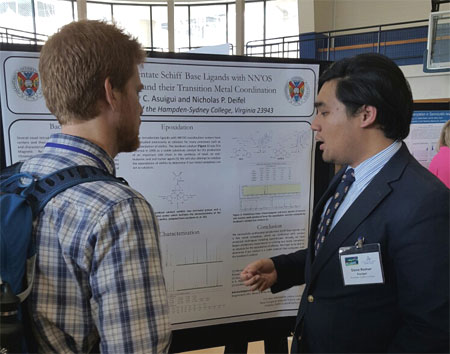 As the San Diego crew was preparing to come home, five more Hampden-Sydney College scientists set off from campus to present their work at another national meeting. This time the venue was the University of North Carolina-Asheville, site of the 30th Annual National Conference for Undergraduate Research (NCUR). NCUR welcomes presenters from all institutions of higher learning and from all corners of the academic curriculum. The conference provides a unique experience for all undergraduate students because it supports student achievement in all areas of study through poster, oral, visual, and musical presentations. At NCUR, Dane Asuigui '16 presented his work advised by Dr. Nick Deifel on the synthesis of tetradentate Schiff Base ligands with NN'OS coordination spheres and their metal coordination. JD Chaudhry '16 presented his work advised by Dr. Mike McDermott on the development of a Mossbauer spectrometer utilizing piezoelectric materials and Arduino boards. Mason Luck '16 presented his research advised by Dr. Ed Lowry on studying the invasive plant Centaurea stoebe under various watering regimes. Chris Hawk '16 presented his work done with Drs. Wolyniak and Lowry on the characterization of two pathogenic fungal species, Pseudoperonospora humuli and Podosphaera macularis, on the hops varieties Humulus lupulus and Humulus japonicas. Finally, Linh Nguyen '16 presented research advised by Dr. Trey Thurman on the optimizations for finding ground states of quantum ising spin glasses.
The group of students that represented Hampden-Sydney at these events are preparing for a variety of different graduate programs, including doctoral-level research, medicine, public health, and hospital administration. Work on independent research projects during their undergraduate years and interacting with their scientific peers at national conferences reinforces the skills taught to them at Hampden-Sydney and better prepares them for their next professional steps.