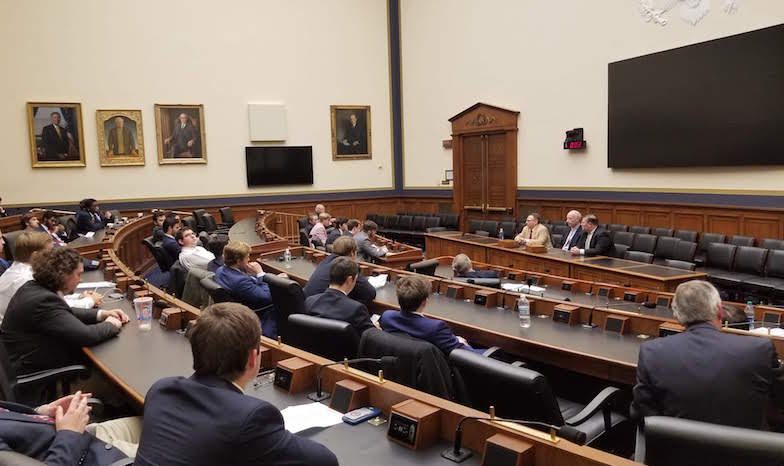 Tuesday found Wilson Center students and leaders on Capitol Hill in Washington, D.C. for a series of panel discussions featuring alumni and friends of the College with expertise in the government and public policy realm. In what has become an annual highlight for students, these experts offered insights on a variety of relevant topics.
The students' day culminated with dinner at the Capitol Hill Club, where Chris Cooper '93, the founder and principal of Convergence Targeted Communications, and Chris Stirewalt '97, the politics editor for Fox News Channel, discussed the 2018 midterms and the implications going forward.
The day's topics and speakers included:
The United States and the Global Marketplace: Separating Fact from Fiction
Scott Pietan '95 (Office of the U.S. Trade Representative)
The United States and Asia: Nationalism, Regionalism and the Challenge of Advancing a Free and Open Pacific
Ash Jain (Scowcroft Center for Strategy and Security at the Atlantic Council)
General Mark O'Neill, U.S. Army-ret. (Founder & President, Opus / Summit, LLC, and father of Colin O'Neill '11)
Government Affairs Professionals: The Sand and the Grease in the Gears of Legislative and Administrative Processes?
Paul Pisano '89, Moderator (Senior VP of Industry Affairs and General Counsel, National Beer Wholesalers Association)
Tucker Shumack '95 (Principal, Ogilvy Government Relations)
Tom Craig '99 (Director of Governmental Affairs, Duke Energy)
Report from Capitol Hill
Andrew Duke '91 (Chief of Staff, Congressman Jeb Hensarling [TX-5])
Mac McKinney '11 (Energy Policy Advisor, Congressman Tim Walberg, [MI-7])
Making Sense of the 2018 National Elections: The 'What,' The 'Why' and The Implications
Chris Stirewalt '97 (Politics Editor, Fox News Channel)
Chris Cooper '93 (Founder and Principal, Convergence Targeted Communications)