Hampden-Sydney College beat University of Richmond in the final round of the Wells Fargo Ethics Bowl hosted by the Virginia Foundation for Independent Colleges (VFIC), securing victory for the second year in a row. The team, coached by Dr. Patrick Wilson, was comprised of Alexander Vincent Abbott '17, Kole Donaldson '19, William Reed Echols '17, and Samuel Steele Melson '18.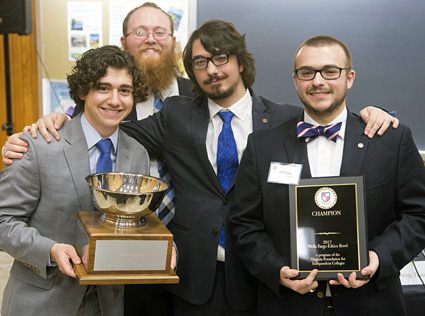 During the competition, which focused on ethics and U.S. presidential politics, 16 teams presented their analyses, positions, and recommendations to panels of judges comprised of business, professional, and educational leaders from across Virginia. The case studies debated covered issues regarding privacy, immigration, and national security.
Hampden-Sydney focused on one ethical principle per case, such as respect or responsibility. Each member was assigned a role: open, discuss the ethical principle at hand, talk about the ethical stakeholders, and conclude. They supported their argument with multi-step actions to take and included an emotional appeal to support the ethical dilemma. According to Dr. Wilson, "What distinguished our team was that, instead of focusing on policy or fact-finding, we really focused on the ethics, which is what I think won the round for us."