The Esther Thomas Atkinson Museum, named for its founder and first director, strives to promote an awareness and understanding of the history of Hampden-Sydney College as it relates to its role in the history of Virginia and the United States, while serving to support and enhance the College's mission to form good men and good citizens in an atmosphere of sound learning.
Hours
Tuesday - Friday
10-12:00 and 1-5:00 (open late on game days)
Student Museum Board Application
Echoes from the Past: Letters, Manuscripts, and Images From the H-SC Archives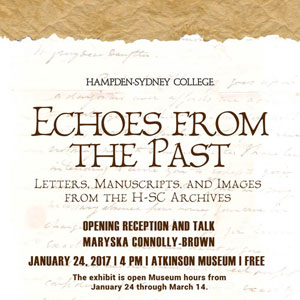 January 24
Exhibit runs from January 24 - March 14
Unique historical documents gathered from the first 150 years of the College's history from the archives of the Bortz Library
Atkinson Museum, 10-5 PM, weekdays

How European Refugees Lifted 19th Century American Pop Art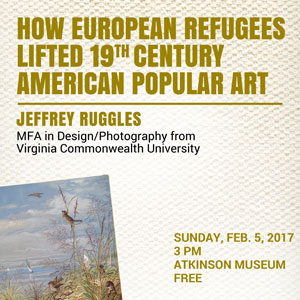 February 5
3 PM in the Atkinson Museum
The marvelous world of American lithography reached its apex through the wave of Europeans who immigrated after the Revolution of 1848 and brought advances in technique and art to the United States.
Atkinson Museum, 10-5 PM, weekdays

Take a Seat: A Brief History of Chairs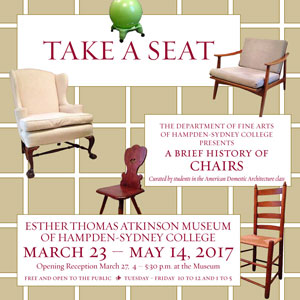 March 27
Exhibit runs March 23 - May 14
Curated by students in the American Domestic Architecture class
Tuesday-Friday 10 AM - 12 PM and 1 - 5 PM in Atkinson Museum
Finding Old College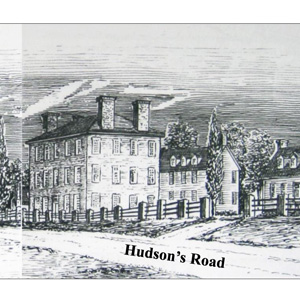 September 26
Lecture: Charles Pearson and Brian Haley: Finding Old College: A Geophysical Search for the Original Hampden Sydney College Buildings
Sponsored by the History Department, Atkinson Museum, and the Architectural Society of the Fine Arts Department
Make a Museum Gift
---
Help support our programs. Check out the Sponsorship and donor levels.
Making a Gift
Esther Atkinson Museum
---
Hampden-Sydney College
P.O. Box 745
Hampden-Sydney, VA 23943

Angela Way, Director-Curator
away@hsc.edu
Phone (434) 223-6134 | Fax (434) 223-6344