Hampden-Sydney Launches Young Entrepreneurs
This feature story appeared in the Fall 2018 Record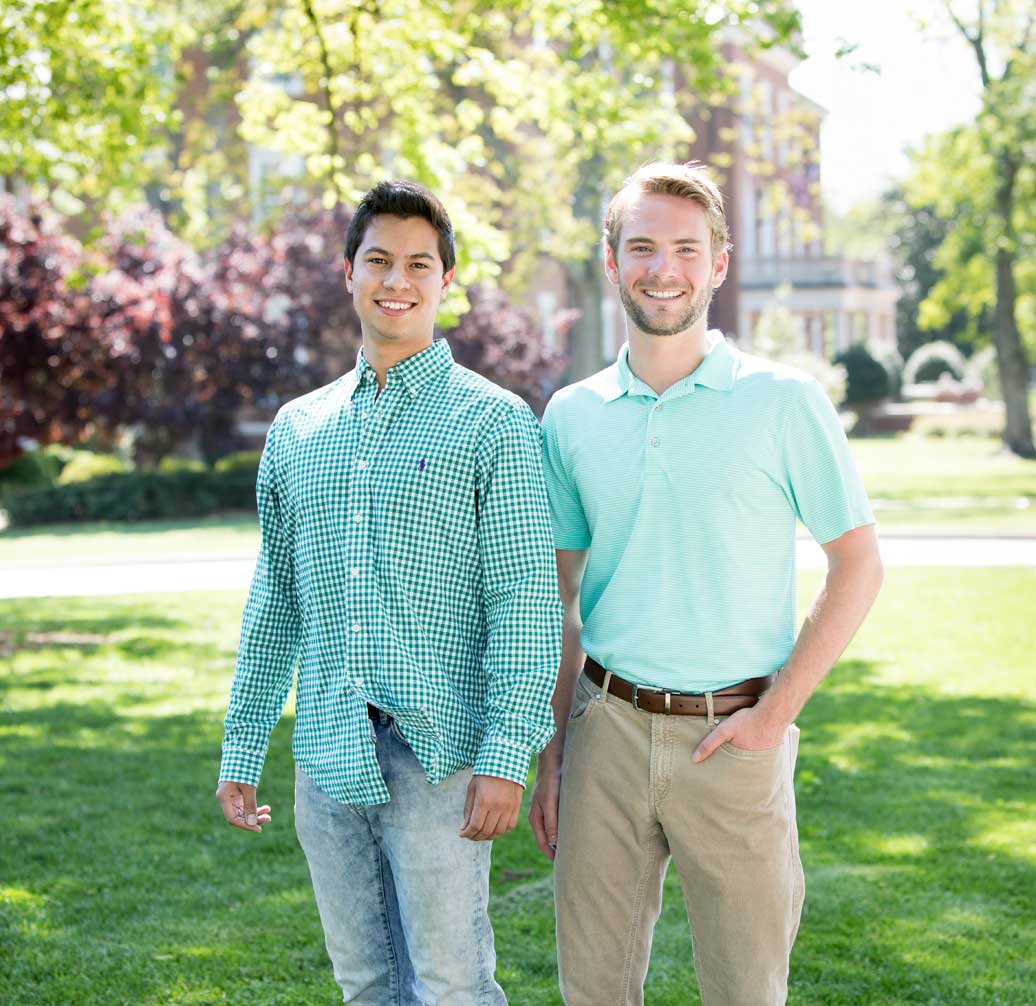 After a delayed flight, lengthy taxi ride, and two-hour wait for the keys to his vacation rental, Luis Torres '18 found himself in a situation that many vacationers will recognize: tired and hungry in an unfamiliar city, he finally made it to his Airbnb only to discover an empty refrigerator and the local grocery stores closed for the night. "My first day in Prague was such a hassle," says Luis, who visited the city during a semester abroad in Valencia, Spain. "I remember thinking, 'There has to be an easier way to start a vacation.'" So, when a Hampden-Sydney classmate brought up the idea of a grocery service geared for vacation rentals, Luis knew he had found the right business partner in Joseph "Tate" Socha '18.
The two economics majors spent their senior year preparing to launch Fully Stocked, a concierge company that facilitates the purchase, delivery, and stocking of groceries in vacation units before tenants arrive. By April of 2018, Luis and Tate had been selected for two entrepreneurship contests and were preparing for a whirlwind 48 hours, starting with a live pitch competition at Charlottesville's Tom Tom Festival and ending with Hampden-Sydney's Tiger's Den Competition. One of only 15 teams chosen for the American Evolution Innovators Cup at the Tom Tom Festival, the Hampden-Sydney team presented a three-minute pitch before a live audience and a panel of judges, followed by a three minute Q&A session. The pair had just a few hours to take advantage of the festival's valuable networking opportunities, then it was back to H-SC, where Fully Stocked was one of four teams vying for a $1,000 prize and an investment of up to $15,000 from the Hampden- Sydney Venture Fund.
This year's Tiger's Den Competition was notable for its breadth and depth, with pitches for social-entrepreneurship ventures as well as traditional supply-and-demand start-ups. In addition to Fully Stocked, Tiger's Den finalists included Pan Clothing, a socially-conscious fashion company founded by Jacky Cheng '18 and Tanner Beck '18 with the purpose of supplying textbooks to impoverished schools; Turtle Sense, affordable technology to monitor and protect sea turtle nests while creating ecotourism opportunities, presented by Kyler Vela '18; and Randolph & Overstreet, a full-service importer and retailer of antique and bespoke European sporting arms founded by Phillip Beatty '18 and Zane Moody '18.
A panel of alumni judges—all entrepreneurs themselves—faced a difficult task in selecting a winner among the four finalists. "This is my second time participating in the Tiger's Den event," says Brian Church '98, co-founder and CEO of TheStartup.com, "and the quality of this year's plans—coupled with the critical thinking it took to find real solutions that consumers are willing to pay for—was very impressive. I wouldn't be surprised to see several of them reach significant revenues."
Dave Carter '93, co-founder and CEO of the Graphic Cow, agrees: "All of the young men were passionate about their particular businesses and proved they were ready to take the ventures from concept, to execution, to the finish line."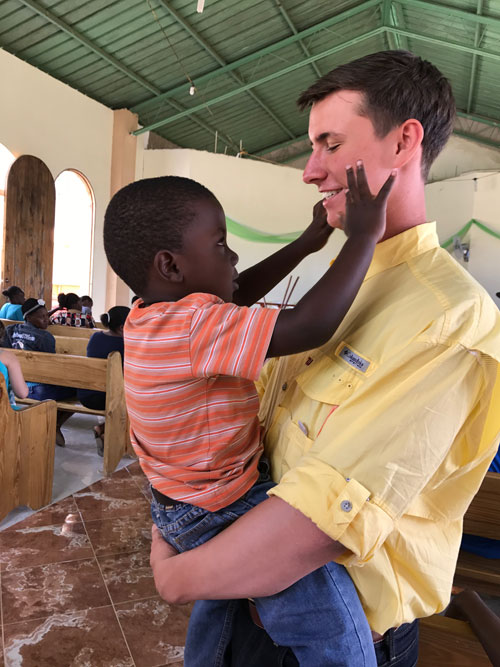 Just like Luis and Tate's idea for Fully Stocked, each of this year's business ventures was inspired by the students' personal experience, from Hampden-Sydney-sponsored internships to family hunting traditions. The genesis of Pan Clothing, for example, was a College-sponsored Beyond the Hill service trip to the Dominican Republic, where Jacky and Tanner had the opportunity to visit a village primary school. "We were shocked to see an entire classroom sharing just one textbook," the young men explain in their business plan. "We were even more shocked to find out that this is a problem not just in the Dominican Republic, but around the world." To combat the problem, Pan Clothing donates five textbooks for every item of clothing it sells; within a few months of its launch, Pan donated over 2,200 textbooks to primary schools in Haiti.
Kyler's passion for endangered sea turtles also originated on a College-sponsored experience, a summer internship with Dr. Erin Clabough, assistant professor of biology, at the Hatteras Island Ocean Center on the Outer Banks of North Carolina. There, Kyler worked to protect sea turtle nests with a low powered, inexpensive monitoring system that makes it possible to predict hatching dates within a window of just a few days. The Turtle Sense technology enables humans and sea turtles to share the beaches of the Cape Hatteras National Seashore in a mutually beneficial manner. In addition to protecting the turtle eggs and hatchlings, Turtle Sense reduces beach closures, creates ecotourism activities, and enables scientific research.
It was a shared interest in upland-bird hunting that first connected the founders of Randolph & Overstreet, who grew up immersed in the hunting traditions of the American South. Neither of the young men expected to start a business right after college—Phillip, a history and classics major at Hampden-Sydney, planned a career in finance or commercial real estate, while Zane, a government major, expected to attend law school. But when the pair discovered a niche market for fine European firearms among American sportsmen and a ready supply of the specialty guns in the U.K. market, they decided to follow their passion into the industry. "Our conversations with Hampden-Sydney alumni who started their own businesses convinced us that this was a viable option right out of college," Phillip says. "It was the right time for us to do this."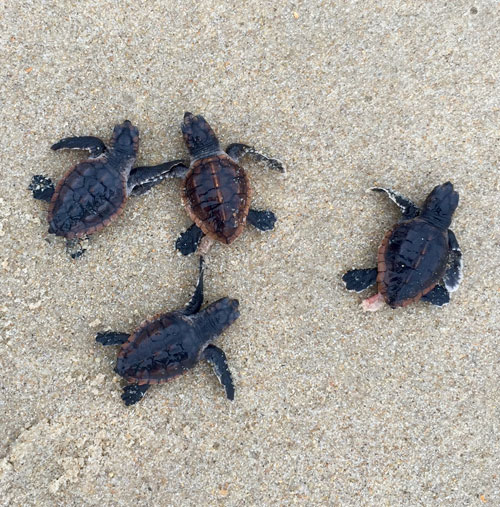 The Tiger's Den judges were impressed not only by the creativity of this year's business plans, but by the students' preparation, presentation, and quick thinking on their feet. "The students had done the research needed to launch, and every presenter was distinguished and genteel," notes Church. "As someone who sees about 1,000 deals a year, I rarely attend a contest where I can say that each finalist was investible as a person. Hey, it's Hampden-Sydney, and the lads did not disappoint!"
Equally appreciated was the young men's willingness to admit what they didn't know, according to both Church and Carter. "Our job as judges is to challenge the entrepreneurs and help them find the holes in their ideas," Carter explains. "Although they did a good job anticipating challenging questions, we did come up with some scenarios they hadn't considered. What impressed me most—and I think it is indicative of Hampden-Sydney culture—was the students' honesty and candor. Instead of trying to gloss over something, they were candid about saying, 'That's a great question. We need to take some time to think about that.'"
The judges themselves required some time to choose a winner among the four viable business plans, but ultimately it was Fully Stocked, Tate and Luis' concierge grocery service geared for vacationers, that emerged from the Tiger's Den in first place. "The definition of entrepreneurship is identifying a problem and trying to be a solution for that problem," says Carter. "I loved the fact that Tate and Luis were interested in making vacation a positive experience by providing a resource for the family that had a stressful day getting settled into their vacation rental." With its mission to provide the most valuable luxury—time—to its customers, Fully Stocked recognizes that consumers don't just demand goods and services, they demand convenience, and they're willing to pay for it.
Regardless of the final outcome, contest participants agree that the Tiger's Den process enabled them to launch a business in the midst of completing their Hampden-Sydney degrees. Firm deadlines provided accountability in researching commercial viability, completing financial projections, and testing products and services, while mentorship opportunities through the College's Flemming Center for Entrepreneurship and Innovation provided crucial guidance and feedback. The founders of Fully Stocked and Randolph & Overstreet, in particular, made good use of the Center's flex office space and took full advantage of the Center's Entrepreneur-in-Residence, Daniel Morris. An attorney who has founded several successful companies and worked extensively with start-up incubators, Morris helped the student entrepreneurs identify potential pitfalls and practical solutions throughout the process.
Dr. Justin Isaacs '95, interim director of the Flemming Center for Entrepreneurship and professor of business and economics, believes that entrepreneurship and the liberal arts complement each other well. "A liberal arts institution like Hampden-Sydney forces students to think critically and apply different methods across the curriculum to solve problems and draw conclusions," says Isaacs. "These tools are exactly those necessary for successful venture creation." He continues, "The Flemming Center enhances the skills already being developed by the College to give students with an interest in entrepreneurship the opportunity to learn technical skills necessary to start their own businesses." And the students who make it to the Tiger's Den have an even greater advantage, according to Isaacs. "Having students work through the entire entrepreneurial process from idea creation to the final stages of business development and financing cultivates a degree of independent self-reliance," he explains, "which gives them a true advantage, regardless of their aspirations after Hampden-Sydney."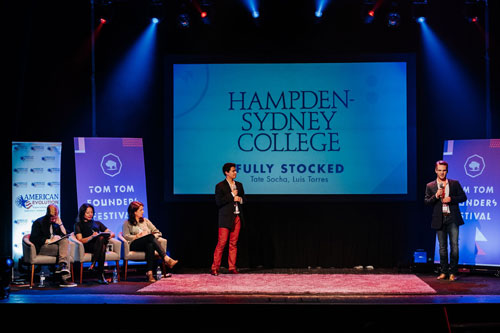 The founders of Fully Stocked are also quick to point out the value of the entrepreneurial process. For Tate, the past year increased his self-confidence and tested his resolve. "I had toyed around with business ideas before, but sitting down for nine months to work out a business plan, pitch to investors, speak in front of crowds—those experiences taught me so much along the way," he says. "I've learned the meaning of commitment. At this point, Fully Stocked is more than just an idea, more than just a project. It has become a mission."
Two months after commencement, each of the proposed start-ups continues to grow. In addition to launching their services in Virginia Beach and Ocean City, Fully Stocked has secured partnerships with individual property owners and a rental agency in the Virginia Beach market. Now fully licensed to import and sell firearms, Randolph & Overstreet offers antique English double-barrel shotguns on commission and has entered an exclusive partnership with a Scottish manufacturer of high end, custom-made sporting arms. Pan Clothing—which has already produced its first apparel with an overseas manufacturer, secured sales, and entered a philanthropic partnership with an established charity—continues to grow its customer base through social media influencers and pop-up events. And the investment in Turtle Sense technology that Kyler pitched has become a pilot program for Hampden-Sydney's proposed experiential learning initiative, with four H-SC student interns using the technology at the Hatteras Island Ocean Center this summer. (Read more about the students' work on Hatteras Island)
For the alumni who mentor Hampden-Sydney's student entrepreneurs or serve as judges in the IDEAS and Tiger's Den competitions, the experience is both a chance to give back to their alma mater and a confirmation of H-SC's vital mission. "Having the opportunity to return to campus and re-live the past while having a small part in empowering someone's future is something I cherish and hope to continue for a long time to come," says Church.
Carter feels the same way. "I love getting back to campus and interacting with students, and I'm always impressed by what I see," he says. "In a time where many people feel like college students are changing, the culture is changing, and technology is changing, Hampden-Sydney College is still developing great young men. The College's values and mission are needed now, more than ever."
Flemming Center for Entrepreneurship