A Victor of Circumstance
From the Record, Spring 2022
By Alexandra Evans
"Always be near the CEO." Words of wisdom from his grandfather that Barron Segar '84 took with him as he climbed the corporate ladder from his first job in banking to his time as chief development officer and executive vice president of UNICEF USA. These days, it's easier than ever for Segar to put this dictum into practice because he is himself the CEO.
In January of 2020, Segar stepped into his dream job as president and chief executive officer of World Food Program USA. Based in Washington, D.C., World Food Program USA mobilizes American policymakers, businesses, and individuals to support the United Nations World Food Programme's mission to end global hunger by 2030. In his first 18 months at the helm, Segar ushered in a period of unprecedented organizational and charitable growth.
Upon its fiscal year-end on September 30, 2021, World Food Program USA had brought in $60.4 million in revenue with 74,000 constituents giving and approximately 250 of those constituents being considered major donors—or donors who give at or above the $10,000 level—as compared to $29.8 million in revenue at the end of fiscal year 2020 with 64,000 constituents donating including 115 major donors.
With success like that, it would be hard for Segar to go unnoticed. On August 2, 2021, The NonProfit Times named him to its 2021 Power and Influence Top 50 list out of a field of 300 top executives. The announcement notes that this year's honorees "have distinguished themselves as initiators, innovators and leaders."
"I'm incredibly honored to be recognized among such a distinguished group of nonprofit leaders. But for me, what matters most is not the accolades but the impact we're making and the lives that we are changing and saving," Segar says. "In the end, the ultimate gratification for any nonprofit leader is the knowledge that your work helped make life a little better for someone else. This is more than a career; it's a calling, and there's no other work I'd rather be doing."
Segar's technical proficiency in fundraising andnonprofit management is attributable to his previous professional experience as an executive with Nations Bank (now Bank of America) and UNICEF USA, but his immense personal compassion for the people whom the organization serves is the true driving force behind his every move.
"My mother always told me, 'You can't choose where you're born. You were lucky enough to be born in America to a family who can provide for you,'" Segar recalls. He keeps this in mind whenever he meets new people whom World Food Program USA supports, calling them his brothers and sisters.
If one were to judge by his resume or public profile, Segar has lived a charmed life. Born into a tight-knit family in Norfolk, he was a popular student at Norfolk Collegiate Academy, became a Sigma Nu brother while at Hampden- Sydney, rubs elbows with A-list celebrities, has achieved professional success, and is happily married.
But Segar has had more than his fair share of trials through the years. In addition to overcoming a speech impediment and a fiercely shy nature, Segar almost failed out of college, battled suicidal thoughts, and has experienced discrimination both personally and professionally—including being the victim of a hate crime.
"We're all a product of our experiences," Segar says, and he has made the most out of all his experiences—the positive and the negative.
COMING INTO HIS OWN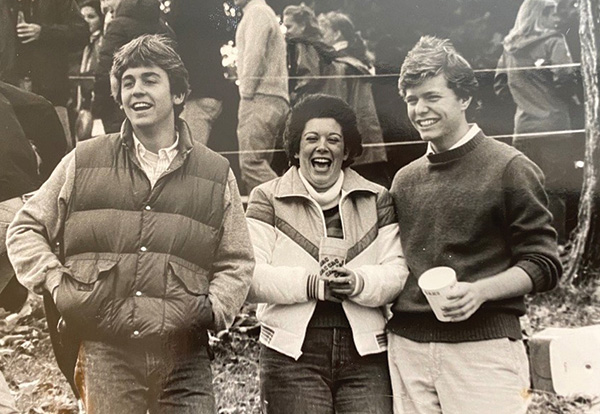 Segar describes himself as a rebellious child—never doing anything too crazy, but always pushing the boundaries. "My parents had a very hard time keeping a babysitter around," he laughs.
That rebellious streak threatened to cause a rift in his family at the end of Segar's high school career as he contemplated his next steps. Despite being close with his father, Segar knew that his dad's wishes for his future were not in line with his own.
"I had a Virginia Military Institute Class of 1984 pennant above my bed throughout my entire childhood," Segar says. The pressure on Segar, the only son of Nancy and Samuel Barron Segar, Jr., to attend VMI was so intense that his father threatened to not pay for his education if he enrolled anywhere but Lexington.
"I'm a very curious person, and I knew a liberal artscollege would give me a much broader education," Segar says of his decision to forge his own path. "Hampden-Sydney was the only college I wanted to go to that I felt could give me that."
Luckily, Segar's grandfather stepped in and helped with tuition, saying, "VMI is my first favorite school, but Hampden-Sydney is my second favorite school," Segar recalls.
Although H-SC was indeed the right place for him, Segar was not immune to the challenges of the home-to-college transition, eking out just a 1.6 grade point average his first semester. Knowing he needed help fast or he would be returning to Norfolk without a degree, Segar sought the advice of Hampden-Sydney's counseling services. "The counselor helped me figure out what I needed to be successful," he says, which included moving off-campus to create some much-needed distance and structure in his life. But perhaps more importantly than helping Segar turn his grades around, the counselor helped Segar come to terms with his sexual orientation—a secret which he had carried throughout his young adult years.
"I was very lucky that Hampden-Sydney had a resource center that could give me someone to talk to," Segar says. "I went to the counseling center a lot because I was struggling. Through this counselor, I made a 180-degree shift. He really helped me in a non-judgmental way to self-identify with who I was, help me create boundaries so that I could succeed at Hampden-Sydney, and get my life back on track. I continued to see him multiple times a week the rest of my time at the College."
PRIDE AND PREJUDICE
During his time on the Hill, Segar found self-acceptance for his sexual orientation, but he was still not ready to share that part of his life with his close friends and family. "This was the '70s and '80s when the worst thing you could possibly do was be an out gay person," Segar says. So following graduation, he took the opportunity to move to Atlanta, where he could not only begin his career in a great position at Nations Bank but also find a community where he could openly be himself.
Segar did indeed find a supportive community in Atlanta, but not everyone was so welcoming. Late one night in 1992, as he walked to his car after having drinks with friends at well-known downtown-Atlanta gay bar Blake's, Segar was confronted by a group of seven men who began hurling homophobic slurs at him. Ever the rebel, Segar replied, "Don't worry; you're not my type."
His nonchalant response angered the group, which rushed across the street and surrounded him as one man kicked him in the back and another held a knife to his throat and said, "This is what we do to faggots."
While Segar fortunately escaped the attack with no significant physical injuries—and the two men who physically assaulted him were held responsible—the resulting turmoil of a nationally-televised court case turned Segar's world upside down. His case became a test of Georgia's hate crime laws, and Segar was outed to his family and his employers.
"One of the senior executives at the bank called me in and said, 'We saw it, and we support you. If you ever experience any sort of discrimination at Nations Bank, call me,'" Segar says. "But he ended up leaving. Not long after he left, I applied for a new position at the bank. I was told that because the region was in a conservative area of the state, they wouldn't hire me because I was gay and they didn't feel the customers or the employees would respond to me. I had just been profiled on the cover of the bank's magazine. My team and I had just secured the largest partnership in the history of the bank. I couldn't work so hard for a company when I knew that I couldn't work in certain areas, and they tolerated that."
"ELTON JOHN IS ON LINE ONE"
By this point, the prejudice Segar had experienced in his personal life and then his professional life was compounding. But where most people might let it harden them against others, Segar used it to fuel his compassion for his fellow man. His experiences made him realize that he wanted to leave a legacy centered around humanity.
And one day in 1992, while Segar was still working at Nations Bank, a call came in from an old friend that would give him that chance. The opportunity? To join the board of a new AIDS foundation. And the old friend? Academy-, Grammy-, and Tony Award-winning singer, composer, and pianist Elton John.
Segar and John had first met when Segar's former partner was in a rehab center in Chicago with John, and the pair remained friends. John felt that he had ignored the HIV epidemic for too long, and now that he was sober and felt he had been given a second chance at life, he wanted to do something significant with that chance. So John founded the Elton John Aids Foundation (EJAF), and he wanted Segar to be one of the six founding board members. When Segar asked why John chose him, he recalls the legendary entertainer saying, "Because you've never asked me for anything. People in recovery often get taken advantage of, and you never asked me for money or an opportunity. At times when I talked to you, I was very vulnerable, and you never took advantage of that."
Segar's exemplary character, his experience volunteering with AIDS patients as a hospice worker, and his proven track record of revenue generation and relationship building made him an ideal choice for the EJAF board. Nearly 30 years later, he remains a member of that board. During his tenure the foundation has raised over $600 million to support HIV-related programs in 55 countries and has Charity Navigator's highest rating—four stars.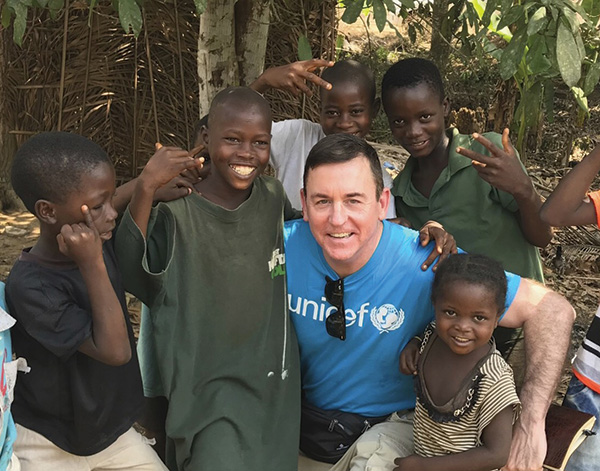 The opportunity proved life changing for Segar. With the chance to work in the field came the realization that he could be a voice for the voiceless, which inspired Segar to make the move into full-time philanthropy. He joined the board of UNICEF Atlanta, and after several years chairing the development committee, he was offered a full-time position. Segar ultimately became executive vice president and chief development officer of UNICEF USA, playing a key role in generating more than $500 million in annual revenue over nearly two decades with the organization.
Just as his time with EJAF inspired him to work with UNICEF, Segar's responsibilities at UNICEF dovetailed nicely with his EJAF duties. He would often tack on an extra day to international UNICEF trips to conduct EJAF business. It was on these trips that Segar says his eyes were opened to the importance of food in a way that most of us take for granted: "Food is the first line of defense. If a patient doesn't have access to proper nutrition, they can't take their antiretrovirals; they can't fight disease." It was this realization that led him to the World Food Program USA.
FOOD FOR THOUGHT
Segar was a finalist for the CEO slot at UNICEF when the same position became available at the World Food Program USA. He had taken UNICEF from raising $260 million a year to over $600 million the year that he left. So why walk away from an organization that he had worked so hard for and had turned into a well-oiled machine? In short, his new understanding of the role that food plays in global health was the catalyst that changed the trajectory of his career. He says, "The more I got to know the board at WFP and the closer I got to the mission, I thought it was a place where I could have greater impact on humanity."
"The people that the World Food Program USA helps are just like you and me," he continues. "They need help, but they don't want to rely on humanitarian work. I have yet to meet one person who's truly different from me. The world is full of stereotypes. I know what it's like to be stereotyped, and I won't do that to people in Central America or Africa or anywhere else. These are my brothers and sisters. I've seen the power of philanthropy and giving the voiceless a voice. I've seen the haves and the have nots. I want to be part of the solution, and hunger is solvable. I happen to see the world as one place, and I have a moral obligation to help people whether they're here at home or half a world away."
Compassion and empathy are two traits that enabled Barron Segar to overcome the personal injustices that he has faced throughout his life. Paired with his leadership skills, fundraising prowess, and business acumen, those attributes now guide him as he seeks to correct injustices around the world, reminding us all that a good citizen is a global citizen.