Three-plus years ago, Griffin Davis '20 made a decision to become a Hampden-Sydney Tiger so he could play football. A transfer student from William and Mary, he wanted to attend a school where he could make an immediate impact. "Hampden-Sydney's track record was undeniable—they had just won three ODAC Championships in four years. That's a school where you want to be, to make an impact," says Griffin. He made the right decision. "As soon as I came here, everyone really accepted me, and I could feel the brotherhood right away," he says. "The whole community is invested and the atmosphere on game day is awesome."
"Griffin has really been the rock on our defense since he arrived," says head coach Marty Favret. A successful linebacker, Griffin has finished among the Top 10 in the ODAC in tackles each of the past three seasons, and has been a First Team All-ODAC selection for the past two seasons, while the program's Defensive MVP all three seasons. Favret explains, "He's been a consistent, hard-working force. As an upperclassmen, he's embraced his role as a leader and captain."
The leadership role is one that he has worked hard to develop in recent years. "I had never been a really big vocal guy. I just led by example," says Griffin. "I wanted to change that persona a little bit."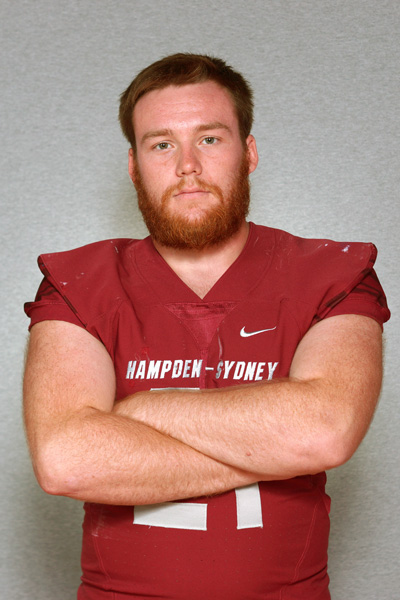 Much of his development can be attributed to his off-the-field life at Hampden-Sydney. "This place has definitely made me more accountable as a man," says Griffin. "You must always be on top of your time-management. It's really helped me become the man that I want to be. That sounds very cliché, but it's definitely true. In football and academics, we're always being pushed to be our best."
A well-rounded student-athlete, Griffin studied abroad this past summer in Germany for 5 weeks in The Münster Summer Program. "It's the small things that really make a big impact. Everything over there is completely new to you, and it broadens your horizons," he admits.
The economics and business major also credits his faculty advisor, Dr. Justin Isaacs '95, Elliott Professor of Economics and Business, for his support. "Dr. Isaacs always provides a helping hand. He can really relate with you about how you're getting through your classes," explains Griffin.
Davis will graduate this year and hopes to go into the field of financial advising. He admits that what he'll miss the most about being a Hampden-Sydney Tiger "is probably the camaraderie we've had as a football team. I knew it was going to be really awesome, and I've made great friendships here through the rough times, and through the good times," he says, adding, "I'm going to miss all that for sure."