Mapp Goes the Extra Mile:
Alumnus on a Mission to Provide Pediatric Care in Central America
from the Record, Spring 2021
By Alexandra Evans
Bidding farewell to the hot, dry sunshine and warm, caring people of Guatemala after his first medical mission trip, then-Hampden-Sydney sophomore Jeff Mapp '01 left a piece of his heart behind.
Twenty years later, he returned to claim it.
On his return to Guatemala, however, Mapp was no longer just a young, eager college student only qualified to tote supplies and help with paperwork. Instead, he returned as a trained pediatrician leading Extra Mile Pediatrics, the medical nonprofit he founded because of his passion for the people he met those many years before.
"I was just planning on being a college guy. Play football, join a fraternity, have some fun," laughs Mapp, who serves as a managing partner and physician at Pediatric Associates of Richmond, in addition to his duties as president of Extra Mile. But three weeks into his freshman year at Hampden-Sydney, Mapp's life changed forever when his little brother, Joey, underwent brain surgery to remove a tumor.
"That surgeon was immediately my hero. It wasn't just the technical skills of removing the tumor, it was seeing the trust that he took on and the comfort he gave our family throughout the process," Mapp says. "I knew from that moment that I wanted to go into pediatrics."
As the first in his family to consider the medical field, Mapp knew he needed help navigating the complexities of medical school admissions. So in his sophomore year, he reconnected with that same neurosurgeon who had treated his brother the year before. Dr. John Ward then invited Mapp to Guatemala on a medical mission trip so that he could gain valuable, firsthand experience.
"That trip not only cemented my desire to go into medicine but also planted a seed in my heart to serve that area of the world," Mapp says.
When he returned to the Hill that fall for his junior year, Mapp dove into his pre-med courses. He remembers especially fondly his classes with then-McGavacks Associate Professor of Biology Michael Dougherty, saying, "At a time where I was finding a lot of motivation within myself to do well, he was presenting really challenging material. He saw in a few of us some of that motivation to reach our goals, and he poured his energy into us by making himself available and guiding us. I felt that with so many of my professors at Hampden-Sydney. That's the beauty of Hampden-Sydney—the smaller size allows the faculty to really take the time to get to know their students and their students' goals."
Mapp also credits Hampden-Sydney's small class sizes and accessible faculty with helping him get into medical school. "The science department was relatively small at the time compared to maybe economics or history, but I think that worked in my favor," says Mapp. "You need strong references to get into medical school, and because my professors were able to spend one-on-one time with me, they were able to really speak to my work ethic and my character. Whereas in a larger research school setting, professors and students rarely have that type of intimate relationship because of class size alone."
After graduating from HampdenSydney, Mapp landed at the Virginia Commonwealth University School of Medicine, where he completed both medical school and residency. His desire to return to and serve the people of Central America had never wavered, but between the time commitment and expense of medical school, residency, and raising a young family, it would be another 15 years before Mapp returned to the region, this time on a trip to Nicaragua with South Carolina-based nonprofit One World Health.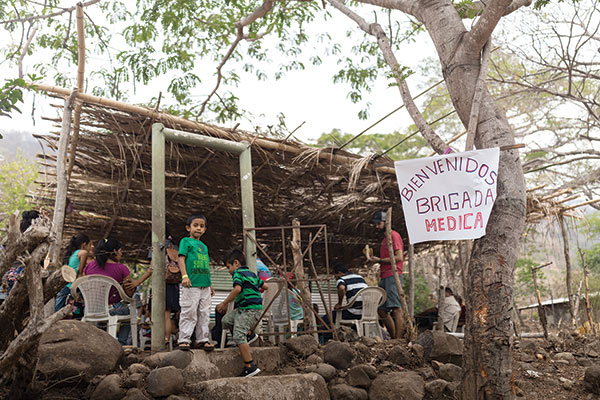 "I was thrilled to be back in Central America serving with such a great organization, but I started to see some opportunities to improve the model that most medical nonprofits use," Mapp admits. "What struck me the most was the fact that we only had a limited time in front of these patients, and because many organizations return to the same countries but not to the same communities, they have no idea when these patients will have access to medical care of any kind again."
"As a general pediatrician, most of the patients I see are healthy kids, and my job is to teach them how to create healthy habits that will sustain their health for a lifetime. So I thought, why can't we do that in these areas?" Along with his wife, Kimball—a pediatric nurse and Extra Mile co-founder—Mapp began considering how to tweak the model to create more sustainable, long-term impact in the communities he felt called to serve.
"If we can teach foundational health habits while the kids are generally healthy, we are helping to raise a healthier community over time," Mapp explains. "I knew there was value in returning to the same communities every few months to assess long-term patient growth and development and to focus on education and preventive care."
By now Mapp had also received an MBA from the University of North Carolina at Chapel Hill, and after harnessing his business education to establish a nonprofit organization and his training as a pediatrician to inform the care model, Mapp set about identifying communities where he could help. He made connections with community leaders across Central America through a group called Christian Surfers International, and as he began connecting with local communities, he made sure to only offer support or services where needed.
"We never want to undermine what's already happening in the community," he says. "If they already have healthcare infrastructure set up, we don't want to disrupt that. That goes against our whole vision of long-term sustainability. We would rather work with that community and find ways that we can support them. Or if they're already doing a great job, we would be more useful in another community that doesn't already have access to those services."
After several logistical trips to identify buildings that could house clinics, coordinate with in-country pharmacies to procure medicine and supplies, and build relationships with the local families they would soon be serving, Extra Mile took its first group of 12 volunteers to the Tamanique area of El Salvador in 2019.
And although COVID-19 has limited the group to just the two trips taken to El Salvador in 2019 and one trip to Guatemala in early 2020, Mapp says he believes the group is still on the right track. "The biggest question mark for us going into the second trip of 2019 was 'could we see the same families?' And overwhelmingly we did," Mapp says. "It's going to take much longer to see the fruits of our impact there because our whole model is focused on development, growth, and nutrition, which happens over time. What we have been able to show already is that the families understand the need for follow up and preventive care in ways that they didn't before."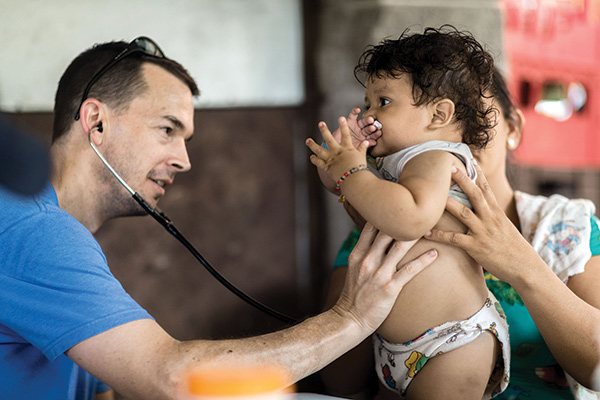 Because the communities Extra Mile Pediatrics serves are remote—located several hours outside of major cities through rough terrain without the benefit of public transit—seeking medical care is often not an option forthese families unless there is a significant illness. Visiting a doctor often means whole families miss out on days of work or school and spend what little resources they have on the trip alone.
This disparity in access to resources is something else that Mapp would like to help fix. "At a preventive care level, healthcare is about resources, not just medicine," Mapp says. "If a community doesn't have access to clean drinking water because the largest industry in their area is salt mining, which has contaminated the ground water, suggesting that a patient drink more water to help with their headaches is a worthless recommendation. By identifying the obstacles, we can help solve the more systemic issues. We can coordinate to bring in nonprofits that are equipped to provide non-medical services."
In his own business model, Mapp strives to eliminate barriers to access and opportunity as well. He knows how important experiences like his very first one in Guatemala are to young physicians in training.
"Dr. Ward said that if I could find a way to pay for my flight to Guatemala, then he would take care of everything else," says Mapp. "That trip changed my life, and I didn't know it at the time. I was fortunate that my family could afford this kind of trip, but I don't like the thought that financial barriers could prevent others from having that experience. Where our patients are born and live isn't a reason for them not to have access to healthcare. In the same vein, not being able to afford the flight or lodging shouldn't be a reason not to have this experience."
To honor the work that Dr. Ward started years ago, Extra Mile Pediatrics offers the John D. Ward Scholarship, which helps send physicians in training or providers who are early in their careers on service trips with Extra Mile. The scholarship also funds partnerships and sharing opportunities with local organizations to strengthen healthcare offerings in the communities Extra Mile serves.
This aspect of sustainability underpins Extra Mile's whole mission. "Ten years from now I don't want to be talking about just having a trip every six months," Mapp says. "I want to have helped build healthcare infrastructure that supports these communities both in between our visits and long-term."
Talk about going the extra mile.