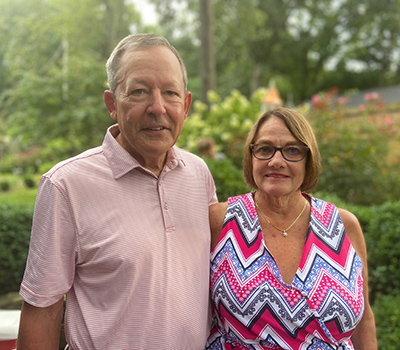 Growing up in Salem, Austin knew from an early age he wanted to practice medicine. "Neither of my parents went to college; they were products of the Great Depression," he explains. "My mother worked at General Electric for 30 years and my father was a contractor." When it came time to apply to colleges, though, Hampden-Sydney was his top choice.
"I was pre-med from the get-go, and even though I had to work hard, it was a great four years," Austin recalls. "Hampden-Sydney fit my needs perfectly. I enjoyed my small classes and my professors—especially Dr. Edward Crawford in biology. We also had a great social life. I was a Sigma Chi and had friends in other fraternities, as well."
Like many, Austin credits Hampden-Sydney with his success later in life: "I did well in medical school, which I attribute to Hampden-Sydney. I was well prepared: I knew how to work hard, study, communicate—all the things you learn at Hampden-Sydney."
After graduating from the Medical College of Virginia, Austin completed his internship and residency at the University of Alabama, then went to UVA for a cardiology fellowship. He and his wife, Becky, now live in Roanoke, where he practices at the Carilion Clinic Cardiology. They have two children and seven grandchildren.
Austin has supported Hampden-Sydney over the years, both financially and with his leadership. "I have been a long-time member of the Society of Founders, and I served three terms on the Board of Trustees beginning in the late 1990s," Austin says.
As a former trustee, Austin is now a member of the James Madison Society, and he attends meetings regularly and is active in the Roanoke Alumni Club. He is also a member of the 1776 Legacy Society, having made a gift of life insurance to Hampden-Sydney "to be used where it is needed most."
"A school the size of Hampden-Sydney is always going to need funds," he says. "It's exciting to see what Dr. Stimpert has accomplished in a short period of time. We're getting gifts we have never gotten before, but there's still work to be done."
"Our biggest challenge is to become financially stronger, and we can only get there if we build our endowment," Austin explains. "Legacy gifts are key."
It's not surprising—considering Austin's chosen profession—that there's a common theme to his philanthropy: the heart. "Becky and I give to our church, where we were married and still faithfully attend. We support the American Heart Association. I was a long-time board member and state president."
"And we give to Hampden-Sydney," Austin continues. "I feel fortunate I was able to attend Hampden-Sydney. I loved my time there and have a real appreciation for what my undergraduate degree meant to my career. Giving back to Hampden-Sydney is a way to show my gratitude."
---
Your gift supports the Tiger legacy and positions the College for another 244 years of forming good men and good citizens.
For further assistance, please contact:
Office of Gift & Estate Planning
(434) 223-6780
giftplanning@hsc.edu