Why did you choose Hampden-Sydney?
When I was being recruited by the football coaches, I developed a relationship with every single coach. They all reached out to me, which I was really impressed by. I also wanted to come in and make an immediate contribution to a team, and I knew I could do that here. But at the end of the day, academics has always been first in my family. At Hampden-Sydney, the academics speak for themselves; the programs are exceptional.
What is your favorite thing about H-SC now that you are here?
The relationships I've built with my professors here have been beyond what I expected. Each professor I've had has taken a personal interest in every student; they want us to succeed and will do anything they can to help us. They expect us to be men and do the work, but they'll go above and beyond to give us the tools to succeed.
If you could give yourself advice as a freshman, what would it be?
The transition from high school to college can be really intense, but building relationships with your professors can make that transition so much easier. Also, take a minor; having a more well-rounded academic resume opens even more doors after graduation.
Favorite meal in the Commons?
I like the breakfasts. I get an egg white omelet with mozzarella, bacon, sausage, and pepperoni.
Favorite professor or class?
Professor of Business and Economics Anthony Carilli. He reminds me of my dad because he tells it how it is, and he doesn't sugarcoat anything. Every good thing I've said about the professors here—he's that and more.
Has your perception of an all-male college changed during your time at H-SC?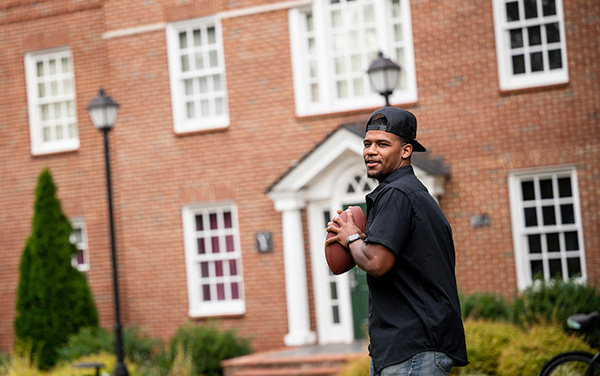 Something I noticed my first semester freshman year in class was that I wasn't distracted. I was able to focus on the reason I was here, which was my schoolwork. But also the social scene at Hampden-Sydney is not limited. So in the classroom where it counts, the distractions are minimized, but there are plenty of social opportunities to interact with women.
What has been your most challenging class so far? How did it shape you as a student or a thinker?
Computer science. Learning a different computing program from what I use in math econ courses was challenging. I had to spend a lot of time with it because it made me think completely differently from what I was used to.
Who has been a mentor to you at the College?
Justin Pollard '21 is like a brother to me. He was the starting running back when I came in as a freshman, When I got the starting job over him, he could have easily been upset or bitter, but instead he mentored me and supported me. Because of this, I gained a lifelong friend who will always be there when I need him and vice versa.
What are your plans for after graduation?
I'm hoping to pursue a position with the Pentagon that will use my mathematical economics degree. I considered attending the Naval Academy and becoming a military officer before I found Hampden-Sydney, and this is a way I can still serve my country and help people.
What do you wish prospective students knew about H-SC?
First, don't worry about the all-male thing. You'll find what you're looking for. Second, don't let the academic rigor scare you off. The school has every tool to help you succeed, and the hard work is more than worth it in how it prepares you for success after graduation.