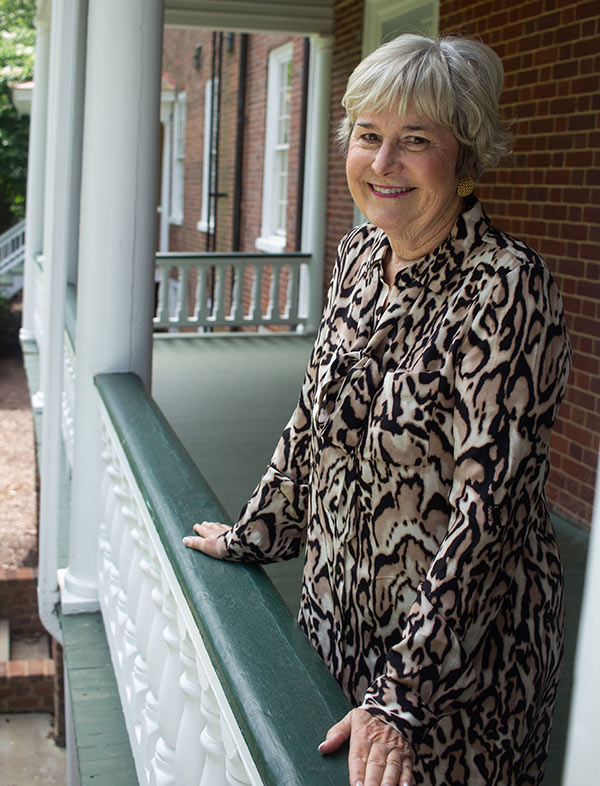 "The hand that gives is the hand that gets."
This Celtic proverb is engraved over Louise Martin's fireplace and is a motto that she lives her life by.
"We often forget how lucky we are to live in the United States. Just watching the world news is a reality check that should make us count our blessings," she shares.
Louise has been a friend of Hampden-Sydney for many years. In addition to her generous financial support, she serves on the Wilson Center for Leadership Advisory Board and is a member of the James Madison Society. Her late husband, David Martin '52, was a loyal alumnus and former trustee.
"David and I shared a love of art and travel. He had a great sense of the advertising craft," she recalls. "He was greatly admired both for his artistic talent and his business accomplishments. Everything he did seemed effortless."
As the founder of a successful advertising firm, David was invited to speak to Hampden-Sydney's freshman class about leadership before his passing. He thoroughly enjoyed the experience, and it has served as inspiration for Louise's ongoing philanthropy to Hampden-Sydney.
"David was a gifted public speaker and so confident. He rarely prepared what he was going to say in advance," Louise says. "He was genuinely liked by all who knew him."
After David passed away in 2012, Louise created the David Martin Leadership Program at the College to honor his memory. It has since been expanded into a four-year curriculum. Louise's hope for the program is that "it will become a nationally recognized program one day putting Hampden-Sydney on the map to attract the best and brightest students from across the United States."
Louise is an ardent supporter of the arts, specifically PBS and Masterpiece Theater. She currently serves on the boards of Virginia Public Media (VPM) and the VPM Foundation and two others in addition to her endeavors at Hampden-Sydney.
Recognizing the value of education—as well as the costs associated with it—Louise would like to see Hampden-Sydney grow its endowment in the future and has included the College in her estate plans.
"A healthy endowment will give Hampden-Sydney the resources to offer qualified young men from all backgrounds the opportunity to attend," she says. "Hampden-Sydney is so special. It's the future students who will carry on the school's legacy and have the means to give back one day."
---
Your gift supports the Tiger legacy and positions the College for another 244 years of forming good men and good citizens.
For further assistance, please contact:
Office of Gift & Estate Planning
(434) 223-6780
giftplanning@hsc.edu