Eye of the Tiger
From the Record, Summer 2023
By Alexandra Evans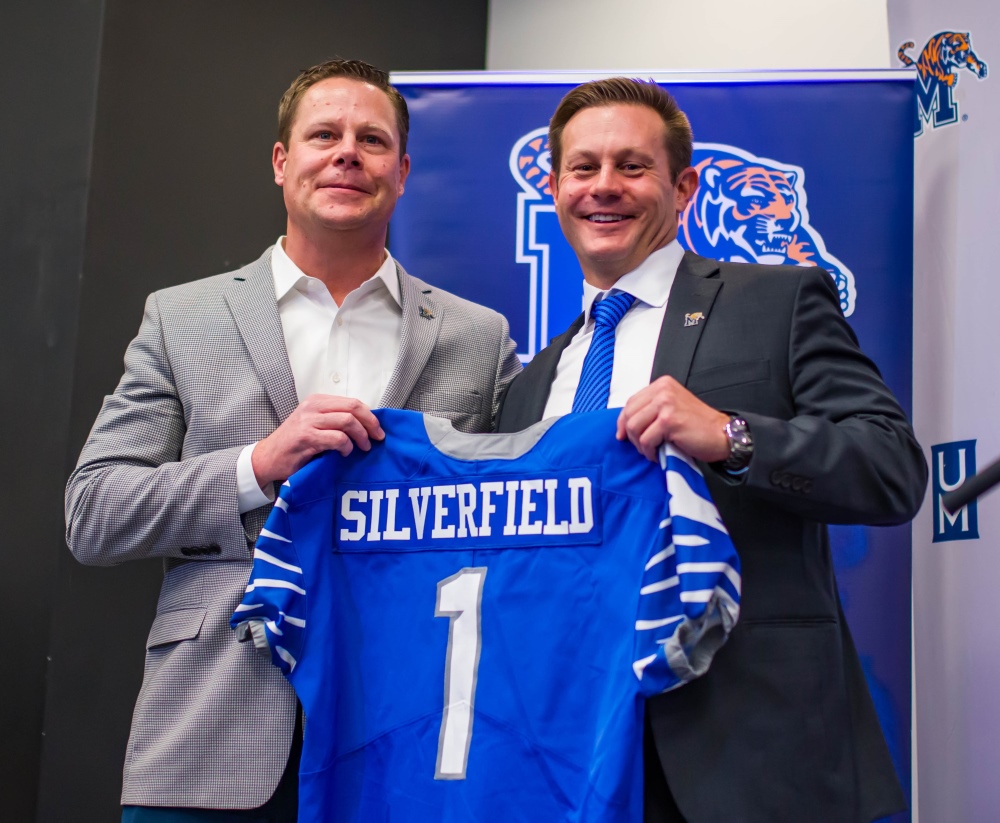 An outwardly laidback yet self-assured demeanor belies the grit and tenacity that simmers below the surface of University of Memphis Head Football Coach Ryan Silverfield '03. Coach Silverfield has earned the confidence he exudes through 24 years of coaching at both the college and professional levels, a journey that began while he was just a freshman economics major at Hampden-Sydney.
"I was sitting in this very chair when a shy kid showed up at my door just a few months after I arrived at the College," recollects Tiger Head Football Coach Marty Favret from his office in Kirk Athletic Center.
A good defensive player from Jacksonville, Florida, Silverfield had helped his alma mater Bolles High School to a number one ranking in the USA Today Super 25 national high school football poll. After a career-ending neck injury sidelined him, Silverfield never played a down of college football. He wasn't ready to leave the gridiron behind him, though, so he inquired about a manager position as a second-semester freshman with newly-minted Coach Favret. Silverfield continued to inquire every day for nearly two weeks before Coach Favret agreed.
"I just kept showing up saying 'I just want a chance,'" Silverfield recalls. "I said I would do whatever it took: Take out the trash. Break down game film. Anything. Football is everything to me. It's a game where you can make a difference and be a positive influence. You can impact your players and teach them how to be better citizens, teach them teamwork and leadership, coach them through adversity, make them better husbands and fathers. I appreciate the grind of it. Plus it's fun."
Seeing clearly the young man's passion for the game, Favret gave in. "I figured we could use a grunt," he admits. "I never imagined he'd become the head coach of a D1 program."
WHERE IT ALL BEGAN
Silverfield wasted no time impressing the other Hampden- Sydney coaches and earning the respect of his players, many of whom were older than him.
"Ryan quickly went from being a manager to someone I trusted to coach a position," Favret says. "He was responsible and very dependable."
At the end of his sophomore year at just 20 years old,Silverfield was hired full-time as the defensive line coach—a position that required a college degree, which he was still working on. Silverfield was now a full-time college football coach and a full-time college student.
"I had to grow up really quickly," Silverfield says. "I couldn't hang out with the guys on the Circle. I couldn't live in the dorms with the other students."
The College exchanged housing and tuition in lieu of a salary, so during his last two years at Hampden-Sydney, Silverfield lived in the basement of Gammon Gym in what was affectionately known as the dungeon. It was there that he developed a lasting friendship with Earl Ross, the facility's custodian. "I would hang out with him late at night as he was doing laundry and I was game planning," says Silverfield. "There are few people I trust as much as him."
Mr. Ross wasn't the only college employee that Silverfield came to rely on during his final two years as a student. He recalls how well his professors supported him in his unusual situation. "The professors really worked with me," he says. "They would invite me over for dinner to talk about what I may have missed while on the road recruiting or at games."
STAYING THE COURSE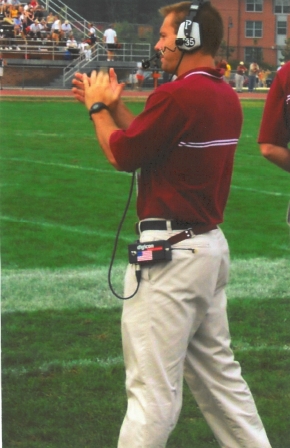 Silverfield gives all the props to Marty Favret for giving him his start, credits his professors with having his back, and fondly remembers his relationships with Walter "Shorty" Simms and Mr. Ross. But another legendary Hampden-Sydney figure is the reason Silverfield was at Hampden-Sydney to begin with.
With his father and brother having both attended Washington and Lee, Silverfield knew a bit about the small, Virginia liberal arts college life. But Hampden-Sydney caught his eye when then-President Samuel V. Wilson himself visited Silverfield's high school. Silverfield was blown away that a sitting college president would take the time to visit high schools and talk one-on-one with students. Knowing that General Sam was also teaching classes at the College, Silverfield leapt at the chance to learn from both a college president and a military strategy genius.
Silverfield continued learning from General Sam throughout his time at Hampden-Sydney. He recalls a conversation with General Sam when Silverfield was just 21 years old and trying to figure out his next steps. Although he didn't know the coaching profession very well, General Sam knew a thing or two about adversity and overcoming.
"General Sam told me that there were going to be obstacles no matter what path I took," Silverfield says. "He said, 'You have to stay the course and keep doing the work.'"
Doing the work is not something Silverfield shies away from. Even knowing that his calling lay not in the field of economics but on the football field, Silverfield went above and beyond to graduate cum laude. He handwrote letters to every single Division I coach—more than 100 in total—asking for just a shot at a graduate assistant position.
"I only ever got two responses: one letter from Notre Dame's Tyrone Willingham and one phone call from Buddy Teevens at Stanford," Silverfield says. "Neither one of them had a position to offer, but that just taught me that you keep fighting, you keep shaking hands, you keep showing up."
And that's exactly what he did for the next 16 years. After leaving Hampden-Sydney in 2004, Silverfield served one season as head coach at Memorial Day High School in Savannah, Georgia. He then coached the quarterbacks at Jacksonville University for one season before serving as a graduate assistant at the University of Central Florida for two. In 2008, Silverfield made his NFL coaching debut as offensive quality control staff with the Minnesota Vikings, remaining with the team for six seasons in various positions. Silverfield then served as an offensive consultant at Toledo in 2014 before becoming the senior offensive analyst at Arizona State for part of 2015. Later that year, he returned to the NFL as an offensive line coach for the Detroit Lions.
In 2016, Mike Norvell was head coach at University of Memphis, and he brought Silverfield, whom Norvell had worked with at Arizona State, onto his staff at University of Memphis as an assistant. Silverfield rose through the ranks quickly at Memphis, being promoted to offensive line coach and run game coordinator in 2018 and again to assistant head coach in 2019.
A LEADER OF MEN
Returning to college football was a welcome transition for Silverfield. "NFL is strictly business," he says. "In college I can still guide my players and teach them life lessons. I wasn't giving Brett Favre life advice."
To do this successfully without offending the hubris of youth, Silverfield says he has to be intentional about building relationships with his guys, a skill at which he excels.
Mike Norvell once said, "Ryan does a wonderful job building relationships...He lives the things we talk about, and he's a special leader of men."
Silverfield's approach takes time. He gets to know each of his players individually. He learns what makes them tick and what motivates them. Silverfield says he often gets incredulous laughs when he tells new recruits that his job is to serve them. Unorthodox as it may be, Silverfield's coaching philosophy is effective. He's gained the trust and respect of his players. A fact that was never more evident than when he was named the 25th head football coach at the University of Memphis.
Silverfield seemed to be a natural choice for both the Memphis administration and his players. He was clearly a brilliant coach, having garnered such accolades as finalist for the Broyles Award—an honor bestowed on the country's best assistant coach—his 2018 offensive line being named a semifinalist for the Joe Moore Award—given to the country's best offensive line—and being ranked the fourth-best recruiter in the American Athletic Conference by 247sports.com in 2017.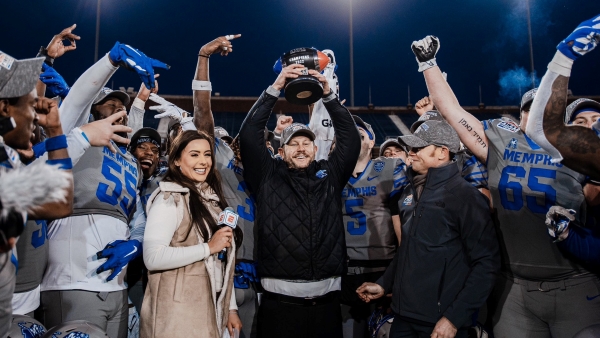 Awards and rankings aside though, Silverfield is beloved. In a video of Silverfield's introduction to the team as head coach, the emotion and energy is palpable. The room is raucous as he enters, and Silverfield disappears amongst the swarm of his players, each of whom is cheering, applauding, and embracing his new coach. The celebration goes on and on, but when the room finally quiets down, Silverfield says simply, "This is my dream job."
From the moment he arrived at Memphis, Silverfield was being courted for positions in the Big 12, Big Ten, SEC, and NFL. He felt compelled to stay loyal to Memphis, believing strongly in what he was helping to build there. His loyalty paid off when on December 8, 2019, Head Coach Mike Norvell traded his blue suede shoes for a pair of flip flops and took the head coach position at Florida State. With just three weeks until the Tigers of Memphis took on the Lions of Penn State in the 2019 Cotton Bowl Classic, Silverfield was named interim head coach.
Just a week later on December 13, the interim was dropped from his title, and Silverfield's two decades of dedication to his craft paid off as he earned his first head coach position.
During the press conference announcing his appointment, Memphis athletic director Laird Veatch said that in a meeting prior to Silverfield's hiring, he asked the players what qualities they wanted to see in their next head coach. The players said they wanted someone real, a competitor, high energy, and someone that truly loved and cared for them.
That last quality arguably sealed the deal for Silverfield. "I knew going into that meeting that Ryan loved his players and they loved him," Veatch said in the press conference. "What I came out of that meeting with is a clear understanding that he can also hold them accountable and do it the right way."
Accountability happens to the be the foundational element of Silverfield's coaching philosophy. He says it's the best way to show his players that he cares. Accountability, providing a good structure, and holding his players to high standards, is Silverfield's recipe for success.
This approach has worked well for Silverfield, who holds a 21-16 record as head coach with a 2-1 bowl game streak—including his first bowl game, that 2019 Cotton Bowl Classic. Silverfield is the first head coach in program history to win back-to-back bowl titles, and his 21 wins tie him for second-most of any Memphis head coach through three seasons and rank him fifth among the 24 coaches hired in 2020 across the nation. He has also recruited top- 60 classes each of the last three years.
Despite a few accolades and records, Silverfield knows it's a slippery slope to the top, and one season's winning record means nothing to the next season. "If I don't grow and improve myself every single day as a coach and a person, it's a downward spiral really quickly. That's what's given me longevity in this career. I've been able to adapt as cultures and players change."
And both the culture and players are evolving rapidly as the college football conversation focuses on transfer portals, NIL contracts, and conference realignments as often as it focuses on tackles, interceptions, and conversions. No matter how much the landscape changes, though, Coach Silverfield leans on the fundamentals he learned in his earliest days on the job: hard work, grit, and staying the course.
"I'm never going to let anyone outwork me," he grins. Harkening back to the advice given to him by General Sam, he says, "I think he'd have a smile on his face if he could see where I ended up now."
General Sam is not the only one smiling at Silverfield's success. From one great institution to another, Hampden-Sydney says: Go, Tigers!