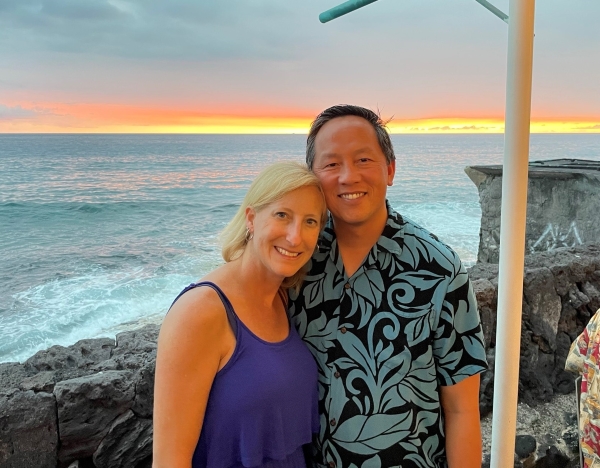 Finding the right college can be a difficult decision. For Steve Ho '95, Hampden-Sydney was more than his first choice. It was his ideal choice.
"Hampden-Sydney had everything I wanted—the brotherhood, the Honor Code, a beautiful campus, small classes, an engaged faculty," shares Ho. "I'm very grateful for my time there."
When he was a child, Ho and his family left war-torn Vietnam on a fishing boat and traveled to a refugee camp in the Philippines. When they arrived in the United States in 1980, they lived briefly in Lynchburg, Virginia, before making their home in southern California. As one of five children, Ho knew he would need assistance to attend college.
"I could have never attended Hampden-Sydney without a generous scholarship and financial aid," he says. "I know firsthand the value of a degree from Hampden-Sydney for someone who grows up in poverty or who is a first-generation college student. I was both."
After graduating from Hampden-Sydney with degrees in political science and mathematical economics, Ho returned to California and earned his J.D. from the University of Southern California Gould School of Law. He founded his firm, Welsh Advisors, in 2014. He and his wife have three children and live in the Los Angeles area. "Life is good for my family," Ho says.
When Ho recalls his time at Hampden-Sydney, some of his fondest memories involve friendships not just with his classmates but also with faculty, like Elliot Emeritus Professor of Government and Foreign Affairs David Marion, Professor of Government and Foreign Affairs Roger Barrus, and Professor of Government and Foreign Affairs John Eastby. "We ate in the dining hall with our professors," Ho recalls. "It's one of the things that makes Hampden-Sydney unique. At the time, they were mentors, and now they are colleagues and friends."
In gratitude for these friendships and for educational opportunities that he received, Ho has begun giving back—both with his time and his money, and with a clear goal in mind. "I give where it's worthwhile. Time is hard…money is easy," Ho laughs.
His financial support is focused in two areas: Hampden-Sydney's internship program and scholarships for pre-law students. "Hampden-Sydney put me on a path to success," Ho says. "I want to provide those kinds of opportunities for others."
Ho gives his valuable time as a member of the Alumni Board and also founded the Los Angeles Alumni Chapter. "As alumni, we must work together to provide Hampden-Sydney students with a pipeline for competitive internships, higher-paying first-job opportunities, and tools for admission into better law schools and graduate schools," Ho says. "All these things contribute to helping qualified students—and their parents—recognize the value of a Hampden-Sydney education."
During his time here, Ho says that Hampden-Sydney became more than just his ideal school, "it was life changing." As a good man and a good citizen, his generous support will now create even more life changing opportunities for future Hampden-Sydney students.
---
Your gift supports the Tiger legacy and positions the College for another century of forming good men and good citizens.
For further assistance, please contact:
Office of Gift & Estate Planning
(434) 223-6780
giftplanning@hsc.edu