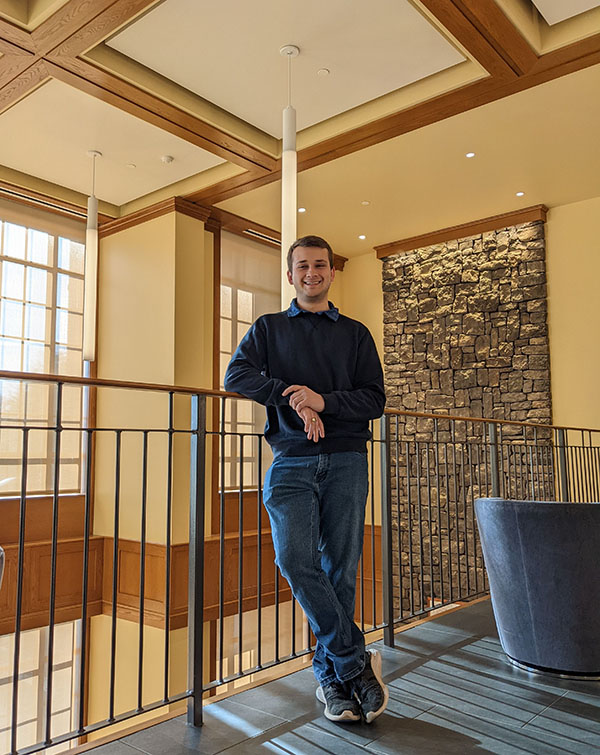 Taylor is Hampden-Sydney's seventh Goldwater Scholar and the sixth recipient in just the last nine years. The biochemistry and molecular biology, philosophy, and Spanish triple major joins a prestigious list of H-SC scholars that includes Elliott Associate Professor of Biology Kristian Hargadon '01, Lee Ayscue '15, James H. Lau '17, David Bushhouse '19, Charlie Wolfe '20, and Tyler Howerton '21. A testament to the strength of the research sciences at Hampden-Sydney, this honor is becoming increasingly common at the College, but the achievement is far from it.
The Goldwater Scholarship, a preeminent undergraduate research scholarship, represents the highest level of undergraduate achievement in natural sciences, math, and engineering in the United States. A living memorial honoring U.S. Senator Barry Goldwater, the scholarship program was designed to foster and encourage outstanding students to pursue careers in the fields of mathematics, the natural sciences, and engineering.
From an estimated pool of over 5,000 college sophomores and juniors, 1,242 natural science, engineering, and mathematics students were nominated by 433 academic institutions to compete for the 2022 Goldwater scholarships. Of those, 417 college students from across the United States received scholarships. Of the seven institutions in Virginia to post a winner this year, Hampden-Sydney College is one of only two that is not a large research institution. Taylor's award will grant him $7,000 toward next year's undergraduate tuition.
Taylor's professors at Hampden-Sydney saw early on that he held great potential—from the beginning, he was encouraged to apply for scholarships and fellowship opportunities. Taylor credits Dr. Ryan Pemberton '00, director of the Wilson Center, with laying out the opportunities available to him by putting him in touch with key players along the way. Taylor seized every opportunity that came before him.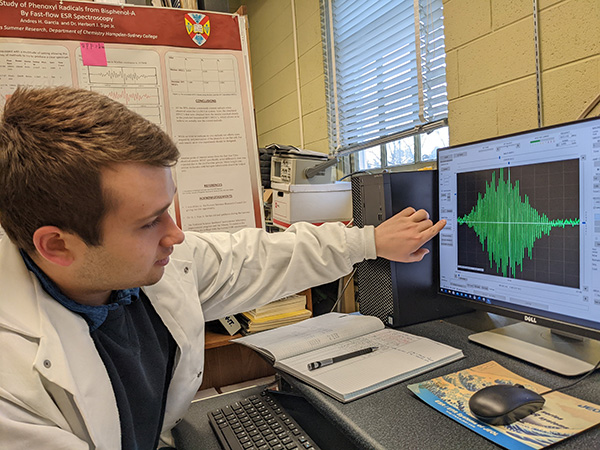 His path to the Goldwater Scholarship began the summer after his freshman year through the Hampden-Sydney Research Fellows program, when alongside Dr. Hargadon, he studied how the expression of genes known as interferon pathway genes correlate with melanoma patient response to immunotherapy. Dr. Hargadon recognized Taylor's potential immediately and recalls, "He is one of the most talented undergraduate students with whom I've worked in my 13-year career in higher education. He has a true passion for research that is matched only by his work ethic, a combination that I noticed early during his freshman year when I recall telling a colleague, 'I think we have a future Goldwater Scholar on our hands!' To see that potential play out now speaks to Taylor's ongoing commitment to his academic and professional pursuits."
Director of Fellowship Advising Cristine M. Varholy is no stranger to the Goldwater application process—she has seen three Hampden-Sydney students through to success during her tenure as fellowship advisor. These outstanding students have not only been academically talented in STEM fields, but also are well-rounded scholars of the liberal arts, and Taylor is no exception Varholy says, explaining, "Taylor has displayed a remarkable commitment to a career in science, even as he has explored numerous other fields of inquiry during his time at the College. He has made the most of some very difficult times during the pandemic and still has been able to conduct independent research projects and to be involved in the campus and wider community." Taylor says he couldn't have done it without her driving force behind him staying on top of deadlines and all that was required of him. Dr. Hargadon, McGavacks Associate Professor of Biology Michael Wolyniak, Spalding Professor of Chemistry Herb Sipe, and Assistant Professor of Chemistry Paul Reichert were also instrumental and spent hours with him both working in the lab developing Taylor's broad approach to the research sciences and writing their recommendations. Taylor is grateful for this small army of mentors.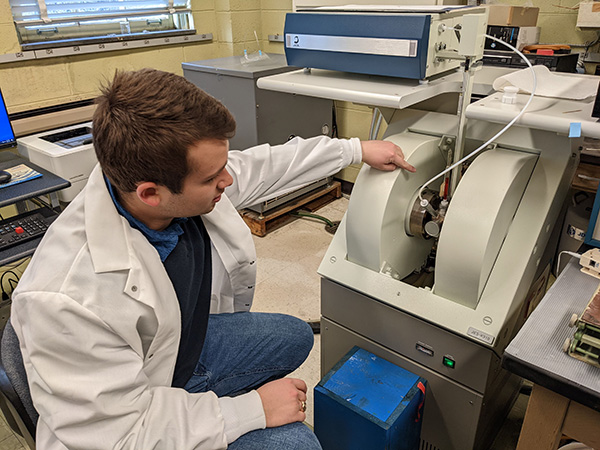 Though the application process was exhausting, he says, it has prepared him for what lies ahead of him—more research and more applications. While going through the rigorous process of applying for the Goldwater Scholarship, he was simultaneously applying for competitive undergraduate summer research programs. Constantly thinking several steps ahead, he is already considering graduate schools where he would like to delve deeper into chemical biology, biochemistry, or synthetic biology.
Taylor already embodies a sense of civic responsibility in his work and its impact on the future. With a particular interest in viral research, specifically HIV, Taylor hopes his future work will become a stepping stone on the road to curing HIV and other viral diseases. "The place I could have the most impact would be in academia being a research professor or overseeing clinical trials," he says, adding, "I have sincere respect for my Hampden-Sydney professors' obligation to educate future generations," and that he is inspired by their ability to manage leadership and the advancement of science inside the classroom. "It's totally worth emulating," he states simply.
This year, Taylor rejoins Professor Hargadon, mentor for his Goldwater research project, in his melanoma cancer research laboratory, bringing his freshman research experience full circle to now investigate factors that influence interferon gene dysregulation in melanoma, with the goal of gaining mechanistic insight into tumor escape from immunotherapy. He is working with Dr. Hargadon on the gene FOXC2, a transcription factor that binds to DNA and causes the production of proteins. One of Hargadon's hypotheses is that high expression of FOXC2 disrupts interferon pathway gene function in some melanomas, decreasing the likelihood of response to immunotherapy. They are seeking to discover how FOXC2 actually regulates the interferon pathway in mouse models of melanoma, with the hope that such insights may reveal ideal targets for therapies that could improve patient survival.
Says Hargadon, "Being named a Goldwater Scholar will open so many doors for Taylor in the future, and I am excited not only to continue our work together next year, but also to follow what I know will be an amazing career in the years ahead." Indeed.
Taylor is a senior member of the Union-Philanthropic Society, Hampden-Sydney Acousticals music director, Wilson Leadership Fellow, Hampden-Sydney Journal of the Sciences biology co-editor, Ethics Bowl team captain, Virginia Academy of the Sciences Mentorship Assistance Program member, and an American Society for Biochemistry and Molecular Biology student chapter member.