Anything But Ordinary
"A once in a generation kind of student." - Mike Wolyniak, MacGavacks associate professor of biology
"Without a doubt, the best student I've ever had." - Mike McDermott, dean of the faculty
"The consummate scholar-athlete." - Marty Favret, head football coach
All sentiments from H-SC faculty and staff members to describe Tyler Howerton '21. A standout offensive lineman, 4.00 physics major, and humble and gracious Hampden-Sydney man, Tyler has accomplished an impressive list of feats in his four years on the Hill.
Tyler's research identifying and quantifying environmental radioactivity on campus earned him a 2020 Barry Goldwater Scholarship, the nation's preeminent undergraduate math and science honor. He is the College's first physics major to earn the distinction and the seventh Hampden-Sydney recipient overall.
That project segued into his senior year research to study how zinc- 67 behaves in the body. With support from Dean McDermott, Tyler has spent the academic year developing a piezoelectric transducer drive system to perform Mossbauer spectroscopy in zinc-67.
"I'm particularly interested in the interaction of zinc and the pancreas and its relation to diabetes," Tyler says. Having entered college with dreams of becoming a doctor, he quickly traded the stethoscope for a microscope. He still intends on pursuing a doctorate, but Tyler now looks forward to continuing his study of physics as a Ph.D. candidate to develop solutions for human health problems such as diabetes and cancer. Tyler has already been accepted to Ph.D. programs at the University of Virginia and the Univeristy of North Carolina at Chapel Hill.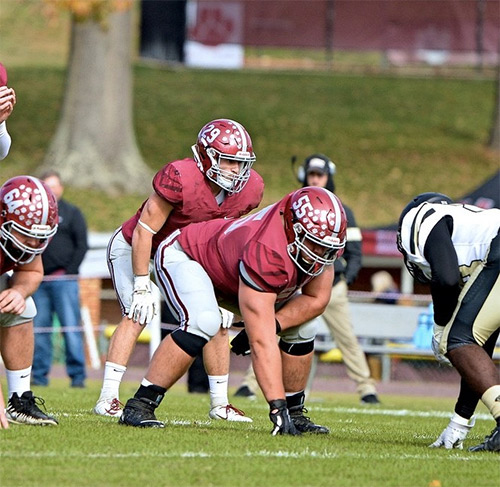 Despite a grueling football schedule, an intense academic load, and leadership positions in numerous extracurricular activities, Tyler handles his workload with characteristic aplomb. "I focus on what I can control. I make sure I stay on top of my work, I never miss class," he says. "If you focus on things out of your power, it's too easy to feel helpless and lose focus. It's the same with football. It's a team sport, but it takes everyone doing their individual job to come out with a win. I can't make the block for the guy next to me. I just have to make sure I block my man and trust my teammates to do the same."
This healthy mindset makes Tyler well-suited for a research career because, as he explains, "the nature of research is that there are going to be problems and complications. You'll have to take those problems as they come and work them out. A lot of times you'll expect one outcome and get another, but that's why research is so great. That's how we learn new things." Tyler's accomplishments extend equally to the gridiron. The 6'3", 290-pound offensive lineman is a 2020-21 team captain and has started 30 career games. A three-time ODAC All-Academic Team honoree also named to the 2019 Academic All-America® Division III Football First Team, Tyler holds the Tiger Football program's alltime squat record of a crushing 700 pounds. "What distinguishes Tyler from the pack is his phenomenal work ethic," Favret says. "Whether it's preparing for a football game or a thesis on nuclear physics, he outworks everyone."