From The Record, Spring 2017
Honoring Their Service
On a cold January morning in Richmond, a young Hampden-Sydney alumnus and a Randolph-Macon basketball legend meet with a former Hampden-Sydney College Trustee—not to talk college rivalry, but to talk community service.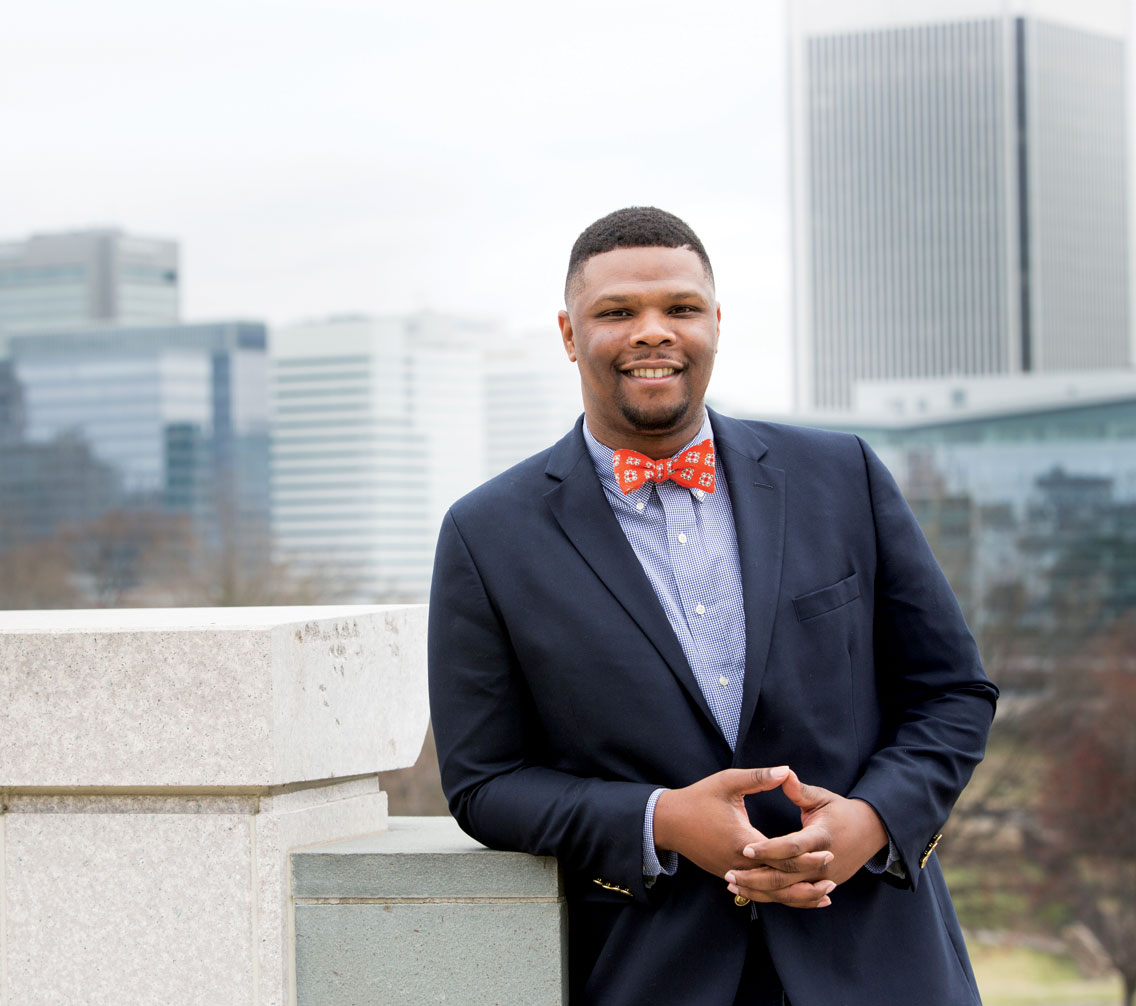 They gather at Liberation Veterans Services, a transitional housing facility that is part of a national effort to eradicate homelessness among America's military veterans. High rates of traumatic brain injury and PTSD—direct consequences of their military service—put veterans at a higher risk of homelessness than the general population. In fact, a 2014 study by the U.S. Department of Veterans Affairs found that approximately 50,000 veterans sleep on the streets of America on any given night.
These three men are committed to changing that statistic, one veteran at a time.
The Hampden-Sydney Man
For ten years, alumnus Alexander Jermaine "Jay" Patrick '03 put his Hampden-Sydney economics and management degree to good work in the retail banking industry, rising through the ranks at Bank of America and Wachovia to the position of vice president. Although Patrick found his career fulfilling, he sensed a call to make more of an impact in the community.
A conversation between Wachovia's regional president and the CEO of a Richmond non-profit inspired Patrick to create his first non-profit pilot program. The financial literacy program that he built from the ground up demonstrated such immediate success that Bank of America awarded it a $250,000 expansion grant after its first fiscal year. "It was a beautiful experience that resonated with my Hampden-Sydney foundation of being a good man and a good citizen," says Patrick. "It connected all of the dots: my experience in business, my desire to impact the community, and my belief in being a good citizen. In that moment, I realized this was the kind of work I wanted to do."
He eventually left the banking world for full-time non-profit work, first with the Salvation Army, then at a homeless shelter on Richmond's Hull Street. Shortly after Patrick's move to Freedom House, however, the shelter was dealt a devastating blow when its board of directors voted to dissolve the organization in the face of increasing debt.
But Patrick identified an opportunity that no one else saw: leveraging his knowledge of community banking, he devised a plan to renegotiate the property debt, refine the vision, and save the center. The Freedom House board of directors endorsed his plan, but declined to take on the work themselves. Instead, Patrick found a new umbrella organization and resolved to save the crucial community shelter.
The Randolph-Macon Man
In order to make it work, Patrick knew he needed one particular man on board with him. Patrick calls him the X factor, the best case manager he's ever seen, and the missing link that tied the plan together: Fletcher N. Johnson, Jr., R-MC class of 1975.
Randolph-Macon basketball's all-time leading scorer with 2,212 career points, Johnson led the Yellow-Jackets to an 86-24 record during his four seasons. But it's not his athletic pedigree that impresses Patrick.
"It takes a special skill set to help an individual in crisis—a unique balance of street smarts, book smarts, integrity, camaraderie, and trust," says Patrick. "And Fletcher Johnson is one of the few people I've seen who has everything it takes to help individuals whom everyone else has given up on." Patrick knew he could have a good program without Johnson, but not a great one, and "we needed to be great if we were going to emerge from the ashes."
Patrick and Johnson had a fateful conversation in a McDonald's parking lot to decide the shelter's future. "I told Fletcher, 'There's one thing you need to know before you commit. I really need you, but I don't know how I'll pay you.'" It is a testament to both men's character that they chose to go without pay several times that first year rather than close the homeless shelter.

The Mission
The result of Patrick's vision is Liberation Veteran Services, a 38-bed residential facility serving homeless male veterans in the city of Richmond. The center's goal, according to Patrick, is to restore dignity to homeless veterans by helping them achieve stability, secure employment, learn financial literacy, and find permanent housing. Clients stay at LVS an average of six months, and 86 percent are still clean, sober, employed, and in stable housing a year after they leave the center.
With only three full-time and six part-time staff members, LVS utilizes community partnerships and frugality to extend its reach to as many veterans as possible. For example, over 60 area churches volunteer seven days a week to provide dinner for the clients, a significant source of budget relief. Clients also live communally; with no paid cleaning or cooking crew, they earn a sense of pride in place of a handout. Residents' chores include cleaning the center, washing their own clothes, and preparing breakfast and lunch—responsibilities that restore individual dignity and make the center feel like a home.
Donations from individuals, churches, and businesses have also helped LVS slowly renovate the aging building. In 2016, a volunteer crew organized by an 84-year-old member of Sandston Presbyterian Church helped Patrick convert a basement that hadn't been used in 35 years, creating space for another 30-plus beds. Used office equipment from Capital One outfitted a computer lab where residents learn computer skills and financial literacy. And the non-smoking facility offers a "store" of professional clothes and household items—all donated to help clients transition to permanent work and housing.
Patrick's success in saving and turning around the homeless shelter has garnered attention from another Hampden-Sydney alumnus. Chosen as an emerging non-profit leader by The Community Foundation, Patrick happened to mention in a strategic planning session that he played basketball at H-SC; within a few days, the mentor connected Patrick with fellow basketball Tiger and former College Trustee David G. Wilson, Jr. '63.
According to Wilson, "It was divine intervention: through The Community Foundation, Jay met my dear friend and former business colleague, Wally Stettinius, who solicited my help with the organization. As I learned more about LVS, including the effectiveness and efficiency of its exceptional program and success rate placing veterans in permanent housing, I made a personal commitment to help Jay and his team." Wilson calls Patrick "a true servant leader and visionary, who personifies the mission of Hampden-Sydney College to be a good man and a good citizen."
Both Wilson and Stettinius volunteer at the center at least once a week as strategic advisors, bringing with them a wealth of business experience and acumen. "We think with them, dream with them, vision with them," says Wilson. "We're helping Liberation Veteran Services reach financial stability and raise forward funding, so they can fulfill their crucial mission to give deserving veterans the help they need."
The collaboration with Wilson is exactly what Patrick and Johnson had been hoping for. "All along, I chose to focus on successful outcomes rather than fundraising, because I knew there'd be a day when I'd meet a Dave Wilson who could help me raise the money necessary to serve even more veterans," says Patrick.

Rivals No More
The three former collegiate basketball players credit their alma maters with shaping them into the men they are today. Patrick recalls that "everything at Hampden-Sydney, from the curriculum to the culture, centered on leadership. Public speaking, critical thinking, problem solving, and volunteering at H-SC prepared me to lead this cause. Leaders like Coach Tony Shaver and General Sam Wilson taught me to plant my feet and stand on a firm moral foundation." For his part, Johnson credits R-MC Coach Paul Webb with "teaching me everything I know about being a man."
And although the Hampden-Sydney men like to give Johnson a hard time about Randolph-Macon, they all agree that the rivalry takes second place to the mission. Thinking back on his basketball years, Patrick says, "I can testify that when we played Macon, it brought out the best in me and the best in our team. The same is true here: Fletcher has brought out the best in me, and I think I've brought out the best in him. Even after graduation, Hampden-Sydney and Randolph-Macon push us to be our best selves."
Although we might fight on the hardwood and on the field, these Hampden-Sydney and Randolph-Macon men are coming together when it matters most: to make sure the words "homeless" and "veteran" are never used in the same sentence again.