Taking Care of Business
from the Record
Not many U.S. college students are invited to global summits alongside venture capitalists and tech entrepreneurs; even fewer attend conferences some 7,000 miles from campus. Meet Andrew Barden '21, whose Hampden-Sydney experiences include the 2019 Africa Fintech Summit in Addis Ababa, Ethiopia, organized by alumnus Leland Rice '01.
Andrew spent his first two days in-country exploring Ethiopia's capital city. From the beginning, Addis Ababa appealed to the mild-mannered Virginia native with its temperate climate and high-altitude air, crowded streets teeming with traffic and beggars, traditional meals eaten from a communal platter, and the cafe culture that thrives in the birthplace of coffee. His favorite memory, though, is of the adhan that echoes throughout the city five times a day, beginning at dawn. "The Islamic prayer calls were so different from anything I'd ever experienced. Hearing them, it really hit me: 'Wow, I'm not in America.' And I enjoyed that," Andrew recalls. "I'm a very observant person, so although I didn't get to leave the city, I absorbed as much culture as I could."
The Africa Fintech Summit several days later brought a similar feeling. "It was the first time I've been in a room surrounded by people from all over the world: Chinese businessmen, Swedish venture capitalists, Ethiopian business partners, American and Japanese investors, British entrepreneurs," he explains. "My goal at the conference was simply to learn, to be a sponge and soak up as much information as I could." The experience inspired his post-Hampden-Sydney plans: he now hopes to move to Africa after graduation to raise and invest venture capital in the continent's emerging financial technology sector.
The economics major has known for some time that he wants to pursue a career in finance; while at Hampden- Sydney he has taken full advantage of opportunities to prepare for that future. As a three-year member of the Tiger Fund, Andrew gained first-hand investment experience performing market research, analysis, and trading. He even got to navigate the volatility of a rising global pandemic last spring—real-word experience, indeed. Launched in 2002 by then-President Walter Bortz, the Tiger Fund independently manages a portion of the College's endowment, which has steadily increased since the initial investment.
Each May, the fund transfers to a new team of managers that determine strategy and perform trades, as well as analysts who aid with research. With a dedicated space in the Brown Student Center next to the Flemming Center for Entrepreneurship and the Ferguson Career Center, the Tiger Fund is just one of numerous ways that H-SC students prepare for careers in finance.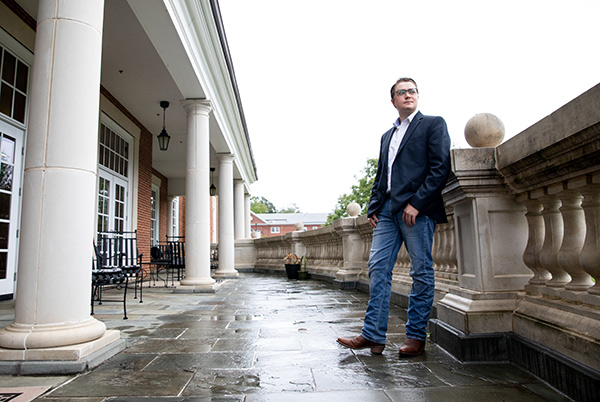 Andrew made his way to Hampden-Sydney through a roundabout series of events. Accepted into the Coast Guard Academy his senior year of high school, the young man planned to attend until an unforeseen medical concern thwarted his plans. He thought immediately of Hampden-Sydney—the first college he toured as a young high school student. "I had fallen in love with the campus, the history, the way the students carried themselves," Andrew says, so coming to the Hill was an easy choice.
Joining the brotherhood is a choice he has never regretted. From interning at the Ferguson Career Center to serving as vice president of the Phi Beta Lambda business fraternity, Andrew has enjoyed interacting with the Hampden-Sydney alumni network both on campus and off. "It's one thing to bring an alumnus to campus, but it's another thing entirely to take students to alumni," Andrew says of the off-campus networking trips that Phi Beta Lambda organizes each semester. Pre-COVID destinations from recent years include New York, Raleigh, and Washington, D.C. "It gets students out of the comfortable bubble of Hampden-Sydney, introduces them to the professional world, and teaches them how to network effectively," he says.
In fact, it was through the pre-professional fraternity that Andrew first connected with Rice, CEO of the Dedalus Group and co-founder of the Africa Fintech Summit. Since traveling to Africa with Rice last November, Andrew has continued to work with the alumnus as an intern this summer and now as a part-time industry analyst. Previous internship experiences include managing budgets and supply chain for the nonprofit Appalachia Service Project, as well as organizing one of the College's first experiential learning trips with the Ferguson Career Center.
From volunteering with under-served communities in the Appalachian region, to managing a stock market portfolio, to diving into the African tech industry, Andrew's time on the Hill has been anything but ordinary—and has set him up for extraordinary success.