Activities
Student Court chairman, Club Rugby, Theta Chi fraternity, Alpha Chi Sigma professional fraternity, Omicron Delta Kappa leadership honor society, Garnet and Grey Society, Student Finance Board, Society of '91
Favorite Spot on Campus
Ellis Rugby Pitch on a crisp, mid-October Saturday
Favorite H-SC event or tradition
The signing of the Honor Code and the handshakes that welcome you into the Brotherhood
Tell us about your signature hairstyle.
One of my rugby teammates and I always talked about doing some sort of different hairstyle for our end-of-the-year tournament in November. After debate, we settled on the mullet, and I've had one for almost a full year now. Definitely one of the better decisions that I've made here at Hampden-Sydney because it brought me closer to my brothers and gave us a great story to tell our future children.
What drew you to Hampden-Sydney? What keeps you here?
Being treated like a name and a face that mattered, not just another number. Three things keep me here: the brothers I see every day, a faculty that truly cares about us, and our gracious alumni who constantly reach out to support us and our mission.
Why did you choose your major and minor, and what do you hope to do after graduation?
Simply put, I love chemistry and the many real-world applications of the sciences in general. As far as visual arts goes, I got really into photography my sophomore year and figured, "Why not?" After graduation I hope to attend a graduate program—specifically, Montana State University, the University of Utah, or Vanderbilt University—to get my PhD. in either organic or inorganic chemistry.
Who is your favorite professor and why?
I don't think I can choose just one, but if I could choose a collective group, I would say all of the professors in the chemistry department. Dr. Deifel because of his excitement and energy about chemistry and because he is constantly checking in on me. Dr. Mueller because he helped me discover my love of organic chemistry and synthetic schemes. Dr. Dunn because I learned the most in his class physical chemistry and the real-world chemist experience I gained under his mentorship in advanced lab. Dr. Sipe because of his all-around knowledge in everything chemistry; he always has answers to your questions. Lastly, the recently retired Dr. Anderson, because of the always joyful and happy presence that he brought to the chemistry floor day in and day out.
Why did you get involved with Student Court at H-SC, and what have you enjoyed about it most so far?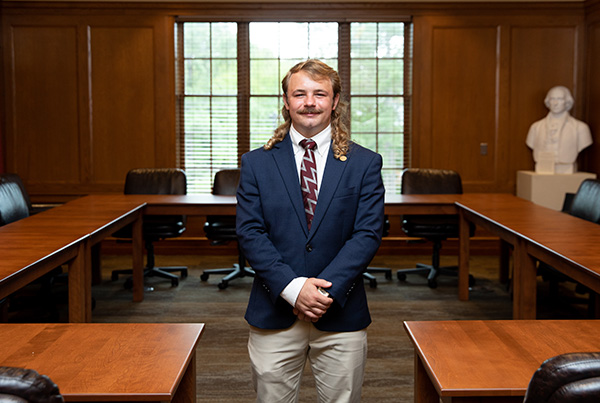 When I first got to Sydney, I actually had zero intentions of running for or being on the Student Court. However, one of my classmates told me that I should at least go to the interest meeting our freshman year. To make a long story short, I ended up running and have had the pleasure of serving for the past three years. I have most enjoyed upholding of the Honor Code and being able to give back to the community that has raised me from a boy to a man.
What do you hope to accomplish or contribute to the H-SC community as chairman of Student Court this year?
I am most concerned with making sure that all Hampden-Sydney students are treated fairly and equally. I want to make it a point to say that this extends beyond the Student Court Room as well. Granted, I cannot control everything, but I know that what I can control will be handled in the fairest and most just way possible.
What has been your most memorable experience at H-SC?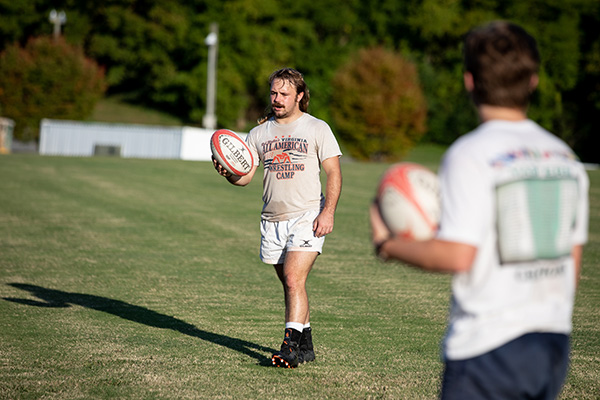 Last fall, H-SC Rugby won our first conference championship in the team's entire 52-year existence. While the event did not occur on campus, being able to share the pure bliss and happiness that November afternoon with my brothers on the team encapsulates what it is like to attend Hampden-Sydney.
How did COVID-19 interrupt your spring and summer plans? What did you do instead?
This past spring, I was accepted for a Research Experience Undergraduate (REU) by Saint Louis University's Chemistry Department. The program would have run for eight weeks over the course of June and July, during which I would have been able to get valuable graduate level chemistry experience. Unfortunately, that did not pan out because of the pandemic, so I started working for my uncle's assisted living company. I did mostly behind-the-scenes paperwork—scanning, organizing, and maintaining cloud-based files for easy access by employees. While not ideal, I was getting paid, and I have a newfound respect for those in the healthcare industry.
What advice would you give to new Tigers to make the most out of their four years on the Hill?
Get involved. With well over 50 clubs and organizations on campus, it is not hard to find something interesting. Additionally, student government is another great avenue to get involved. Nonetheless, even with all the possibilities, always do your schoolwork and balance time so that stress can be kept to a minimum.
What do you wish outsiders knew about Hampden-Sydney?
That we are the most distinctive college in the world—not only because of our traditions and longevity but also because of the experience and atmosphere that our students, faculty, and staff create on campus.