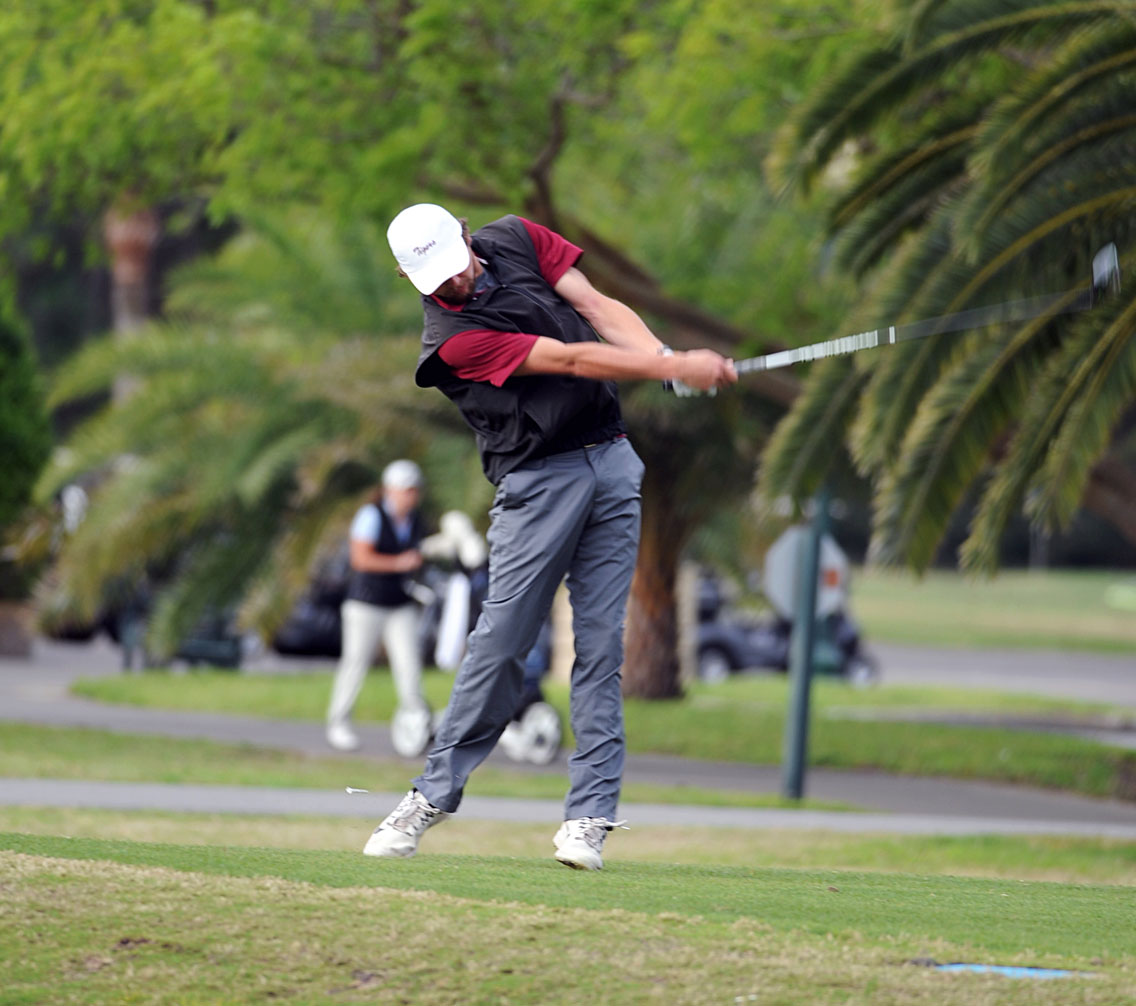 Hampden-Sydney College golf team captain Bruce Shober '20 never expected to enter the 2019 Old Dominion Athletic Conference (ODAC) Men's Golf Championships in April, since less than five months earlier, doctors informed him that he would not play golf for six months to a year. Against the odds, the economics major now leads the Tigers with a rank of fourth in the ODAC and 41st in NCAA Division III.
Last October 30, Bruce was involved in a serious automobile accident while driving back to campus after playing a round of golf at his hometown course, Falling River Country Club, in Appomattox. Initially diagnosed with muscle spasms in his back, Shober later returned to the emergency room where x-rays showed that he had a compression fracture in his lower back. Not only would he be unable to play golf, but he would also have to wear a back brace for at least six months.
"I told the doctor 'no'," said Bruce, when informed that he could not play golf any time soon. "I was going to do whatever I had to in order to get back out there. I'm pretty tough. I didn't think it would take a year, but just hearing that from the doctor was depressing."
His determination is not surprising. Shober has only been playing the game for about seven years, after an uncle got him a starter club set for Christmas, and he basically taught himself the game through hard work.
"I wore the brace for about four months and felt better, and I went back for more x-rays. They said it wasn't going to get any better than what it was (at the time). The bone that was fractured is compressed completely now and will be like that forever."
But Bruce was determined to play in the spring. He began hitting some small shots in his backyard in March and worked his way up from there. "I played the first three tournaments with the back brace on," said Shober. "It was very noticeable. I had to change my swing when wearing the brace, but now that I'm out of it, I'm working on getting back to my old swing."
Incredibly, Shober led the Tigers in their first event this spring, posting rounds of 71 and 75 to place in a tie for seventh among 90 golfers at The Club at the Savannah Harbor Classic in March. His two-over par 146 came just days after picking up the clubs for the first time in four months. "I wanted to get out there as soon as I could," said Bruce. "I love this team. It's by far the best one I have been on, and I've never been this close with any group of guys since I've been here.
"Physically, I'd say I'm there; that's not the issue," explained Shober. "Getting back to the swing and seeing the good shots that I am used to hitting—it's just fine-tuning, and that's what I've really been working on. I'd love to have the team finish first, and I'll take either first through fifth, as long as the other guys finish ahead of me."
Shober is quick to point out that the success of H-SC golf this year is a total team effort. Nationally-ranked No. 14, Hampden-Sydney Tigers finished 12th at the 2019 NCAA Division III Men's Golf Championships. In addition to Shober, three other Tigers are ranked very highly among the Golfstat national and regional individual rankings.
"It should be noted that any of these other four guys can take my spot in a heartbeat," added Bruce. "It's not me doing this—it's definitely a team effort here." Those are inspiring, humble words from a young man who has overcome a potentially career-ending injury.