From The Record, Summer 2016
Another Man's Treasure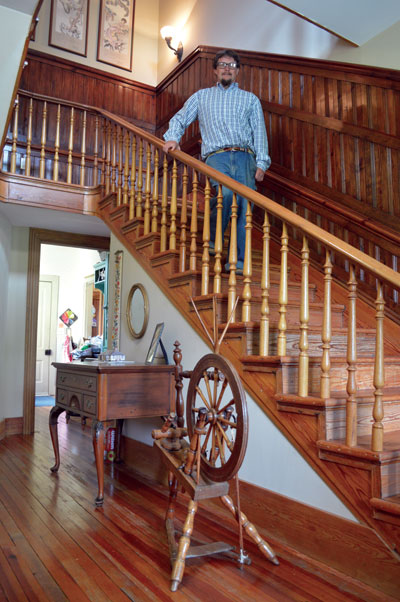 By the time Gordon Johnson '97 was pledging Phi Gamma Delta more than 20 years ago, late nights and good times had taken their toll on the appearance of the FIJI house down on Fraternity Circle. So naturally, in between parties, the brothers put Johnson and his fellow pledges to work repairing it. What seemed a chore at the time turned out to be the beginning of a trade that has taken the Hampden-Sydney alumnus up and down the East Coast in search of busted-out windows, crumbling brickwork, and rough-hewn floor joists tucked away in long-forgotten homesteads.
Johnson is in the restoration business, and with his company Recycled Relics LLC, the history major has been digging around in dusty dwellings for light fixtures, mantels, door hinges, and other items that simply cannot be found anywhere else. Some items he cleans up and sells; sometimes he uses the old wood to craft new furniture. With wife Alecia, friends, and employees, he buys, restores, and "flips" houses, and on occasion disassembles entire structures and rebuilds them at other sites.
But nailing down exactly what Johnson does for a living is a labor in itself. He's really not sure. "No day is ever the same," he said. "Mostly I do historic restoration, construction, and build furniture. We run the inn. We've got the tree farm so we do timber management; we're planting native grasses to bring the quail in for the hunting preserve."
In his work salvaging, restoring, and repairing buildings, Gordon has had the chance to explore places that once sheltered great Virginians of the past. In Fairfax County, near Great Falls, he disassembled a home known as Seneca Farms, which George Washington used as an infirmary during the Revolutionary War. He's got the doors and stones from the house at his workshop. Just west of Sheppards in Buckingham, he helped restore and remodel Pleasant Grove, where Gen. Robert E. Lee stayed during his retreat from Petersburg. He custom-milled railings and balustrades, and even built a columned, two-story porch on the rear end of the home. He did plaster work and roofing at Red Hill, the home of leading Anti-Federalist and original trustee of Hampden-Sydney, Patrick Henry. On campus at his alma mater, Gordon restored the entryway to Edgeworth, known today as the Wilson Center for Leadership.
Of all of his projects, however, it is perhaps Johnson's own home that has been the most prodigious, the most time-consuming, and certainly the most rewarding of all. Through years of hammering, prying, scraping, and painting, Johnson has emerged in possession of a home that has been given a new family, a new life, and a second chance. What was once a decrepit estate rotting away on the edge of Farmville is now a fully restored Victorian home standing on the banks of the Appomattox, just a few miles from Hampden-Sydney.
The Mansion and Smokehouse
The house originally stood on a hill in Stanley Park on the north end of Farmville near the train station by the Appomattox River, seven miles downstream from its current location. Longwood University transformed the park into sports fields, parking lots, and housing complexes years ago, renaming it "Lancer Park" and reserving it for college students.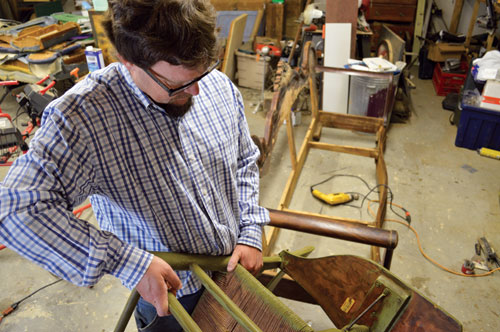 It was once the home of an Englishman named John Stanley James, who built the mansion in 1875. After migrating from England and moving to Farmville, in a short time James married the wealthy widow of a Virginia planter, planned a new academy while appointing himself the principal, and built the Stanley Park mansion in only 10 weeks. As abruptly as he had arrived, however, and after only a six-month stint in Farmville, James divorced his wife, abandoned the academy, and changed his name to Julian Thomas.
"Sick in body and mind, and broken in fortune," the foreigner sailed to Australia and away from his troubles. For years he wrote essays under the pseudonym "A Vagabond," wandering about the South Pacific while gaining some fame for his "immersion journalism"-living in lunatic asylums and squalid prisons to gather first-hand material for newspaper articles. He finished his life destitute in Melbourne, Australia, dying in a hovel antipodal to his woeful misfortunes in Southside Virginia.
His mansion is his local legacy. Farmville historian Bob Flippen, who compiled and contributed to an expanded edition of The Vagabond Papers, a compendium of Stanley's writing, described the mansion as having "a number of unique architectural features; most visible was the tower occupying the third and fourth floors. The first floor featured six rooms with two large bay windows and hidden sliding pocket doors enabling two rooms to become one great room perfect for dining or entertaining. A narrow servants' staircase wound from the first to the second floor, which included three large bedrooms."
After passing between owners, by the 1960s the mansion was abandoned. For decades it served as a local hideout and party spot for teenagers and college students. In the early 2000s, Johnson's wife Alecia was working on the Appomattox River Restoration Project to help rebuild the Appomattox riverbank-right by the bluff where the mansion stood.
"We kept driving by this house," he said, "and the kids and people were breaking in and messing it up. I'd heard that Longwood was going to donate the building to the fire department. We talked with the college, and at first we both thought we'd just salvage some pieces and parts. Inside we found tractor parts, guano-in one room the floor was gone. Walking around, we saw the circular floor plan, the funky staircases, and my wife just said, 'We should move the whole thing!' And I said, 'OK, let's do it!'"
Because Longwood simply wanted the house removed to make way for modern development, the college sold it to Johnson for a single dollar.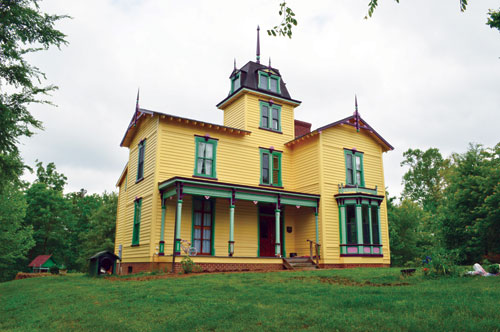 Over five or six weeks, Johnson and some friends numbered every piece-every board, every post, and every joist-disassembling the entire structure and packing it into tractor-trailers. His "Swizzle and Chisel" brick-cleaning parties consisted of buying kegs to entice friends to come over and help chip mortar off the thousands of bricks he later used to rebuild the chimneys and fireplaces. After nearly five years of work, Gordon, Alecia, friends, and family completed the painstaking task of putting the house back together exactly as it had been before, even orienting the house in accordance with its original direction and lining up the floorboards in the living room to maintain the natural wear-and-tear patterns from a hundred years of use.
To complement his Victorian home, Gordon disassembled and rebuilt a 19th-century smokehouse that stood at the Manor golf course just south of Farmville. Once hanging hundreds of hams and sides of beef, the 20'x28' building now stands behind his home as an entertainment room for guests. Architectural nuances provide a glimpse into life at the time: Close-fitting studs were mortised into both the top and bottom plates to prevent hungry thieves from knocking them through to gain access to the wealth of meat hanging inside. The heavy timbers and braces, some measuring 10"x13", still bear the cut marks from cooks who hacked off chunks of meat for family meals. While cleaning up the wood of the seasoned smokehouse for restoration, Gordon and friends had to scrape off a half-inch layer of pig fat from every crossbeam.
Other Work
Among his seemingly endless multitude of projects, Gordon lately has been focusing on restoring old furniture, cleaning and selling stone and other material to new homebuilders and artists, and running a local inn with Alecia. He has a workshop where he can "hide" some of his vast collection of odds and ends from his wife, who sometimes has trouble distinguishing his shop from a junkyard. Oaken doors from the 1740s, floorboards from a North Carolina cotton mill, leaded-glass lightshades, a 19th-century pegged staircase, multi-colored tiles, tarnished brass hinges, and a trailer full of timbers from an 1810 house in Cumberland sit ready for restoration and installation-should the right customer come along.
"She realized she married Fred Sanford," Gordon joked. Just a few miles west of Farmville along the High Bridge Trail in Prospect, the pair runs the Catalpa Inn, an early 20th-century restored former home of a section foreman for the Southside Railroad. It stands next to a largely untouched collection of clapboard and brick buildings now owned by the Prospect Historical Society: the old dentist's office; the law office; the post office; and the general store, all of which once served locals and railway passengers. For decades the former tenant of the inn supervised section crews that repaired and maintained the line of rail extending from Pamplin to Farmville.
Although a termite infestation had undermined much of its structural integrity, Johnson gutted and repaired the house, transforming it back to its original board-and-batten condition, although with modern conveniences. The building is now a bed and breakfast for travellers and romantics seeking a glimpse of life along the old Virginia railway.
It is by completing these and other projects that Johnson makes his living. Like his fathers before him, the alumnus considers himself an entrepreneur. Indeed, it is his instinct for opportunity that drives him toward these unusual endeavors. But more, what pulls him along is the lure of an honest day's toil, and the chance to resurrect the wood and brick that once was, and now is again. The slabs of oak and pine he hammers and hews were likewise cut and shaped by long-dead artisans daring to place their fortunes in their own hands. Like the Virginia craftsmen, pioneers, and revolutionaries whose work he follows, he is his own man, free, finding his home and fortune along the road less travelled.