From The Record, Winter 2017
Life of Adventure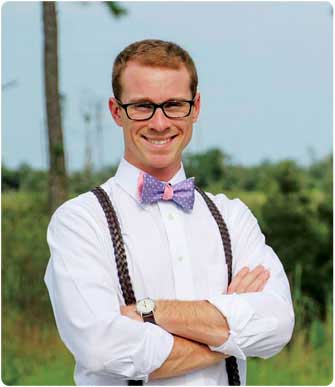 With six national championships under his belt, professional mountain biker Gordon Wadsworth '10 is making a name for himself in the cycling world. Wadsworth chose a notoriously demanding sport in cycling, one made even more challenging by his choice of equipment and the races he enters. Wadsworth is part of a growing number of competitors racing single-speed bikes on the ultra-endurance mountain-biking circuit, a series of grueling, 100-mile races.
A decision during his Hampden-Sydney days to build a single-speed training bike for himself became a driving force in Wadsworth's career as a cyclist. Single-speed bikes are durable and inexpensive, so their affordability first attracted him. But Wadsworth found that he also loved the challenge of a single speed. He says, "On a bike with one gear, you have to pedal and you have to work. There's no downshifting or upshifting--there's only standing or sitting. I've taken something hard-biking-and made it harder. In doing so, I get the most out of myself."
Racing that first single-speed bike around the Southeast attracted a lot of attention on the professional circuit, where most competitors race on multi-geared bikes. During the 20-plus-hour marathon races, it wasn't just Wadsworth's bike that attracted attention, though; it was also his enduring positivity and enthusiasm. Regardless of the conditions, he explains, "I have a choice. I can capitulate, get off the bike and walk, or I can stand up, mash the peddles, and give it everything I've got."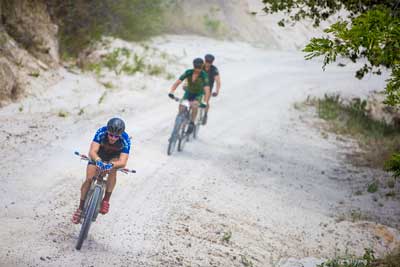 His resulting success has earned him the monikers "Fastest Single-Speed Racer in the World" according to DirtWire.tv and "Adventurer of the Year" according to Blue Ridge Outdoors. He completed his first ultra-endurance race in 2010 while still at Hampden-Sydney, entering the Shenandoah 100 on a dare. One year later he earned his professional credentials; pro sponsorships, national championships, and international races soon followed.
For the past two years, Wadsworth has competed in what many call the hardest bike race in the world: a 3-day race across Costa Rica covering some 400 kilometers and 8,000 meters of elevation gain. Well known in the extreme sports world, La Ruta de los Conquistadores draws adventure junkies from all over the world to Costa Rica each November. In 2015, Wadsworth not only won the race among single-speed riders, he placed in the top ten among all 600 competitors--a rare feat for an American in the competition, much less a single speeder.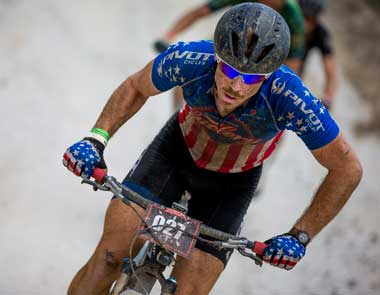 Whatever challenge he faces--on or off the race course--Wadsworth's ethos is, "If it's worth doing, it's worth giving 110 percent," an attitude he embraced even as a college student. Although he had athletic scholarship offers from larger schools, they didn't have the academic standards that Wadsworth sought in a college. So he committed himself to an intense academic schedule at Hampden-Sydney, with a double major in classics and economics and an honors thesis-all while training 20-25 hours per week on his bike. It was a choice he never regretted.
"The decision to attend H-SC meant really going out on my own as a cycler. While I may have been the only cyclist around, the community that surrounded me really embraced and supported that. Farmville, with its endless country roads, wound up being an excellent training ground, and I rode the Wilson Trail almost daily," Wadsworth recalls.
He notes that the College also shaped his moral character; particularly formative was his work as a Student Court investigator. "It was a tough job," he says, "but it further proved to me that Hampden-Sydney is a unique place, because of the standard it held for itself and the standard the students held for themselves." As a result, "I came into the adult world with a concrete understanding of what honor and truth look like."
Wadsworth calls Hampden-Sydney College a wise choice for young men. "At Hampden-Sydney, I found a really amazing home, both in terms of education and in terms of community. The brotherhood--the fraternity in the classical sense--that Hampden-Sydney provided me is something that I will always look back on fondly. It's a place unlike any other."