For many students, college is considered a home away from home, providing them with access to the tools, connections, and opportunities they need to succeed and grow personally and professionally. Hailing from Atlanta, Georgia, government major Grayson Phillips '23 sees Hampden-Sydney as his home far away home.
"The College makes you feel welcomed," Grayson says. "I was hesitant to attend an institution 500 miles away from home, but once I arrived, I felt completely at ease."
Grayson discovered Hampden-Sydney while searching for a top-notch college lacrosse program. During his visit to the Hill, he was immediately captivated by the bonds of brotherhood and the tight-knit community that he found here. Although he didn't end up playing lacrosse for the Tigers, H-SC has still been the right choice. "Having a strong relationship with my professors and being part of a closely connected community has been crucial to my college experience," Grayson says. "Since Hampden-Sydney offered these opportunities, I never considered leaving."
During his time at Hampden-Sydney, Grayson has stepped out of his comfort zone and became involved in various activities, including Theta Chi Fraternity, the Clay Target Team, Army ROTC, and the Fly Fishing Club. Through these experiences, he has become a well-rounded individual and citizen.
"I urge younger students to join clubs and organizations. Take classes that pique your interest, and figure out what it is that you enjoy," Grayson says. "Once you do this, you can focus on and pursue your passions while on the Hill."
"What I enjoy the most about the Hampden-Sydney experience is the independence I have to make all of my own decisions and write my own path," Grayson continues. "I have been able to improve my public speaking and writing abilities, as well as gain knowledge in a multitude of academic areas."
Grayson credits retired Patterson Professor of Government & Foreign Affairs James Pontuso as a major influence on his writing, citing the professor's teachings as a key factor in improving his academic abilities. "Professor Pontuso molded me into the writer I am today through trial and error," Grayson says. "I will always remember the incredibly meaningful moment when I received an A+ on a writing assignment and saw the expression of satisfaction on his face as he handed it to me."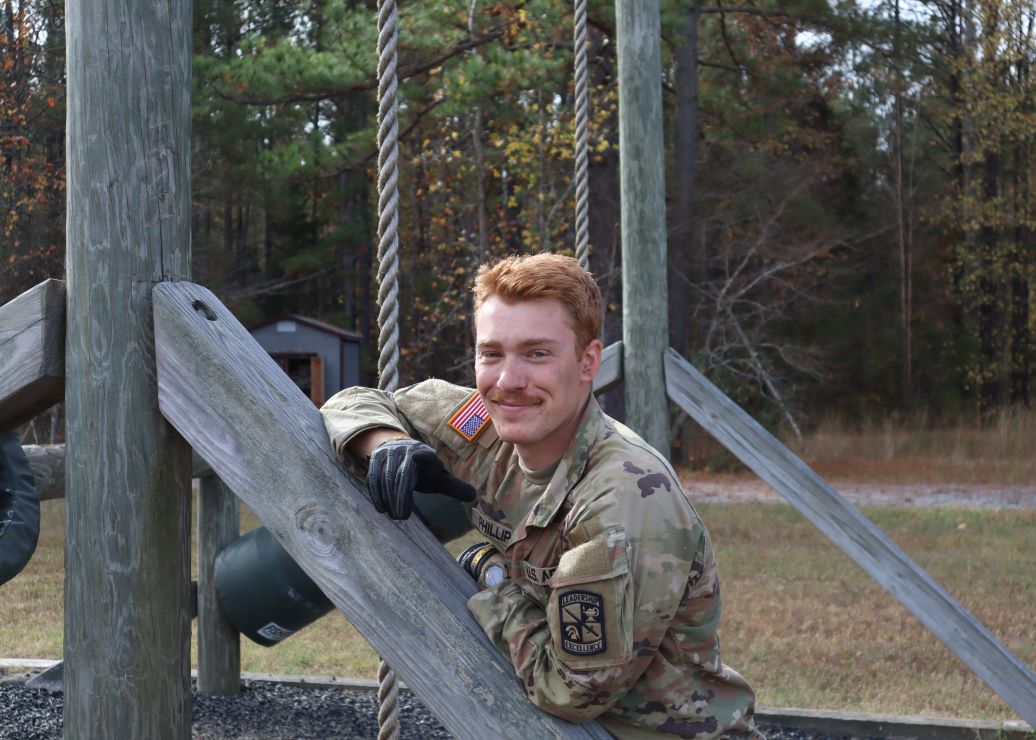 Although he is not a science major, Grayson has found "greater appreciation for the Hampden-Sydney men who frequent the halls of the Pauley Science Center" through classes like Physics 106 (Electronics) with Associate Professor of Physics and Astronomy Trey Thurman. Stepping outside of his academic comfort zone has given Grayson a "greater appreciation for the students who study and immerse themselves within the STEM field," as it taught him about the functions of electricity, something he was unfamiliar with.
Outside of the classroom, Grayson can be found studying in his favorite campus spot in the basement of Morton Hall, trout fishing in the greater Virginia area, or engaging with the Army ROTC program.
After graduation, Grayson will be commissioning in the U.S. Army Reserves and heading down to Cashiers, North Carolina, to become a fly-fishing guide at Brookings Anglers. With his curious spirit and dedication to pursuing his passions, Grayson is well equipped for life beyond the gates.