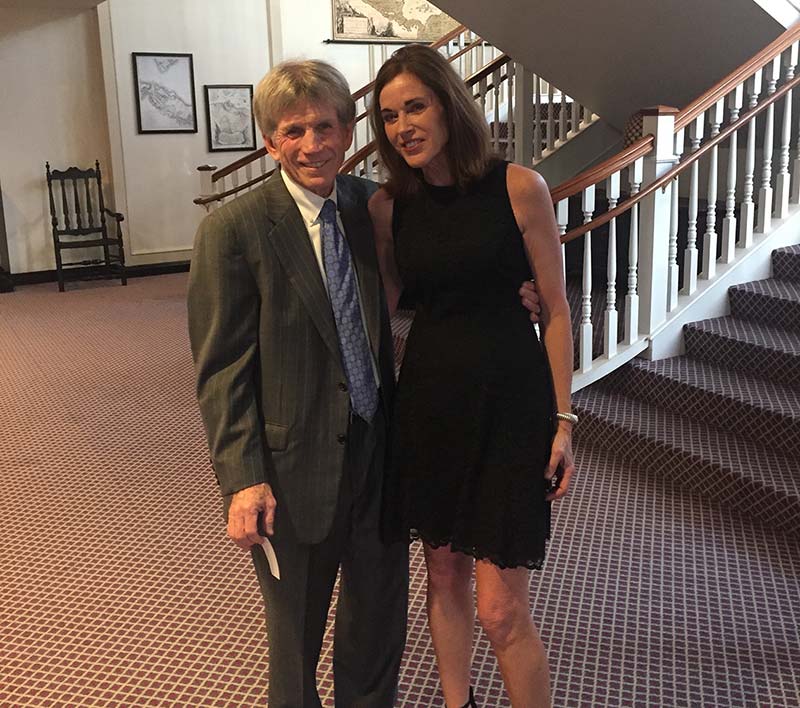 To summarize why he supports Hampden-Sydney, Jack Drescher '70 would say this: "I want to ensure that the place that gave me so many opportunities lives on."
Some might be surprised to know that Drescher likely would never have attended Hampden-Sydney without his oldest brother 's sage advice.
"I was all set to go to the University of Virginia. My brother, Al, who always gave me unbelievable counsel, told me two campus stories I cannot repeat in polite company but which resonated with my 17-year-old self. Then, he concluded with his opinion: 'If you go to Hampden-Sydney, you will make the best friends of your life, you will receive a fantastic education, and you will attend the best party school in Virginia. He was right on all counts," laughs Drescher. "I walked on campus my freshman year without ever having seen the place and loved every minute of it."
Though he wouldn 't advise taking his approach to college selection, Drescher would recommend Hampden-Sydney to any young man who wants a solid liberal arts education and to be a part of the brotherhood woven into the fabric of the school. "Hampden-Sydney is a unique place—it defies description in many ways. We've carved out a real niche, and society can be well served by what we offer," he continues. "Hampden-Sydney is coming up on its 250 th year. I don 't think you reach that milestone by accident."
While he enjoyed the social atmosphere at Hampden-Sydney from the start, Drescher eventually also took advantage of the exemplary academics offered and double majored in political science and history, admittedly after two years of mediocre scholastic performance. With solid LSAT scores, Drescher went to law school at the University of Richmond and spent his career as a trial lawyer until his retirement in 2013. "The opportunity to think critically is nurtured at Hampden-Sydney, and though the Rhetoric Program wasn 't formalized in my day, students were expected—make that required—to speak and write well. Those skills were essential to my legal career."
Drescher's leadership skills were also nurtured at Hampden-Sydney. Along with numerous civic and professional organizations, he has been active in the H-SC South Hampton Roads Alumni Association, is on the Class of 1970 50 th Reunion Committee, and is now a member of the James Madison Society, having previously served three terms on the Board of Trustees. He is also a member of both the Society of Founders and the 1776 Legacy Society. "I believe in the idea that 'to whom much is given, much is expected.' I want to provide others with the same opportunities I had," he said.
As a loyal supporter for many years, Drescher created The Drescher Scholarship in 1995, in honor of his parents, Charlie and Anne Drescher. "My father died in the fall of '94. The scholarship was a perfect way to honor both him and my mother. Neither attended college, but they worked hard and always made education a priority for my brothers and me. It never crossed my mind that I wouldn't go to college," Drescher shared.
After serving as a College trustee, Drescher felt compelled to increase his commitment and has included Hampden-Sydney in his estate plans with a goal to further expand The Drescher Scholarship. He also supports another H-SC scholarship created in memory of deceased good friend, Phil Grabill '71. "When you see the financial side of what is needed to run a school of the caliber of Hampden-Sydney, you understand how important giving is. It takes money. And that is something alumni will hopefully understand."
"What I have tried to do in my life and career is to be honest and do the right thing," Drescher said. "I look at the opportunities I have been afforded and want to extend them to others. That's why I give to Hampden-Sydney."
---
Your gift supports the Tiger legacy and positions the College for another 244 years of forming good men and good citizens.
For further assistance, please contact:
Office of Gift & Estate Planning
(434) 223-6780
giftplanning@hsc.edu