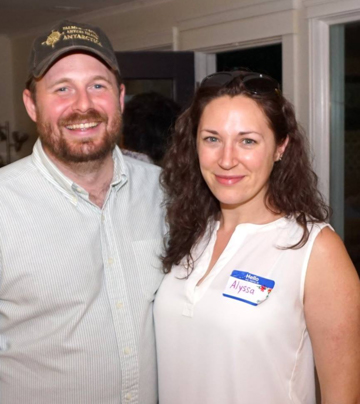 After growing up overseas, mostly in western Europe, James Darling '10 was looking for a place to call "home" when it came time for college. He found that—and more—at Hampden-Sydney.
"Hampden-Sydney took a chance on me," Darling shared. "It turned my life around academically. Hampden-Sydney had a profound impact on the trajectory of my life."
Darling, whose father worked for the Department of State, graduated from an International Baccalaureate high school in Munich, Germany. "I wasn't a very focused or disciplined student. I was lucky to get into Hampden-Sydney."
Many of his European friends and their parents questioned why he would want to go to a small, all-male school in rural Virginia. "People either thought I was going to school in Australia or they looked at me like I had two heads," he laughed.
Initially, Darling's decision was based on a desire to play football, having played in Germany. But he never set foot on the playing field at Hampden-Sydney. Instead, Darling found his stride in the classroom.
"I had wonderful faculty, incredible classes, and made lifelong friends. What makes Hampden-Sydney special is the people—I can name half a dozen who changed my life."
One such person was language professor Dr. Dirk R. Johnson. With Darling's years spent in Europe, he was "functionally fluent" in German which allowed him to take higher level language classes as a freshman. "Dr. Johnson had a real influence on me," said Darling. "My first year I was reading German literature and writing papers about it. I quickly had to learn the proper way to write. That skill has served me well ever since."
Darling thrived in the small, tight-knit environment of Hampden-Sydney. He graduated near the top of his class with a degree in Mathematical Economics and a double minor in German and French. He currently works as an associate wealth management advisor at Fitzgerald Financial Group in Richmond.
"As much as I learned academically at Hampden-Sydney, I also learned a great deal about professionalism because of Eunice Carwile '94," he added. Darling worked for Mrs. Carwile in the Advancement Office for all four years of his undergraduate career. "She is truly one of the unsung heroes of Hampden-Sydney. Few people know that she is a Hampden-Sydney alumna who graduated at the top of her class. It's people like her that make up the fabric of family at Hampden-Sydney."
Another faculty member who continues to be important to Darling is retired Professor of Chemistry Bill Anderson. Darling is married to Anderson's daughter, Alyssa. The Darlings' shared love for Hampden-Sydney inspired a recent generous gift in Anderson's honor.
"Alyssa and I wanted to recognize Bill when he announced his retirement, so we established a scholarship in his name," Darling explained. "Bill has had an impact on so many Hampden-Sydney alumni. I run into people all the time who tell me they would have never become a doctor if not for him."
"Hampden-Sydney students learn more than one skillset," he continued. "They learn to write a good letter, present a well-thought-out argument, read a newspaper to understand a little bit about many subjects, think critically, and respectfully voice their opinion."
"In my case, Hampden-Sydney took a floundering student and straightened him out," Darling said. "We hope this scholarship will allow other students the opportunity to attend and it will change their lives forever."
---
Your gift supports the Tiger legacy and positions the College for another 244 years of forming good men and good citizens.
For further assistance, please contact:
Office of Gift & Estate Planning
(434) 223-6780
giftplanning@hsc.edu