From The Record, Summer 2017
A Conversation With Jay Rostan '03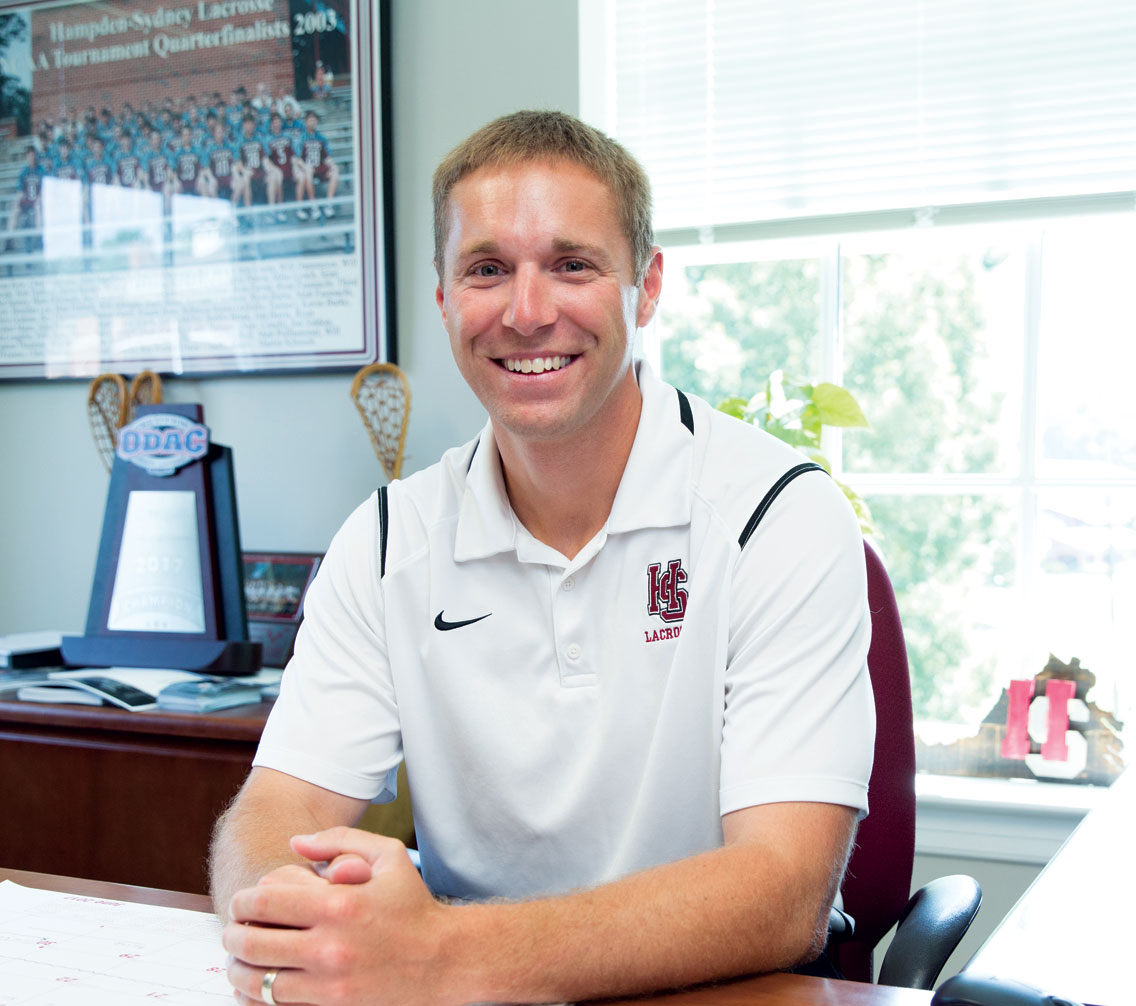 2017 ODAC Coach of the Year Jason "Jay" Rostan '03 reflects on the value of Division III athletics, the legacy of Hampden-Sydney Lacrosse, and the birth of his son two days before the NCAA Tournament.
Q. You had some pretty big shoes to fill this year--both as a first-year head coach and as the son of retiring coach Ray Rostan. What was your philosophy during that transition?
A. First of all, it was an incredible honor to take over for my dad, who coached at Hampden-Sydney for 32 years. You don't see many father/son coaches in college athletics, so it was really special to play four years and then coach another 14 years with my dad and my best friend. Because I got to know his coaching philosophy and style so well over those years, the transition was unbelievably easy. We didn't change much. My dad and I had worked several years to build a strong team, and the players and their families couldn't have been more supportive. Hampden-Sydney lacrosse was set to be successful this year--I don't think I can take credit for much.
Q. In a season full of accomplishments--and there were many--which one is the most significant for you?
A. Definitely winning the ODAC Championship as a team. The All-ODAC and the coach of the year awards are really just team awards-they all come with the territory when you're winning. But it had been 16 years since Hampden-Sydney had won an ODAC Championship, so that was special for our players, parents, staff, and, most of all, for our alumni-who have been chomping at the bit to get the trophy back here for a long time. I had more than 200 text messages from alumni that night, which shows how proud, excited, and energized they are about the Hampden-Sydney lacrosse program.
Q. Your second child was due to arrive the week of the ODAC Tournament. Walk us through the days leading up to the ODAC Championship and the NCAA Tournament.
A. The ODAC Tournament started on Tuesday and I coached the entire week with my cell phone in my pocket, which I never do. All along, my wife Amy said that if she went into labor, I couldn't miss a game. But how do you do that? At the start of the championship game on Saturday-the baby's due date-I looked up in the stands and there was my wife. She had made the three hour drive with my daughter and her parents, and it was so special to have her there. Well, we played our best game of the season to win the tournament. When I boarded the bus later that night to return to campus with the team, the phone rang and Amy told me the contractions had started. Our son was born Monday afternoon, Tuesday I was back at practice, Wednesday we won the NCAA Tournament game here at H-SC, Friday we were on the road for the next round of the tournament, and Sunday was graduation back at Hampden-Sydney. The adrenaline rush didn't wear off until I saw the seniors walk across that stage.
Q. Congratulations on being named ODAC Coach of the Year in your first year at the helm. What do you see as the most important aspect of your job as head coach?
A. Athletics are the last bastion of discipline in an 18-or 19-year-old's life before entering the real world. Our players learn how to deal with success, how to deal with failure, how to compete well in everything that they do. Developing and leading these young men, encouraging them to be better people than they were when they got here, is my most important job. And I learned how to do so from my dad. Over the years, I saw so many alumni came back with appreciation for how he helped develop their character. There's nobody better at that than my dad.
Q. Your family came to Hampden-Sydney when you were only three years old. Did you always know you wanted to play and eventually coach at H-SC?
A. Hampden-Sydney lacrosse has meant everythingto me for as long as I can remember. Since I was a child, I've looked up to the guys from the 1989, 1995, 1998 classes--they were like older brothers to me. I watched those teams win ODAC Championships and play in the NCAA Tournament. I saw the incredible experiences they had as students, then how much they care about the school as alumni. So, I always knew I wanted to be a Tiger and get my education at Hampden-Sydney. I love everything about Hampden-Sydney: the small class sizes, the excellent academics, the sense of brotherhood. It's unlike any other college that I've seen.