From The Record, Summer 2017
Joe Viar '63 and Bonnie Christ Give Back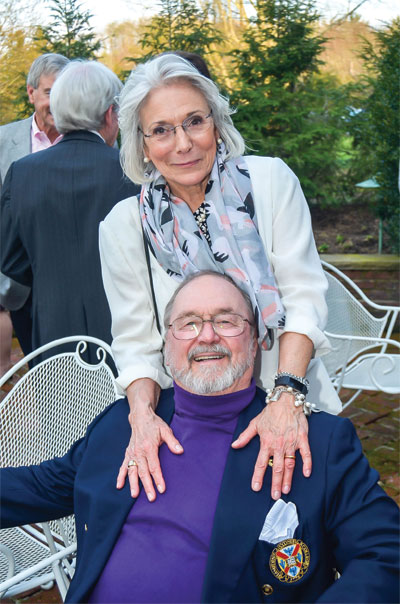 Asked what has motivated his philanthropy to Hampden-Sydney College, Joe Viar's explanation begins with his first visit to campus in 1959, spans a successful career in the tech industry, and ends with a heartfelt thank you to his alma mater.
Love at First Sight
"I was a good high school football player, but I only weighed 140 pounds," laughs Joseph Viar '63. An academic standout in high school, Viar nonetheless decided where to attend college based on athletics and ambiance. And the choice was Hampden-Sydney. "I had narrowed it down to Hampden-Sydney and Washington & Lee," he recalls, but an invitation to attend H-SC's spring football game sealed the deal. "It was Hampden-Sydney in spring time, the campus was just beautiful, and they were playing kick-ass football. I decided right then and there that Hampden-Sydney was for me."
Viar's colorful memories of his H-SC days are recalled in great detail and with plenty of laughs, from an illegal car parked in the woods ("scholarship students weren't allowed to have cars in those days") to a semester of academic probation ("everyone's allowed to err once, and I made Dean's List every other semester").
He turns pensive, however, when he talks about the College's long-term impact on his life-an impact that made him a lifelong promoter and supporter of his alma mater. "Hampden-Sydney College shaped my life. It gave me the confidence to become the man that I am."
On the Cutting Edge
Viar was so confident, in fact, that he landed a job in the emerging computer industry the day after graduation. "Hampden-Sydney prepared me so well academically that I walked right into the computer business, and I'd never even seen a computer," Viar says. "General Electric was installing a brand-new GE 225 computer in Lynchburg. It was as big as a room, full of blinking lights, and so noisy you couldn't hear yourself think. Needless to say, I was impressed." GE hired Viar for a five-year project designing electronic circuitry-a project Viar completed in two years.
Rather than remaining at GE as a technician, Viar looked for new challenges. Opportunities arose creating war-game simulations with U.S. Army Tech Ops and writing remote-computing models with IBM. In the process, Viar discovered his talent as a liaison between computer engineers and software designers, using the problem solving and people skills he honed at H-SC. "It wasn't just the math at Hampden-Sydney that prepared me for a successful career, it was the liberal arts, the challenge of balancing athletics and academics, and the community among the professors and students," Viar claims.
Never complacent, Viar took every opportunity to stay on the cutting-edge of an emerging industry. "I stepped, stepped, stepped to stay on the forefront of the tech industry," he says. Those steps eventually led to Washington, D.C., where he helped government agencies and private companies alike create computing systems.
The Risk Pays Off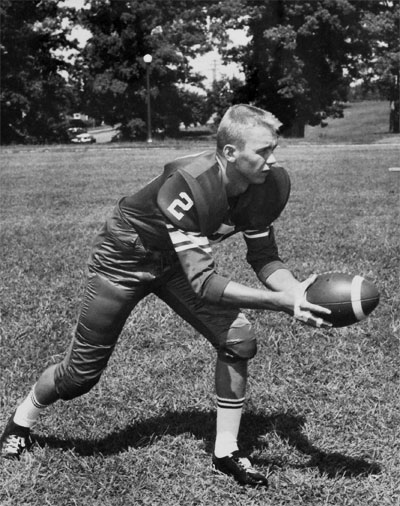 Five years after his move to D.C., Viar took another risk and struck out on his own, founding an information technology and management firm in 1976. Although he says the Viar Company didn't make a lot of money in its first year, it wasn't long before the firm's clients included multiple government agencies, notably the Environmental Protection Agency; Immigration and Naturalization Services; and Heath, Education, and Welfare. Within five years, the Viar Company was among the nation's fastest growing private companies.
As an employer, Viar created such a positive and productive work environment that "nobody left the company," according to Bonnie Christ, a former government sector recruiter and Viar's partner of 25 years. "They loved Joe and they loved the company-so much so that I could never recruit any of his employees. They were just too happy working for him," she says. Asked why, Joe explains: "I provided an unbelievable benefits program, from completely free health insurance, to bonuses, to week-long stays at the company's beach houses."
In 1991, Joe sold the Viar Company to the defense contracting firm DynCorp, where he continued to work for an additional two years. "At age 52, I was completely retired, and I haven't worked a paying job since," says the 76-year-old.
A Lifetime of Giving Back
Just because he wasn't paid doesn't mean he wasn't working, however. Until recently, Viar tirelessly served as Chairman of the Inova Alexandria Hospital Foundation and as a Trustee of Hampden-Sydney College, donating his own wealth to both organizations and convincing= others to do the same. For his philanthropic efforts, Viar was named the 2007 Alexandria Citizen of the Year and the 2011 Living Legend of Alexandria.
Viar's name appears on multiple plaques and buildings around Hampden-Sydney's campus, but it's not just building projects that receive his support. Throughout= the years, he has funded small projects at the College wherever the need might be, and he endowed a scholarship in recognition of the one he received so many years ago, which made his own Hampden-Sydney education possible.
His latest donation to the Brinkley Hall renovation was an opportunity for Viar to help preserve one of the College's most iconic buildings. "Winston was the dining hall when I was there, and I've always loved the architecture of the building," he explains. Both Viar and Christ love the performing arts, as well, so funding the Viar-Christ Center for the Arts was a natural fit. Viar's generosity has been a consistent refrain throughout his life. Whether it was profit-sharing with employees, fundraising for a new cancer center, raising awareness of cystic fibrosis, or supporting his alma mater, giving back to others has always been important to him. "I didn't accomplish this all by myself," he says, with emotion in his voice. "I really appreciate Hampden- Sydney College, and I wanted to say thanks."